Stepladder Creamery Big Sur Cheese
Big Sur On a Cheese Board
This cheese is simply lovely on a cheese board, drizzled with sweet honey and served alongside Marcona almonds and salty prosciutto. Enjoy!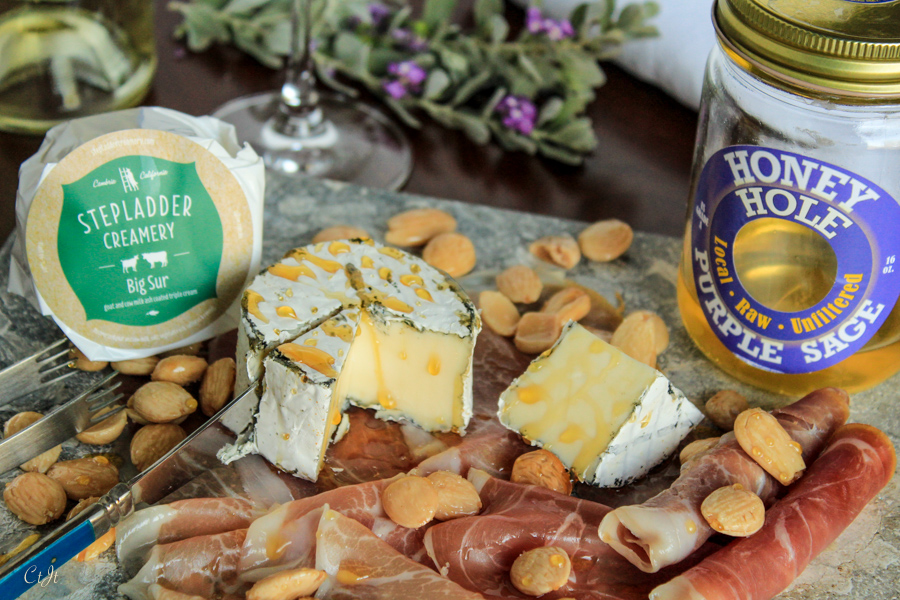 What you need:
• 1 round Big Sur cheese from Stepladder Creamery
• At least 1/2 cup Marcona almonds, roasted and salted or plain (look for them in the Sigona's dried fruit & nut section)
• Honey, such as a mellow-flavored option from Honey Hole Honey Co., available only at Sigona's
**Optional flavored almonds:
• 1 tsp. a Sigona's infused oil, such as Herbes de Provence, for tossing the marcona almonds
• A pinch of sea salt
Directions: Lay out half of the prosciutto on a serving tray, overlapping a little. Roll the remaining pieces; set aside. Cut a wedge out of the Big Sur and set the pieces on the prosciutto. Sprinkle the cheese and prosciutto with **almonds, add the rolled prosciutto to the tray and drizzle the entire dish with a couple tablespoons honey.
**If desired, toss the marcona almonds with an infused Sigona's Olive Oil and a pinch of salt.
Big Sur & Beets on Mixed Greens with a White Balsamic Vinaigrette
Add more flavor to this simple salad by using our any of our infused olive oils or balsamics. Goat cheese pairs well with savory herbs, such as basil or oregano, and would even be delightful with our lavender balsamic. The choice is yours!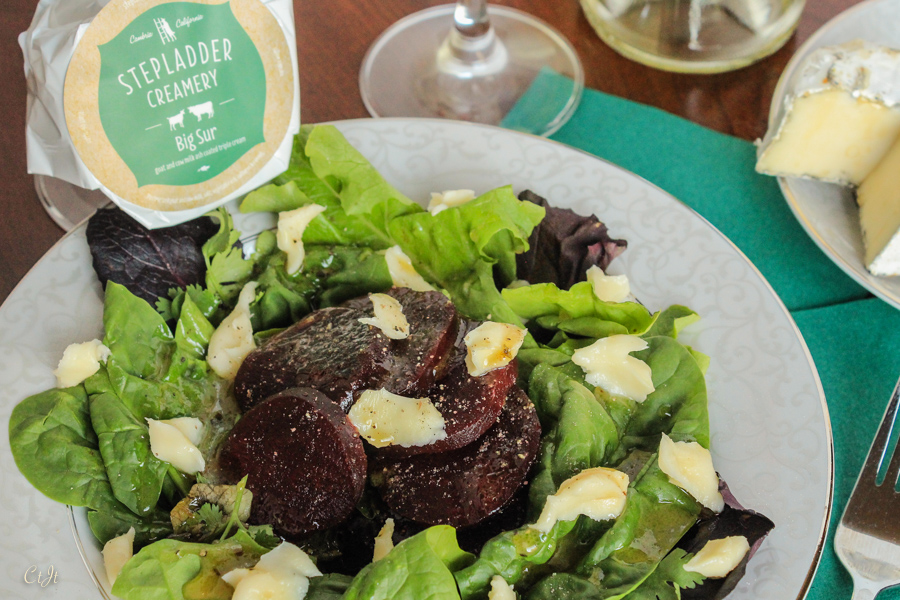 What you need:
• Mixed greens, about a large handful per serving
• 1 round Big Sur cheese from Stepladder Creamery, cut into 4 to 6 wedges, then crumbled or torn into bite-sized pieces
• 1 medium-small beet per serving, **roasted, peeled and sliced
• Freshly ground black pepper
White Balsamic Vinaigrette
• 1/2 cup Sigona's Fresh Press Extra Olive Oil (Mix it up! Introduce another layer of flavor by using one of our infused oils, such as Basil Oil or Wild Rosemary Oil)
• 1/4 to 1/3 cup Sigona's Premium White Balsamic (Mix it up! Try one of Sigona's infused balsamics for more flavor, such as our Lavender Balsamic, Fig Balsamic, Oregano Balsamic or Sicilian Lemon Balsamic)
• About 2 Tbsp honey, such as Honey Hole Honey Co., raw, local, unfiltered honey, available only at Sigona's
• 1 Tbsp Dijon mustard
• Salt and pepper, to taste
• About 1/2 to 1 tsp. fresh minced or dried herbs and/or 1 clove garlic, to taste (dill, Italian mix or basil are nice)
Directions: To individual serving plates or bowls, add a generous handful of greens. Top the greens with one sliced beet and then sprinkle on the cheese. Season with black pepper and dress lightly – just a couple teaspoons to start — with the vinaigrette: serve remaining vinaigrette on the side.
Vinaigrette: Add all ingredients together in a jar with a lid. Shake until the mixture is emulsified (thickened) and ingredients are well incorporated. To use remaining vinaigrette, toss with steamed or roasted vegetables or even drizzle over fresh fish or chicken. It's also fantastic on sandwiches.
**To roast a beet: Preheat oven to 400°F. Scrub the beets and then trim off the root and stalk ends. Save the greens for another purpose, such as salad or garnish. Wrap each beet individually in foil and place on a baking sheet. Roast the beets for 40 to 60 minutes or until they can be easily pierced through the center with a fork. Remove the beets from the oven and allow to cool to the touch. Remove from foil and rub off the skin. They're now ready for use.