In the Kitchen with Sigona's Featuring: Local, Organic Baby Heirloom Tomatoes
Greek Salad with Baby Heirloom Tomatoes and an Oregano Balsamic Vinaigrette
If you're looking for a way to make this dish vegan friendly or simply to cut out the dairy, try adding cubed tofu. The tofu adds the same richness that feta lends this dish, and also adds extra protein. Adapted from Bobby Flay Fit. Serves 4 to 6.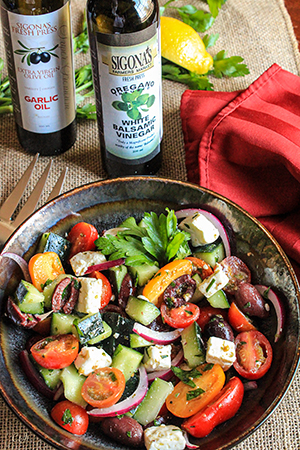 Ingredients:
4 to 6 oz. block feta, cubed, or firm tofu, drained and pressed (**see notes below)
1 cucumber, seeded and diced
1 pint locally grown, organic, baby heirloom tomatoes, halved
1/4 to 1/2 red onion, thinly sliced
1/3 cup halved kalamata olives
2 Tbsp fresh lemon juice
2 Tbsp Sigona's Garlic Oil
2 Tbsp Sigona's Oregano White Balsamic
2 Tbsp chopped fresh parsley, plus more for garnish
Salt and pepper, to taste
**Tofu has a high water content so it needs to be drained well. Firm tofu benefits from being placed on an absorbent surface to release more of its moisture for a minimum of 10 minutes before being used, particularly if being cooked. For this recipe, because it is not being cooked, we recommend draining the water from the package then placing the tofu on an absorbent surface, such as layered paper towels or a dish towel, and placing another plate on top, weighing it down with heavy cans. This adds pressure and assists with draining. Allow to drain this way in the refrigerator for at least 2 hours before slicing.
Directions: In a large bowl toss together cucumber, tomatoes, onion and olives.
In another large bowl, whisk together the lemon juice, garlic oil, oregano balsamic, parsley, salt and pepper. Cube the feta or tofu. Add the pieces to the vinaigrette and gently toss to coat. Allow the cubes to marinate about 5 minutes.
Add the vinaigrette mixture to the large bowl and gently mix all ingredients together. Allow the salad to sit at room temperature for at least 20 minutes before serving, gently stirring up juices from the bottom at least every 5 minutes.
Top with remaining parsley just before serving.