September Olive Oil & Balsamic Sale: Must-Try Recipes!
Pan-Seared Rosemary Pork Chops with a Savory Apple Chutney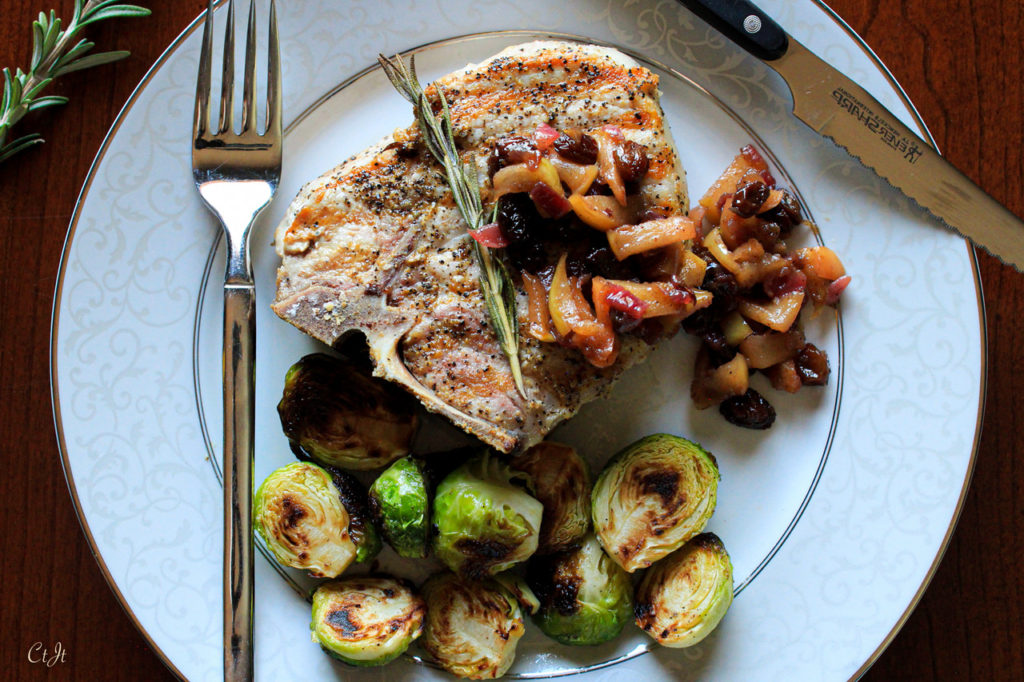 Once you've seared pork chops in our wild rosemary oil, you'll never want them any other way again! A well-seasoned, seared chop that's finished in the oven is a dish to celebrate. If you top it with the bonus recipe for balsamic-infused apple chutney, you might as well call it Christmas dinner. Serves 2.
Ingredients:
2 bone-in pork chops (thick cut or regular; adjust cooking times as needed)
Sigona's Wild Rosemary Olive Oil, at least 2 tablespoons
Kosher salt
Freshly ground black pepper
2 sprigs fresh rosemary
Directions: Preheat oven to 400°F. Set an oven-safe, indoor grill pan on the stovetop over medium-high/high heat to warm up.
Rub about 1 tablespoon of olive oil all over each pork chop, coating all sides. With a heavy hand, season the pork with salt (pork needs a lot of salt to bring out the flavor), followed by a bit of freshly ground pepper.
Sear the pork for 2 minutes per side, turning once. Place one sprig of rosemary on top of each pork chop, then pop the whole pan in the oven to finish cooking the pork chops (5 to 7 minutes for a regular chop, 10-15 for a thick-cut chop; a good rule of thumb is 5 minutes for each half-inch of meat). Remember to use an oven mitt when removing the pan from the oven. The pork chops are done when the internal temperature has reached at least 145°F.
Allow chops to rest for 5 minutes off the heat before slicing. Serve topped with a couple tablespoons of the savory apple chutney (recipe follows).
Savory Apple Chutney with Gravenstein Apple White Balsamic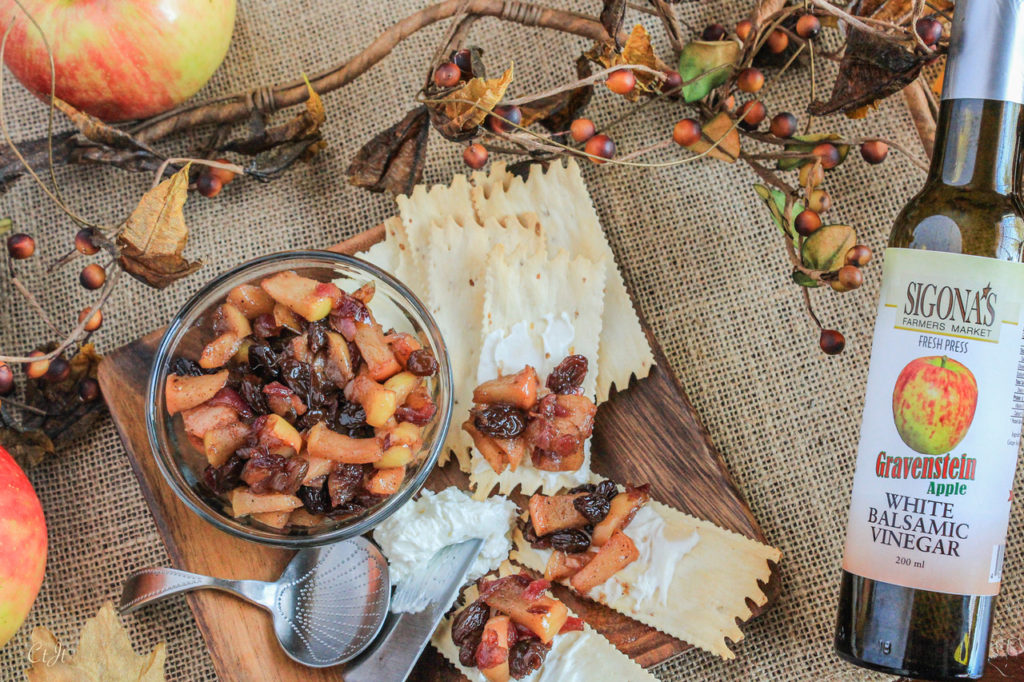 Whether used as topping for grilled pork, to grace a cheese board or line the inside of a sandwich, this chutney is simply perfect. The savory notes from the warm spices and onion go well with the sweet tang of the apples and our Gravenstein white balsamic. If you're looking for something new, try it with a little mild, creamy cheese, such as brie or even cream cheese, on top of an Elegant & English baked apple & custard tea biscuit. Makes about 1 1/2 to 2 cups.
Ingredients:
Directions: In a medium, heavy-bottomed saucepan, combine the oil, onions, salt, allspice, nutmeg and cinnamon. Cook over medium-low heat, stirring frequently for 2 minutes, then add the ginger and continue to cook, stirring frequently, for about 7 to 10 minutes.
To the mixture add the apples, raisins and sugar. Stir until the sugar dissolves then add in the remaining oil and all the balsamic. Lower heat to low and simmer the mixture, stirring occasionally, for about 35 minutes or until the apples have softened and the mixture is thickened. Reduce the heat to low if necessary to keep the bottom from scorching while the apples soften.
Serve warm or at room temperature. Keeps in the fridge in a sealed container for 7 to 10 days.
Mixed Greens with a Blackberry-Ginger Balsamic & Roasted French Walnut Oil Vinaigrette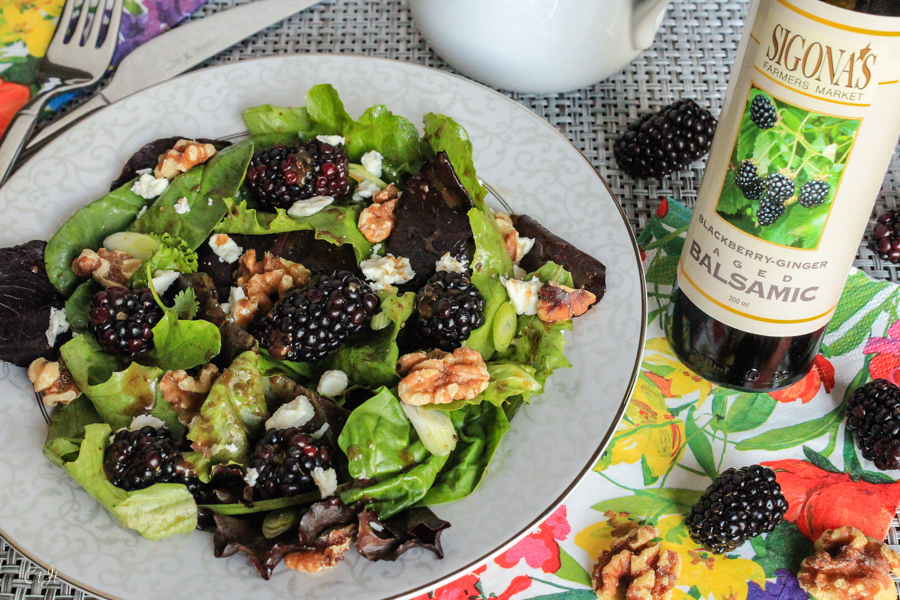 A simple yet elegant salad with a delightfully flavorful vinaigrette. Serves 6.
Vinaigrette:
1 tsp. lemon juice
1 tsp. Dijon mustard
Salt and pepper, to taste
Salad:
About 5 oz. mixed greens, or one large handful per serving
Optional: 2 green onions, sliced on the bias
1/3 cup crumbled feta or goat cheese
1/4 to 1/2 cup roughly chopped raw walnuts or pecans (look for them in Sigona's dried fruit & nut department)
3/4 cup or more fresh blackberries (slice larger berries if desired)
Directions: In a small bowl, whisk together the balsamic, lemon juice and Dijon. While whisking, drizzle in the olive oil until the mixture is emulsified. Season with salt and pepper.
In a large bowl, toss the greens and green onion, if using, with about half of the vinaigrette – being careful not to add too much – until well coated. Transfer the greens to a large serving platter or divide among individual salad plates.
Top the salad with crumbled cheese, walnuts and blackberries. Drizzle a bit of the remaining vinaigrette over the top and/or serve remaining vinaigrette on the side.