In the Kitchen with Sigona's Featuring: Kent Mangos
Mango & Blackberry Smoothie Bowl with Almonds and Chia Seeds
Smoothie bowls are all the rage among breakfast enthusiasts and brunch bunches. This dish is simply what the name implies: a smoothie in a bowl. Top these creamy concoctions with additional fruits, seeds and flavors as you wish. Inspired by Eating Well. Serves 2.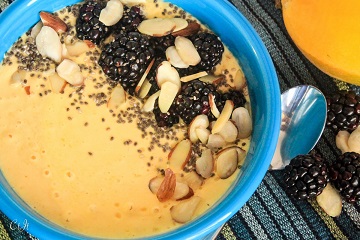 Ingredients:
1 large Kent mango, peeled and chopped (about 1 cup)
3/4 cup plain Greek yogurt
1/4 cup milk (try almond or coconut, if desired)
1 tsp. vanilla extract
1/3 cup blackberries
1 Tbsp. sliced almonds, toasted if desired
1 tsp. chia seeds
Directions: Chill the chopped mango in the freezer for about 10 minutes, if desired.
Combine mango, yogurt, milk and vanilla; puree contents until smooth using an immersion blender or standard blender. Divide the puree between two bowls and top with blackberries, almonds and chia seeds.
Mango, Sweet Pepper & Orange Chicken Foil Packs
These foil packs loaded with flavorful, fresh ingredients, make for easy weeknight dinners at home or while enjoying the great outdoors; they're even fancy enough for glamping! Cook them over a campfire, the grill or in the oven. The best part: clean up is a breeze. Adapted from Clean Eating. Serves 2.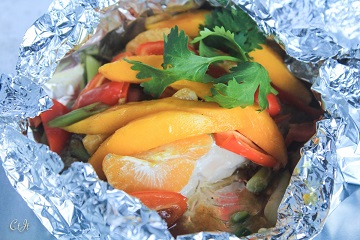 Ingredients:
1 Kent mango, peeled and sliced into 1/2-inch strips
8 oz. boneless, skinless chicken tenders or breasts, cut into 1-inch chunks
2 small orange citrus fruits, such as tangerines, clementines or satsumas, peeled and segmented
4 to 6 mini sweet peppers, sliced into 1-inch chunks
2 green onions, cut into 1-inch pieces
Half or more of a jalapeño, to taste, seeded and thinly sliced
1/4 cup chicken broth
1 Tbsp. Sigona's Coconut Balsamic
1 Tbsp. soy sauce
1/2 Tbsp. Thai red curry paste
1 Tbsp. arrowroot starch or cornstarch
1 tsp. peeled and grated fresh ginger
Torn fresh cilantro, for garnish
Directions: Preheat oven to 375˚F, stoke the campfire or heat a grill over medium-high.
Divide and arrange chicken, citrus, peppers, green onions and jalapeño in the center of two separate 12-inch-long pieces of heavy-duty foil. Top each with 5 or 6 strips of mango. Lift up edges of foil to form a bowl shape, leaving top open.
In a small bowl, whisk together the broth, balsamic, soy sauce, balsamic, curry paste, starch and ginger. Pour equally over chicken mixture.
To create a pack, bring the short edges of foil together, then fold inward a few times along each long edge to seal the packet.
Oven: Bake the packs on a rimmed baking sheet until chicken is no longer pink inside, about 15 to 18 minutes. Sprinkle with cilantro and serve.
Grill: Place packets on the grill, reduce heat to medium-low and close the lid. Cook until chicken is no longer pink inside, about 15 to 18 minutes. Sprinkle with cilantro and serve.
Campfire: Place the packs on a grill rack over the coals or nestle them in among the coals. Cook until the chicken is no longer pink, about 15 to 18 minutes, depending on fire heat. Sprinkle with cilantro and serve.
Sweet Mango & Strawberries Tossed with Fresh Tarragon
This simple serving suggestion is great for breakfast or an afternoon snack. Tarragon packs a strong, licorice-like herbaceous flavor that pairs deliciously well with fresh mango and sweet strawberries. A little tarragon goes a long way, so start with just one tablespoon, adding more to taste. Serves 2.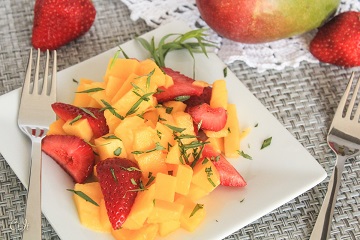 What you need:
1 Kent mango, peeled, sliced and diced into 1/2-inch cubes
4 strawberries, stemmed and quartered
1 to 2 Tbsp chopped tarragon, to taste
Directions: Toss the mango and strawberries with a bit of the chopped tarragon. Taste; add more tarragon if desired. Plate and serve.