Recipe Roundup: Sigona's Wild Rosemary Olive Oil
Sigona's Wild Rosemary Olive Oil is a favorite for adding delicious, fresh herb flavor to dishes. It pairs well with a variety of our infused balsamics, such as Sigona's Sicilian Lemon White Balsamic and Sigona's Gravenstein Apple White Balsamic. Find our Wild Rosemary Olive Oil online or in our store.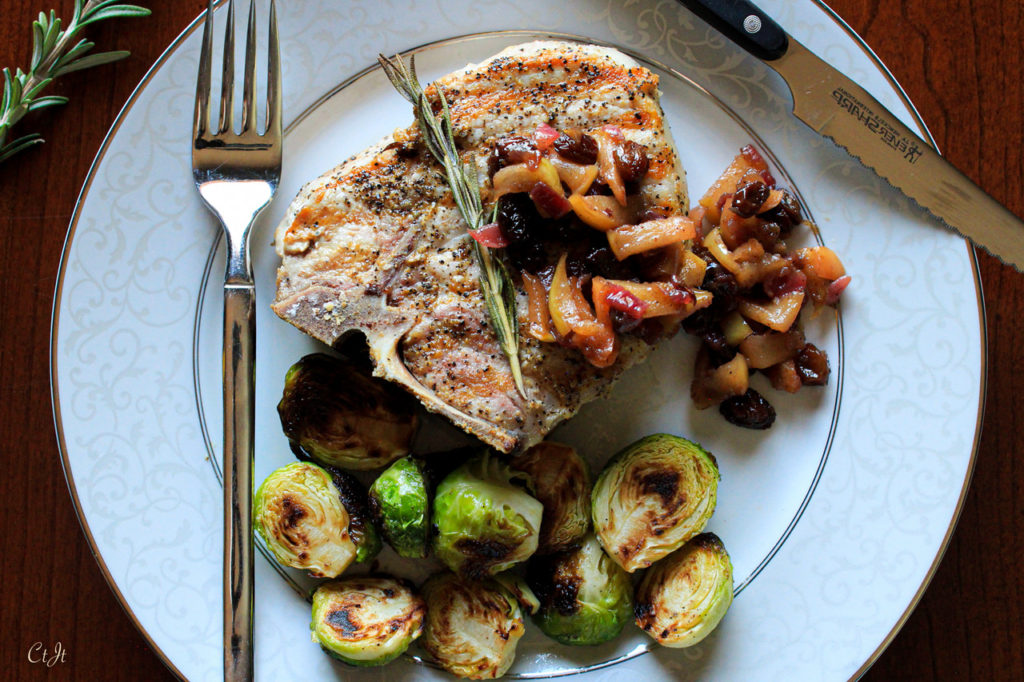 Pan-Seared Rosemary Pork Chops with a Savory Apple Chutney
Once you've seared pork chops in our wild rosemary oil, you'll never want them any other way again! A well-seasoned, seared chop that's finished in the oven is a dish to celebrate. If you top it with the bonus recipe for balsamic-infused apple chutney, you might as well call it Christmas dinner. Serves 2.
Ingredients:
2 bone-in pork chops (thick cut or regular; adjust cooking times as needed)
Sigona's Wild Rosemary Olive Oil, at least 2 tablespoons
Kosher salt
Freshly ground black pepper
2 sprigs fresh rosemary
Directions: Preheat oven to 400°F. Set an oven-safe, indoor grill pan on the stovetop over medium-high/high heat to warm up.
Rub about 1 tablespoon of olive oil all over each pork chop, coating all sides. With a heavy hand, season the pork with salt (pork needs a lot of salt to bring out the flavor), followed by a bit of freshly ground pepper.
Sear the pork for 2 minutes per side, turning once. Place one sprig of rosemary on top of each pork chop, then pop the whole pan in the oven to finish cooking the pork chops (5 to 7 minutes for a regular chop, 10-15 for a thick-cut chop; a good rule of thumb is 5 minutes for each half-inch of meat). Remember to use an oven mitt when removing the pan from the oven. The pork chops are done when the internal temperature has reached at least 145°F.
Allow chops to rest for 5 minutes off the heat before slicing. Serve topped with a couple tablespoons of the savory apple chutney (recipe follows).
---
Savory Apple Chutney with Gravenstein Apple White Balsamic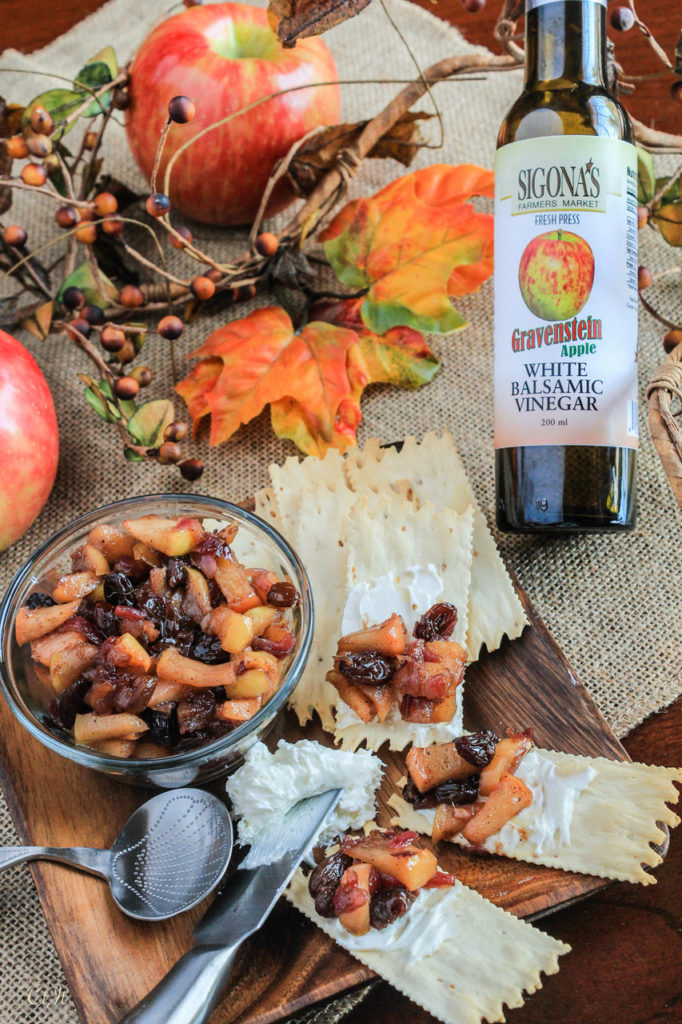 Whether used as topping for grilled pork, to grace a cheese board or line the inside of a sandwich, this chutney is simply perfect. The savory notes from the warm spices and onion go well with the sweet tang of the apples and our Gravenstein white balsamic. If you're looking for something new, try it with a little mild, creamy cheese, such as brie or even cream cheese, on top of an Elegant & English baked apple & custard tea biscuit. Makes about 1 1/2 to 2 cups.
Ingredients:
Directions: In a medium, heavy-bottomed saucepan, combine the oil, onions, salt, allspice, nutmeg and cinnamon. Cook over medium-low heat, stirring frequently for 2 minutes, then add the ginger and continue to cook, stirring frequently, for about 7 to 10 minutes.
To the mixture add the apples, raisins and sugar. Stir until the sugar dissolves then add in the remaining oil and all the balsamic. Lower heat to low and simmer the mixture, stirring occasionally, for about 35 minutes or until the apples have softened and the mixture is thickened. Reduce the heat to low if necessary to keep the bottom from scorching while the apples soften.
Serve warm or at room temperature. Keeps in the fridge in a sealed container for 7 to 10 days.
---
Wild Rosemary Oil & Herb Roasted Baby Heirloom Tomatoes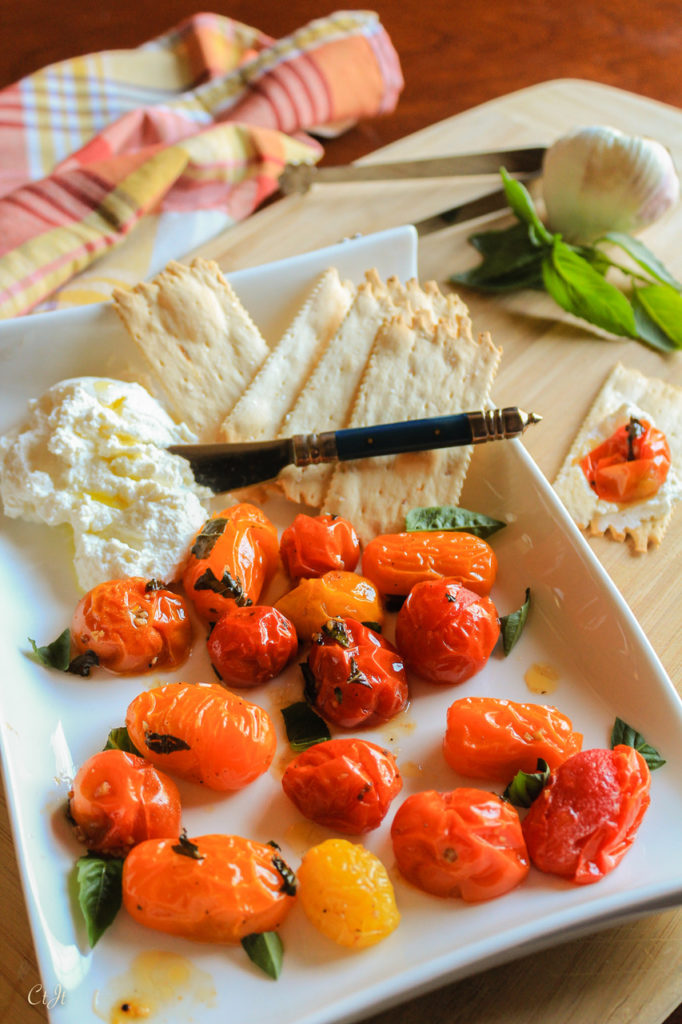 Roasting tomatoes bring out their natural sweetness, and roasting them with an herbaceous infused olive oil gives them an intense flavor unmatched by only adding herbs to the roasting process. These burst tomatoes are simply fantastic on fish, gyros or simply served with ricotta and flatbread or crackers. Serves about 4 to 6.
Ingredients:
1 pint locally grown, organic, baby heirloom tomatoes
2 Tbsp Sigona's Wild Rosemary Olive Oil, plus more for drizzling
2 cloves garlic, minced
3 Tbsp chopped fresh basil, divided
Salt and pepper, to taste
Serving options:
Pan-seared fish
Ricotta and seasoned crackers or flatbread
Mediterranean gyros with tzatziki
Directions: Preheat oven to 400°F.
Place tomatoes in a 9×13 glass roasting dish. Drizzle with olive oil, add the garlic, half the basil, salt and pepper. Gently mix ingredients together in the dish by simply swishing the dish from side to side, moving the ingredients around until well coated.
Roast for 15 to 20 minutes or until the tomatoes have wrinkled and the skin has popped. Remove from oven and transfer to a serving dish, juices and all. Top with remaining basil and, if desired, more olive oil. Serve warm.
---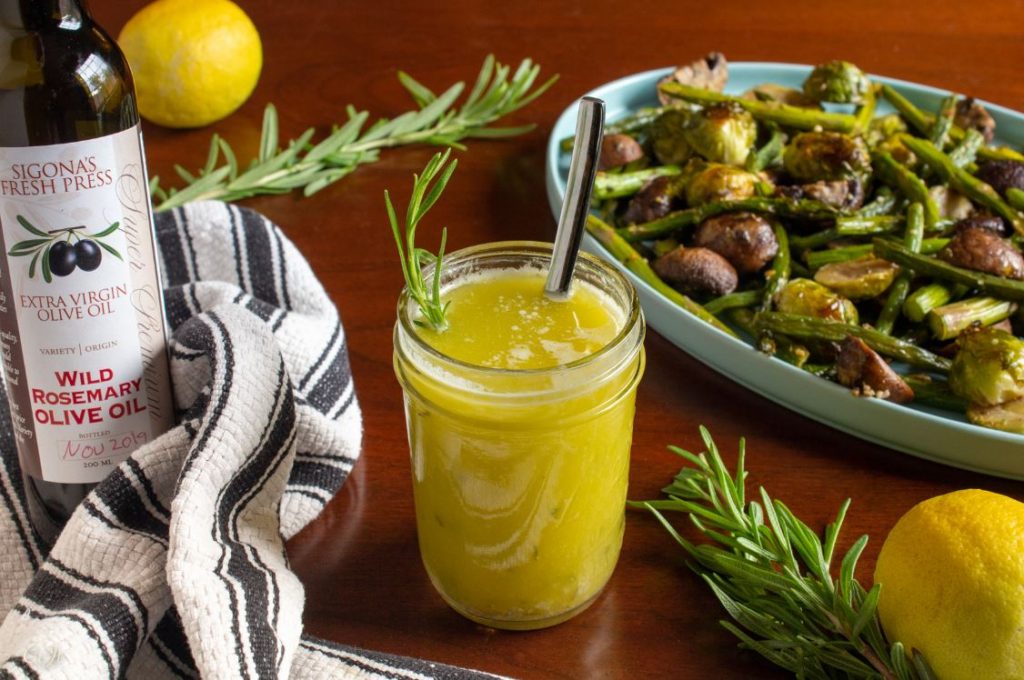 Wild Rosemary & Lemon Dressing
This simple dressing is absolutely delicious when drizzled over roasted, grilled or steamed veggies, such as green beans, Brussels sprouts, asparagus, broccoli…any combination you love! It's also nice as a dressing for a leafy green salad topped with a lean protein, such as shrimp, tuna or grilled chicken. Makes 1 cup. Keeps for up to 7 days in the fridge.
Ingredients:
2 cloves garlic
3/4 cup Sigona's Wild Rosemary Olive Oil
1/4 cup lemon juice (about 1 large lemon)
A pinch of salt, optional, to taste
1 tbsp loose-packed rosemary leaves
Directions: Lightly crush the garlic cloves and place in a blender or other container into which an immersion blender fits. Add the balsamic, oil, lemon juice and a pinch of salt. Process in the blender or with an immersion blender until the mixture is emulsified. Add the fresh rosemary and blend until it is minced and well incorporated.
Add the dressing to a dressing shaker or jar with a lid. Shake mixture well again before using.
This is an excellent drizzle for roasted veggies or salads topped with lean proteins. It may need to set out a few minutes to take the chill off after coming out of refrigeration.
---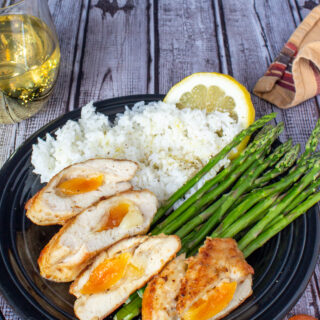 Roasted Chicken Breast Stuffed with Heirloom Blenheim Dried Apricots & Provolone Cheese
You can use a variety of cheeses in this dish, but we really love the Fontina or Provolone. They add flavor and mouthfeel. Our heirloom Blenheim dried apricots are perfect for this recipe, adding a lovely and bright color and flavor. Adapted from Rachael Ray. Serves 4.
Ingredients
Ingredients:
4

chicken breast halves

Salt and pepper

to taste

4

slices

of provolone or Fontina

6 to 8

heirloom Blenheim dried apricots

see note

3/4

cup

all-purpose flour

3

Tbsp

Sigona's Wild Rosemary Olive Oil

see note

1

cup

dry white wine or chicken broth

Juice of 1 lemon

3

Tbsp

butter
Instructions
Preheat the oven to 350°F. Slice the chicken breast horizontally, as if to butterfly each piece, but not cutting all the way through. Lay each flat on a work surface. Cover with a piece of plastic wrap and use a meat mallet to pound the breasts 1/2 inch thick.

Season the chicken with salt and pepper, to taste. Place a slice of cheese on each breast, then top with 3 or 4 apricot halves. Close up the chicken pieces and cover again with a sheet of plastic. Lightly pound the edges together on each piece as to seal together.

Spread out the flour on a plate. One at a time, place the chicken on top of the flour and gently pat; flip once to coat the other side.

Heat the olive oil over high heat in a nonstick skillet. Add the chicken breasts and cook, turning once, until golden, about 2 to 3 minutes a side. Transfer to a rimmed baking sheet, leaving cooking juices in the skillet.

To the same skillet, add the wine and lemon juice; cook, scraping up any bits, over medium-high heat for 2 minutes. Add the butter and stir until melted.

Pour the sauce over the chicken, cover with foil and bake for 10 minutes; uncover and bake another 10 minutes or until cooked through.

Serve immediately and any remaining pan juices drizzled over the top.
---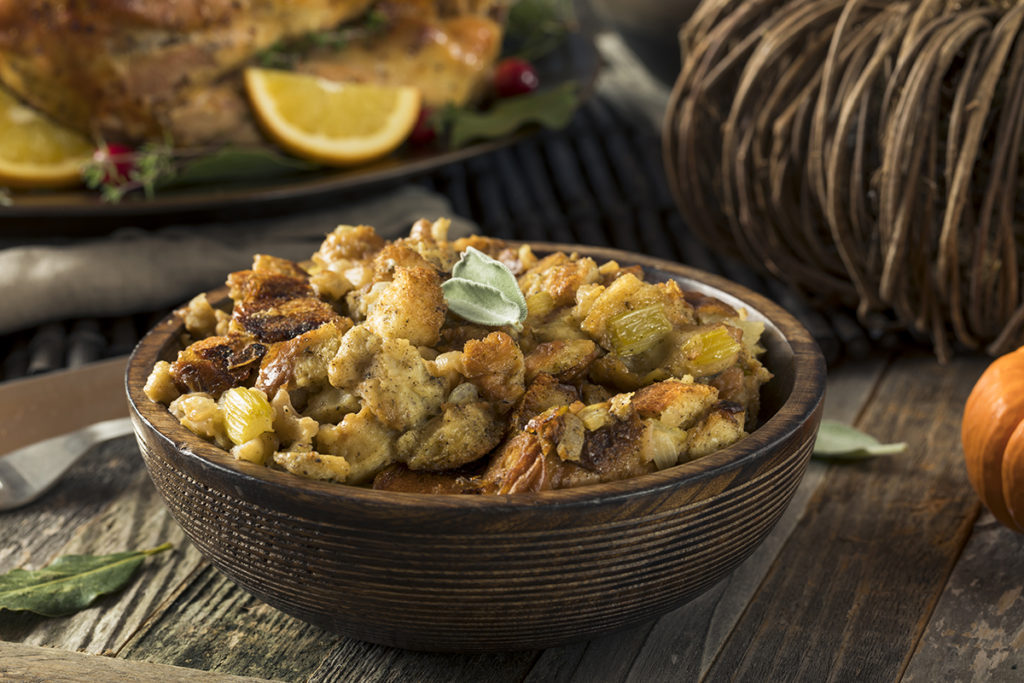 Wild Mushroom & Sourdough Dressing
It's usually wild mushroom season around the time Thanksgiving rolls around, and there is no better way to dress up your Thanksgiving than making wild mushrooms the star. This dressing can be used to stuff the bird or can just be baked as a side. You'll love the flavor from the mushrooms as well as our Sage & Wild Mushroom Olive Oil. Serves about 10.
Ingredients:
1 1/2 pounds sourdough bread (the more rustic the better), sliced or torn into 1-inch pieces
2 Tbsp unsalted butter, plus more for greasing dish
1 tablespoon finely chopped fresh rosemary
1/4 cup Sigona's Sage & Wild Mushroom Olive Oil, divided (Mix it up! Use 1/8 cup Sage & Wild Mushroom Olive Oil and 1/8 cup Sigona's Wild Rosemary Olive Oil)
2 cups chopped celery
1 large onion, diced
2 pounds mixed fresh wild mushrooms, such as chanterelles, oysters and maitake (hen-of-the-woods). If you feel like making the dish extra special, splurge on some matsutake mushrooms too.
1 Tbsp dry sherry or white wine (a third alternative is vegetable stock)
1/4 cup packed fresh flat-leaf parsley leaves, chopped
1 to 2 tsp kosher salt, to taste
1 tsp ground black pepper
3 cups vegetable stock
2 large eggs
Directions: Spread prepared bread cubes out in a single layer on rimmed baking sheets, being careful not to overcrowd the pans. Let the bread sit out uncovered at room temperature for at least 8 hours or overnight.
Heat butter in a large, deep skillet over medium until sizzling. Add celery and onion; cook, stirring frequently until just softened, about 7 to 10 minutes. Add rosemary; cook, stirring constantly, for 1 minute. Transfer mixture to a large bowl and set aside.
Clean mushrooms by wiping with a paper towel or kitchen cloth. Remove tough stems and discard. Cut mushrooms into 1/4-inch-thick slices.
Add 1/8 cup of the olive oil to the same large skillet over medium heat. When hot, add in the mushrooms and increase to medium-high/high heat. Allow mushrooms to cook, undisturbed, for about 3 minutes or until lightly browned on the bottom. Continue cooking mushrooms, stirring occasionally, until browned all over and the mushrooms have release and reabsorbed their juices, about an additional 15 to 20 minutes, Remove the skillet from heat, allow mushrooms to rest for 30 seconds, then add the sherry to deglaze the bottom of the pan, scraping up any brown bits.
Stir in remaining 1/8 cup of olive oil, the parsley, salt and pepper; add mixture to the bowl with the celery mixture. Add bread cubes and stir to combine.
In a medium bowl, whisk together the stock and eggs until thoroughly blended. Stirring the bread mixture constantly, slowly pour stock mixture into bread mixture until most of stock is absorbed.
Dressing may be prepared 1 day ahead up to this point. Cover and chill until ready to bake.
Dressing may be used for stuffing a bird or baked separately. If stuffing, plan about 3/4 cup of stuffing per 1 pound of turkey; spoon it in loosely. Stuffing cooked inside a turkey is safe to eat if the center of the stuffing cooks to 165°F (you'll need a long thermometer).For food safety guidelines for stuffing turkey, you can read some info from the USDA here. Follow turkey roasting guidelines as directed.
If baking as a side, grease a 13-x9-inch baking dish with butter; add bread mixture to dish and cover tightly with aluminum foil. Preheat oven to 375°F. Bake, covered, for 30 minutes then uncover and cook until lightly browned, about 15 to 20 minutes. Let stand 10 minutes before serving.
---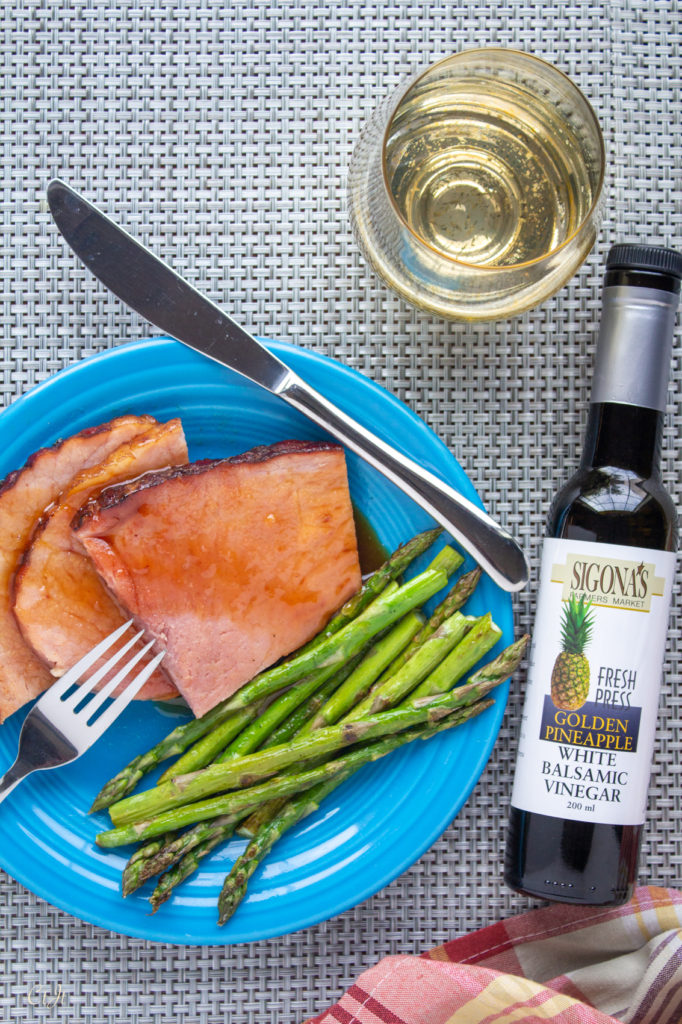 Golden Pineapple Balsamic Glazed Ham Steak
Ham steaks are an excellent choice for a quick, weeknight meal. The steaks are precooked so prep and cook-time are minimal. Pineapple and ham are a classic combo! Serve this dish with a side of mashed potatoes, asparagus or a simple salad. Inspired by The Olive Oil & Vinegar Lover's Cookbook. Serves 4.
Ingredients:
2 Tbsp honey, such as Honey Hole Honey Co. local, raw honey, found only at Sigona's
2 Tbsp (divided) Sigona's Fresh Press Wild Rosemary Extra Virgin Olive Oil
1 tsp Dijon mustard
Freshly ground black pepper, to taste
1 large ham steak, such as Niman Ranch applewood smoked uncured ham steak, available at Sigona's in Redwood City
Directions: In a small saucepan combine the balsamic, honey, 1 tablespoon oil, Dijon and pepper. Bring to a boil over medium-high heat, whisking occasionally. Reduce heat to low and continue to cook, whisking occasionally, for 7 minutes. Remove from heat.
Heat remaining oil in a large sauté pan over medium-high heat. Add the ham steak and brush the top with some of the balsamic mixture. Cook for 2 to 3 minutes a side, flipping once, brushing the top when flipped with the balsamic mixture. Remove steak and keep warm.
Reduce heat to medium-low and add the remaining balsamic mixture to the pan, scraping up the brown bits. Allow the mixture to cook for 1 minute then transfer to a small bowl.
Slice the steak into serving portions and drizzle with the balsamic glaze. If the glaze has thickened too much, add 1 teaspoon of water and reheat, stirring, over low. Serve any remaining glaze on the side.