Recipe Round Up: Sicilian Lemon White Balsamic
Kale & Chicken Spaghetti Squash Boats with a DIY Tuscan Herb Caesar Dressing
Kale, Tuscan herbs and a spaghetti squash…could you get any more Sicilian (ok, or Italian) than that? Our Tuscan herb olive oil, paired with our Sicilian lemon balsamic, makes an absolutely delicious DIY Caesar dressing. Squash inspired by Eat the Grains. Serves 2 to 4.
Ingredients:
1 spaghetti squash
Salt and pepper, to taste
1/2 cup diced onion
2 to 3 cloves garlic, minced
1 large chicken breast, cubed
1/2 a bunch of kale, leaves stripped from stem and chopped
3 Tbsp DIY Tuscan Herb Caesar Dressing (Scroll down for recipe), plus more as needed
2 Tbsp lemon juice, divided
Directions: Preheat oven to 400°F. Slice squash in half, season inside with salt and pepper, to taste. Place cut-side-down on a parchment-lined baking sheet. Roast for 40 minutes then remove from oven and set aside.
Meanwhile, prepare the chicken mixture. Heat olive oil over medium-high heat. Add the onion and cook for 2 minutes, stirring. Add the chicken and cook for about 8 minutes, stirring frequently, until cooked through (165°F and pink gone). Add the garlic and cook for another minute or until fragrant; add the kale and sauté for about 2 to 3 minutes until slightly wilted and bright green. Remove from heat.
Leaving the shell boats intact, use a fork to scrape out and remove the squash. Place the squash in a large bowl and add the chicken mixture. Gently toss mixture with 3 tablespoons of the Caesar dressing, then even divide and return to the squash boats.
Drizzle 1 tablespoon of lemon juice over the top of each boat and serve immediately. If they need to be reheated before serving, pop them back in a 400°F oven for about 5 minutes. Serve extra Tuscan Herb Caesar dressing on the side.
DIY Tuscan Herb Caesar Dressing
The flavors of the Tuscan herb olive oil add the perfect seasoning to this easy, do-it-yourself Caesar dressing. Inspired by The Olive Oil & Vinegar Lover's Cookbook. Makes about 3/4 cup.
2 cloves minced garlic
1 egg yolk, lightly beaten
1/2 cup Sigona's Tuscan Herb Olive Oil
1 tsp Worcestershire sauce
1/2 tsp each salt and freshly ground black pepper
1/4 tsp Dijon mustard
Directions: Add all ingredients together in a jar with a lid. Screw on the lid and shake the jar until all ingredients are incorporated and the mixture is emulsified (thickened). Use immediately.
---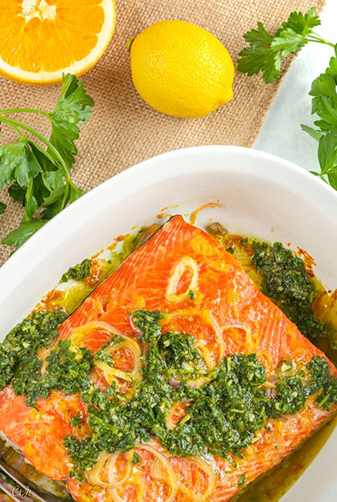 Roast Salmon with a Citrusy Salsa Verde
This brightly flavored dish is simple, healthy and delicious. The salmon is roasted low and slow so it absorbs the flavor from the herbs and zest, and the citrusy salsa verde delivers a delicious, herbaceous topping. Adapted from Bon Appetit. Serves 2 to 4.
Salmon:
1 shallot, thinly sliced into rings
zest of half an orange
zest of 1 lemon
A wild salmon fillet, about 1 lb.
Kosher salt
For the salmon: Preheat oven to 250°F. In a baking dish just large enough to hold the fillet, add the olive oil, shallots and zest. Stir to combine.
Season the salmon with salt. Place skin-side up on top of the shallots, gently pressing to pick up some of the zest and shallots. Flip skin-side down, nestling the salmon into the shallots and zest.
Bake for 30 to 35 minutes or until fish is opaque in the center and easily flakes with a fork.
Meanwhile, prepare the citrusy salsa verde:
Citrusy Salsa Verde:
A large handful parsley (about 1 cup semi-packed)
A large handful cilantro (about 1 cup semi-packed)
2 cloves garlic
Zest of half an orange
1/2 tsp paprika
Juice of half an orange
Juice of half a lemon
Pinch of salt
For the salsa verde: In a food processor or blender, add the oil, parsley, cilantro, garlic and balsamic. Pulse until finely chopped. Transfer to a bowl and stir in the orange juice, lemon juice, paprika and salt. Season to taste.
Serve salmon with salsa verde spooned over the top.
---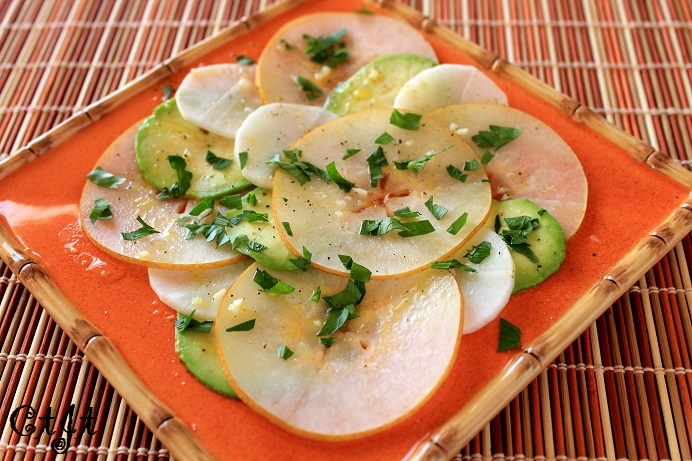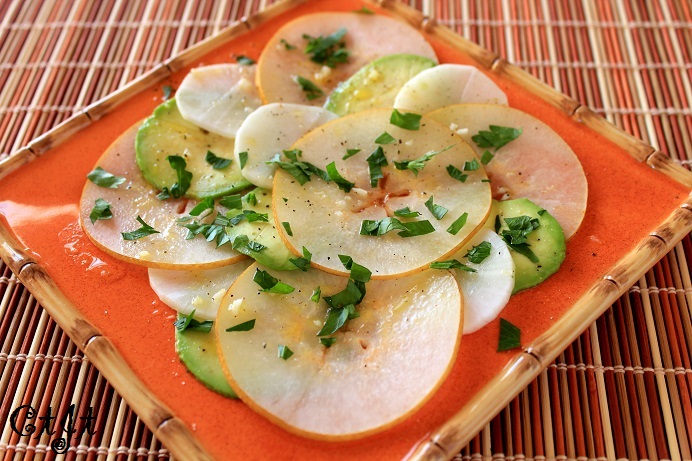 Crisp Asian Pear, Daikon and Avocado Salad with Sigona's Sicilian Lemon Vinaigrette
This dish, inspired by a Vegas-favorite of one of our staff, is light, crunchy and a great, unique way to use Asian pears that's different than a typical salad of greens. Our Sicilian lemon white balsamic adds a fantastic flavor that will knock your socks off. Serves 2.
Ingredients:
1 tsp. fresh lemon juice
Salt & pepper, to taste
1/2 a garlic clove, minced
2 large avocados (fatter ends only)
1 Asian pear
About 3-4 inches of a daikon, peeled
1-2 TBL chopped fresh parsley or micro greens
A pinch or two of pink Himalayan sea salt
Directions: In a small bowl, mix together the olive oil, lemon juice, lemon balsamic, salt & pepper and garlic. Whisk well to emulsify the mixture. Set aside.
It's best to use a mandoline slicer to prepare thin slices of the fruits and daikon for this dish (5 – 7mm or so creates a nice thin slice). If you do not have a mandoline slicer, use a sharp knife (or see if your grater has one) and do your best to create slices of each ingredient that are about the same thickness. Slice just the fatter ends of the avocado to make circular slices (a mandoline can slice right through the skin; just peel the skin off after slicing. After slicing the pear, pop out the seeds to leave a fun star pattern in the center of the slices.
Arrange the salad one of two ways: 1). In straight lines or 2). In a circular pattern. To start, lay down a slice of the avocado. Overlap half the avocado with a slice of daikon, and then do the same with a slice of pear. Repeat the pattern with the remaining ingredients.
Drizzle the arrangement with a 1-2 TBL of the lemon vinaigrette. Sprinkle the entire dish with a bit of pink Himalayan sea salt, then top with a sprinkling chopped parsley or micro greens. Serve with the remaining vinaigrette on the side.
---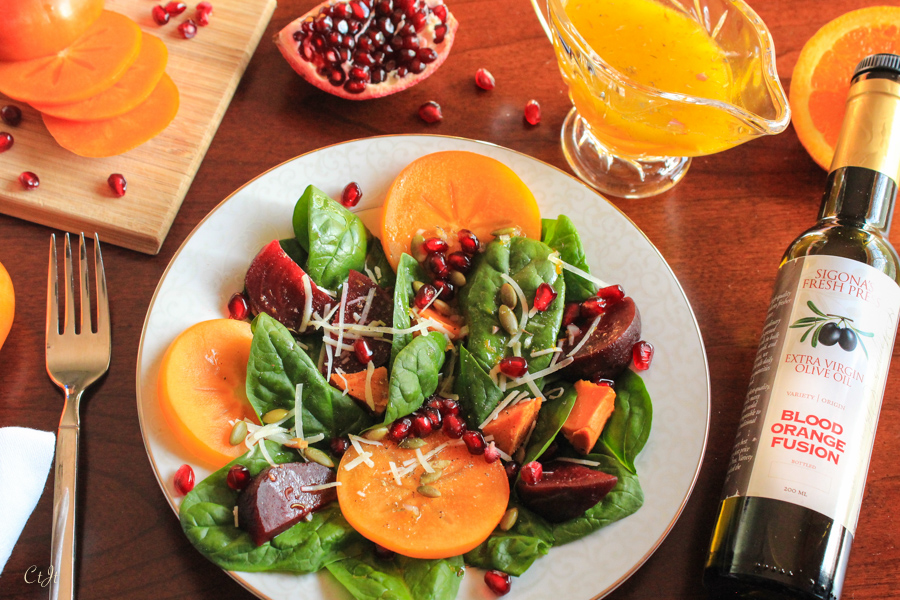 Fuyu Persimmon and Roasted Beet Autumn Salad with a Blood Orange Vinaigrette
Persimmons and beets come in to season just about the time Thanksgiving rolls around. This salad combines the two with a few other ingredients to create a fantastic salad for fall dinners. The sweetness of the persimmon, the earthy deliciousness of the roasted beets and garnet yams with a salty note from the cheese and pepitas is perfection when topped with the blood orange vinaigrette. Orange and beet pair well together, so the vinaigrette brings the whole dish together. Inspired by Low Carb Maven. Serves 4.
Ingredients:
2 ripe Fuyu persimmons, sliced horizontally using a mandoline or sharp knife, to be about 3mm thick, but no thicker than 1/4 inch
2 to 4 medium beets, roasted* and sliced into 8 wedges each
1 small garnet yam/sweet potato, cut into 1/2-inch cubes and roasted**
Baby spinach, 1 large handful per serving
1/3 cup freshly grated Parmigiano Reggiano (optional)
1/4 cup pepitas
About 1/3 cup pomegranate arils
Blood Orange Vinaigrette:
1 tsp orange zest
3 Tbsp fresh orange juice (from about 1/2 an orange)
3 Tbsp Sigona's Sicilian Lemon White Balsamic
1 Tbsp minced shallot
A pinch or two dried thyme
Salt and pepper, to taste
Directions: Divide the spinach among 4 individual salad plates or bowls. Tuck 2 to 3 slices of the persimmon around the spinach then add the wedges of beet and cubes of yam/sweet potato. Top with grated cheese, pepitas and pomegranate arils.
In a medium bowl, add the zest, juice, balsamic and shallot. While whisking, drizzle in the olive oil and mix until emulsified (thickened). Season to taste with thyme, salt and pepper.
To serve, lightly dress each dish with vinaigrette or serve it alongside.
*To roast beets: Preheat oven to 400°F. Scrub the beets and trim off the root and stalk ends. Save the greens for another purpose, such as salad or garnish. Wrap each beet individually in foil and place on a baking sheet. Roast for 50 to 60 minutes or until they can be easily pierced through the center with a fork. Remove from the oven and allow to cool to the touch. Remove from foil and rub off the skin. They're now ready for use.
**To roast cubed yams/sweet potatoes: Preheat oven to 400°F. Toss the cubes with a little olive oil, salt and pepper. Spread out in a single layer on a rimmed baking sheet lined with parchment paper. Roast for 25 to 30 minutes, or until fork tender, stirring half way through.
---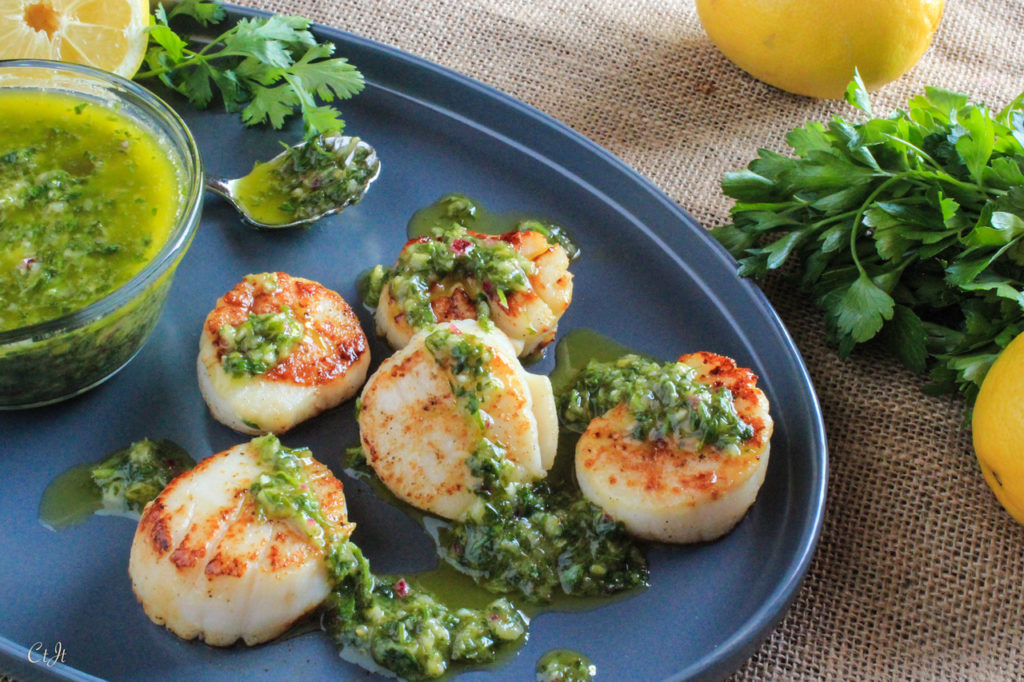 Seared Scallops with a Lemony Chimichurri
The lemony notes from the actual lemon (peel and all), as well as our Sicilian lemon balsamic, give this chimichurri sauce the absolute best flavor for seafood. Chimichurri is traditionally a grilled-meat sauce starring parsley and cilantro, but we were inspired by a recipe from Bon Appetit to serve it with our fantastic, jumbo-sized scallops. Serves 4 to 6 as a side.
Lemony Chimichurri
Half a lemon, seeded and roughly chopped
1 heaping Tbsp Sigona's Sicilian Lemon White Balsamic
1 to 2 cloves garlic
2 Tbsp diced red onion or 1 shallot, roughly chopped
3/4 cup fresh parsley
1/2 cup fresh cilantro
1/4 cup fresh chives
Salt and pepper, to taste
1/2 cup Sigona's Fresh Press Extra Virgin Olive Oil
Scallops:
8 to 12 wild sea scallops
Salt and pepper, to taste
2 tsp. Sigona's Fresh Press Extra Virgin Olive Oil
2 tsp. unsalted butter
Directions: To a food processor, add the lemon (peel and all), balsamic, garlic and onion/shallot. Pulse until ingredients are roughly chopped. Add the herbs, salt and pepper; pulse a few times. With the blade running, drizzle in the olive oil and process until ingredients are all about the same size and the oil in the mixture is emulsified. Taste; adjust seasoning if needed.
Allow mixture to sit while scallops are prepared to allow the flavors to meld, at least 10 minutes.
Rinse and pat dry the scallops. Season both sides with salt and pepper. Add the oil and butter to a large skillet over medium-high heat. When the butter has melted and the combination is just starting to smoke, add the scallops, being careful not to over crowd the pan (work in batches if needed). Cook for just 1 minute 30 seconds each side, flipping once. Scallops should have a nice golden-brown sear that is about 1/4 inch deep on each side, and the middle should still be slightly translucent.
Transfer the scallops to a serving dish and serve the chimichurri on the side. Enjoy!
---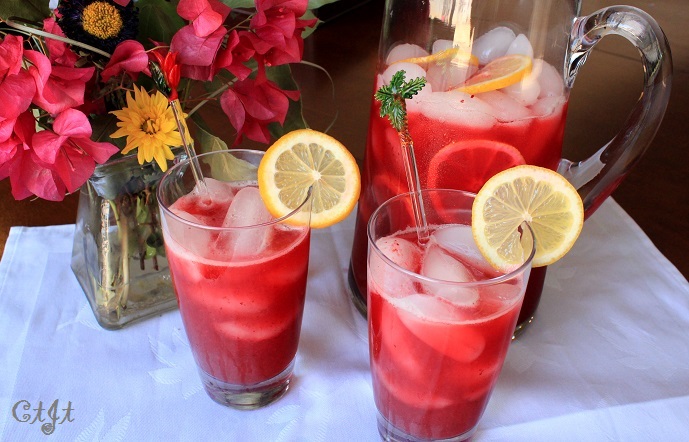 Fresh Bing Cherry Lemonade
Definitely refreshing after a long day at work or working in the yard. If you fancy, add a little vodka, bourbon or rum. Adapted from Eating Well. Serves 2 to 4.
Ingredients:
2 cups halved, pitted local Bing cherries
About 3/4 – 1 cup freshly squeezed lemon juice, more or less, to taste
1/3 cup sugar
2 ½ cups cold water, more or less, to taste
Lemon slices for garnish
Ice
Optional: A couple splashes of Sigona's Sicilian Lemon White Balsamic
Directions: Combine cherries, lemon juice and sugar in a blender. Puree until smooth. Strain through a fine sieve into a pitcher. Stir in water. Serve over ice, garnished with lemon slices. Swizzle in a splash or two of Sigona's Sicilian Lemon White Balsamic for a delicious twist!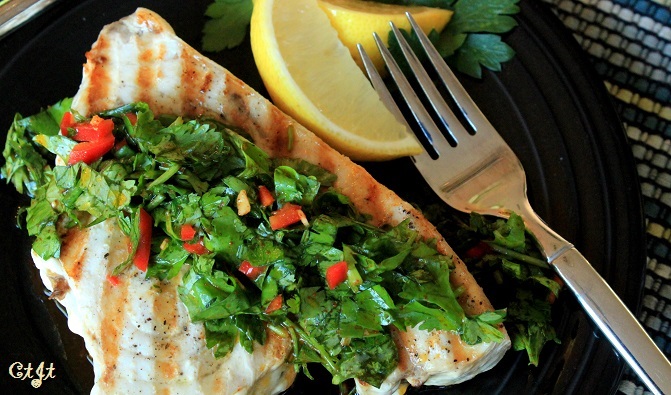 Grilled Swordfish with a Cilantro, Pepper and Lemon Vinaigrette
Finishing with fresh lemon gives this dish-with-a-kick the extra layer of flavor that adds the perfect touch – don't skip the squeeze! Remember, swordfish is a steak-like fish, so serve this with a knife and a glass of Evohé 2011 Garnacha Blanca from Spain, a delightfully aromatic white wine. Adapted from Food & Wine. Serves 2.
2 (8 oz. each) swordfish steaks
1 Tbsp plus 1/4 cup Sigona's Fresh Press Extra Virgin Olive Oil, divided, plus more for brushing
Salt and pepper, to taste
1 Tbsp unsalted butter, divided
3/4 cup rough chopped cilantro leaves and stems (swap measurements with parsley, if your taste buds prefer less cilantro)
1/3 cup rough chopped parsley leaves and stems (swap measurements with cilantro, if your taste buds prefer)
1 clove garlic, minced
1 small red Fresno pepper, seeded and minced
Pinch of Red Gold saffron threads
3/4 to 1 tsp chili powder, to taste
2 lemon wedges, or 1 Tbsp fresh-squeezed lemon juice
Directions: Heat a grill pan over medium to medium-high. Using 1 tablespoon of the olive oil, brush both sides of each fish and season with salt and black pepper.
Grill the fish until browned on one side, about 3 minutes. Turn the steaks and top each with 1/2 tablespoon of butter. Grill until the fish is just cooked through, about 2 to 5 minutes more. Transfer to serving plates.
Meanwhile, in a bowl, mix the remaining olive oil with the cilantro, parsley, garlic, balsamic, Fresno pepper, saffron and chili powder. Season with salt and pepper, to taste.
Spoon the vinaigrette over the swordfish, top with a squeeze or drizzle of lemon juice and serve.