Seared Scallops with a Lemony Chimichurri
Seared Scallops with a Lemony Chimichurri
The lemony notes from the actual lemon (peel and all), as well as our Sicilian lemon balsamic, give this chimichurri sauce the absolute best flavor for seafood. Chimichurri is traditionally a grilled-meat sauce starring parsley and cilantro, but we were inspired by a recipe from Bon Appetit to serve it with our fantastic, jumbo-sized scallops. Serves 4 to 6 as a side.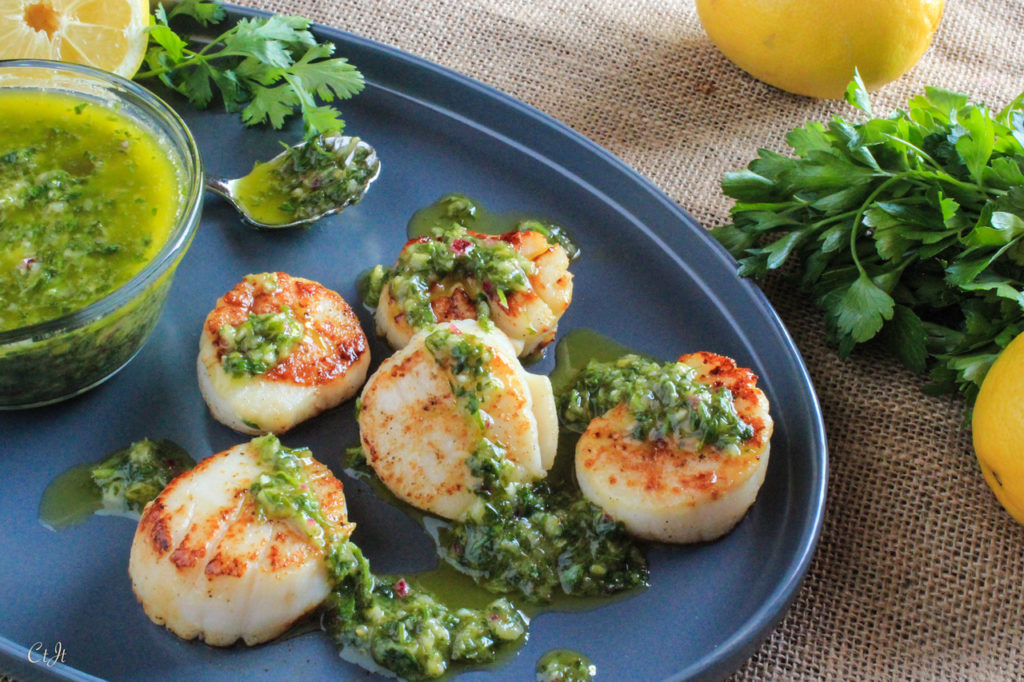 Lemony Chimichurri
Half a lemon, seeded and roughly chopped
1 heaping Tbsp Sigona's Sicilian Lemon White Balsamic
1 to 2 cloves garlic
2 Tbsp diced red onion or 1 shallot, roughly chopped
3/4 cup fresh parsley
1/2 cup fresh cilantro
1/4 cup fresh chives
Salt and pepper, to taste
1/2 cup Sigona's Fresh Press Extra Virgin Olive Oil

Scallops:
8 to 12 wild sea scallops
Salt and pepper, to taste
2 tsp. Sigona's Fresh Press Extra Virgin Olive Oil
2 tsp. unsalted butter


Directions: To a food processor, add the lemon (peel and all), balsamic, garlic and onion/shallot. Pulse until ingredients are roughly chopped. Add the herbs, salt and pepper; pulse a few times. With the blade running, drizzle in the olive oil and process until ingredients are all about the same size and the oil in the mixture is emulsified. Taste; adjust seasoning if needed.
Allow mixture to sit while scallops are prepared to allow the flavors to meld, at least 10 minutes.
Rinse and pat dry the scallops. Season both sides with salt and pepper. Add the oil and butter to a large skillet over medium-high heat. When the butter has melted and the combination is just starting to smoke, add the scallops, being careful not to over crowd the pan (work in batches if needed). Cook for just 1 minute 30 seconds each side, flipping once. Scallops should have a nice golden-brown sear that is about 1/4 inch deep on each side, and the middle should still be slightly translucent.
Transfer the scallops to a serving dish and serve the chimichurri on the side. Enjoy!