Chicken Paillards with Navel Orange Pan Sauce
The saltiness from the Parmigiano Reggiano paired with the bright citrus from the Navel oranges creates a deliciously elegant yet simple, savory dish. The sweeter the orange, the better — now is the time to get some outstanding locally grown oranges. Adapted from Eating Well. Serves 2 to 4.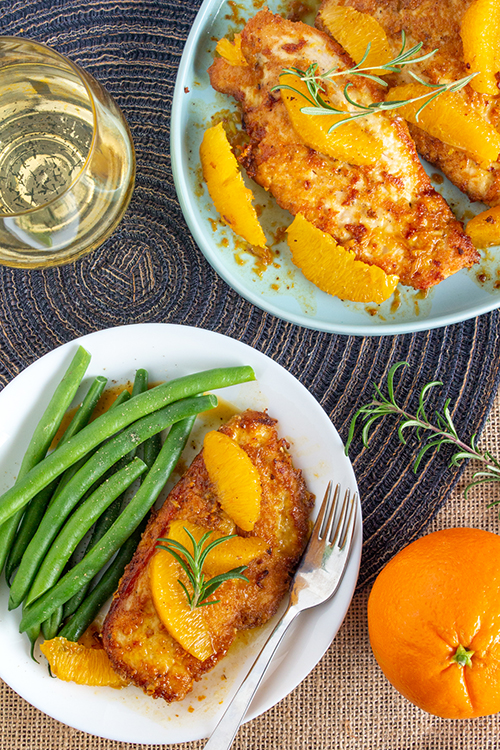 Ingredients:
3 Navel oranges
2 chicken breasts, about 1.25 to 1.5 lbs. total
Salt and pepper, to taste
1 large egg, beaten
3/4 to 1 cup freshly grated Parmigiano Reggiano cheese
2 Tbsp Sigona's Herbes de Provence Fresh Press Extra Virgin Olive Oil
2 Tbsp butter, divided
Fresh herbs, for garnish
Directions: Zest and juice one of the oranges into a bowl. *Segment (see note on supreming citrus) the remaining oranges, catching the juices in the bowl of zest and juice; set the segments aside. Squeeze any remaining juice from the membranes and peels into the bowl with the zest and juice. Set aside.
Slice the chicken breasts in half horizontally to create four halves. Lay halves on a cutting board and cover with plastic wrap. Use a meat mallet, glass or small skillet to pound chicken until about 1/4 inch thick. Season with salt and pepper.
Pour the beaten egg onto a small plate. Place the grated cheese on another small plate. One at a time, dip both sides of the chicken into the egg then dredge in the cheese. Set aside.
Heat oil and 1 tablespoon of the butter in a large skillet (non-stick or cast iron) over medium-high. Add the chicken and cook, flipping once, until golden brown and cooked through, about 7 minutes total (an instant-read thermometer inserted in the thickest part should read 165 degrees F). Remove chicken and set aside.
To the same skillet, add the orange juice and zest. Bring to a boil and cook for 1 minute. Add the orange segments and remaining butter; cook, stirring gently, until butter has melted and is incorporated. Season with salt; transfer sauce to a bowl.
To serve, arrange the chicken on a serving dish or individual plates. Drizzle some of the sauce and a few orange segments over the top of each chicken breast. Garnish with herbs and serve immediately.
*Supreming citrus: Creating citrus segments takes time and patience, but is well worth the effort! To do this, cut the top and bottom off your citrus fruit. Slice the peel from the fruit, top to bottom, getting as close to the flesh as possible. Once the peel is removed, slice any remaining pieces of white pith from the fruit so no white remains. Then, working over a bowl to catch the juices, slice closely along the sides of each membrane to neatly remove the citrus segments in between. And there you have it!
---
link