Patagonian Red Shrimp with a Spring Vegetable Salad and Sweet Corn Coulis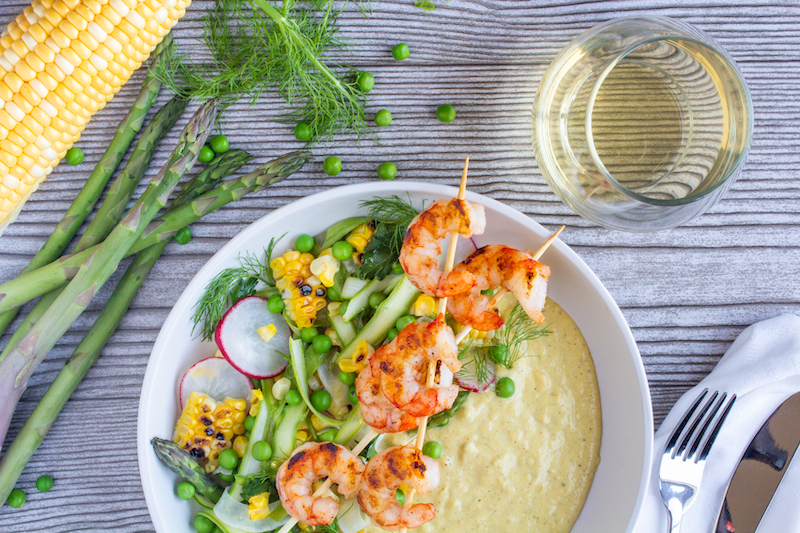 The Patagonian red shrimp we have in stores now is absolutely incredible. They're sweet and plump with an almost lobster-like flavor. Serve them with this simple spring vegetable salad and easy-to-make corn coulis, a term for a vegetable or fruit puree used as a sauce. You can easily use an outdoor grill, but this is easy to make right at the stove. Inspired by Food & Wine. Serves 2. Easy to double.
Ingredients:
Special Equipment: 4 wooden skewers
1/2 cup fresh English Peas
3 (about 8-inches each) ears corn, yellow or sweet, shucked
1/4 cup sour cream
2 Tbsp buttermilk
2 tsp fresh lemon juice
Salt and pepper, to taste
12 raw Patagonian red shrimp (peeled and de-veined)
1 Tbsp neutral oil (such as grapeseed), divided
4 large spears asparagus, woody ends snapped off
1/2 cup very thinly shaved fennel bulb (almost paper thin), plus fronds for garnish
1 small radish, thinly sliced into rounds
1/2 cup loosely packed fresh Italian parsley leaves
1 Tbsp Sigona's Champagne Vinegar
Directions: Place 4 wooden skewers in a water bath. Allow them to soak for at least 10 minutes; this is to help prevent them from charring on the grill.
Prepare an ice bath in a small bowl. Bring a small pot of salted water to a boil and add the peas. Cook for one minute then drain; immediately place peas in the ice bath. Let sit for 2 minutes then drain and set aside.
Heat an indoor grill pan over high. Add the corn and cook about 10 to 15 minutes, rotating the cobs about every 2 to 3 minutes until they ears are lightly charred in places and the kernels appear to have softened. If desired, you can lightly cover the pan with a piece of foil as the cobs grill. Set cobs aside until cool to the touch.
When cooled enough, slice the kernels from the cobs. Set aside 1 cup of kernels. Place remaining kernels in a blender with sour cream, buttermilk, lemon juice, salt and pepper. Blend until smooth. If needed, add up to another tablespoon of buttermilk. Season to taste. You've just made a coulis (/ko͞oˈlē/). Congratulations! Set coulis aside.
Use a vegetable peeler to make thin, long strips of the asparagus spears. Place peas, asparagus, asparagus tips, radish, reserved corn, thinly sliced fennel and parsley leaves in a small bowl. Toss with 1/2 tablespoon oil and the champagne vinegar; season lightly with salt and pepper. Set aside.
In a small bowl, gently toss the shrimp with remaining oil. Season with salt and pepper. Thread three onto each wooden skewer so the shrimp form a C shape.
Heat the same grill pan over medium-high heat. When hot, add the skewered shrimp and cook for about 2 to 4 minutes, flipping a time or two, until shrimp are opaque, have "pinked up" and cooked through. Remove from heat.
To serve: Pour about half of the coulis onto each individual dish (a plate or shallow bowl work great). Use a fork to dish some of the asparagus salad off to one side of the coulis. Garnish with fennel fronds. Lay two skewers of shrimp on top of the asparagus salad on each plate. Serve immediately.