Wild Shrimp Scampi with Linguine
Using fresh, locally made Saporito Pasta in this dish makes for a quick and delicious weeknight meal. Red Argentinian shrimp are some of the sweetest, best-tasting shrimp out there. Their meaty texture will add that extra something to any dish because they are simple to cook with and provide incredible flavor. For a little heat, add a few red pepper flakes to the oil and butter before cooking the shrimp. Serves 2 to 4.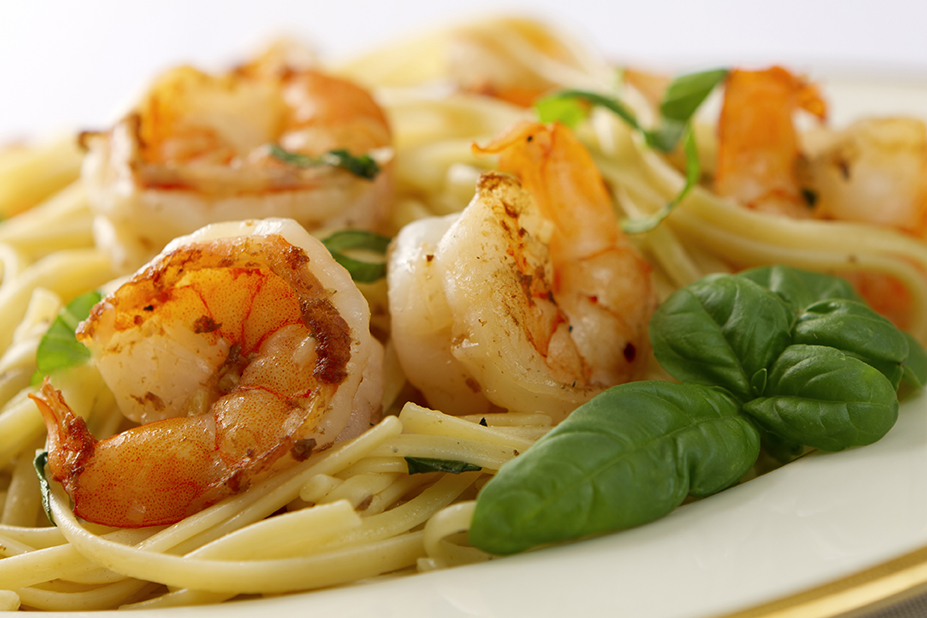 Ingredients:
1 Tbsp butter
1 Tbsp Sigona's Fresh Press Extra Virgin Olive Oil
1/2 a shallot, minced
2 to 3 cloves garlic, sliced
Salt and pepper, to taste
1 lb. Wild Patagonian Red Shrimp
1 1/2 cups white wine, divided
Juice of 1 lemon
1 pkg locally made Saporito Linguine (fresh) pasta
Chopped fresh parsley or basil, for sprinkling
Lemon wedges, for serving
Directions: Add the butter and oil to a large, deep skillet over medium heat. When butter is melted, add the shallot and garlic and cook until fragrant, about 1 minute. Add the shrimp, season with salt and pepper, and cook for about 1 1/2 minutes each side, flipping once. When pink and opaque, use tongs to remove shrimp; set aside.
To the same skillet add 1 cup of wine. Scrape up any brown bits from the skillet and increase heat to high to bring wine to a boil. Once boiling, add the remaining 1/2 cup wine and the lemon juice; simmer for 8 to 10 minutes or until the wine is reduced by half.
Meanwhile, cook pasta according to package directions.
Add the cooked, drained pasta to the wine sauce and toss to coat. Add the shrimp and gently toss to incorporate. Season to taste.
Transfer to a serving dish and finish with chopped herbs. Serve with a lemon wedge.