Butternut Squash Ravioli with Browned Sage Butter & Toasted Walnuts
Butternut Squash Ravioli with Browned Sage Butter & Toasted Walnuts
The mingling of flavors and scents from the sage, browned butter and ravioli are a fantastic way to welcome the fall season. The butternut squash gives the dish a hint of sweet, while the sage adds an earthy, fragrant note; the two are rounded out by the deep, nutty flavor of the browned butter. Serves 2 to 4.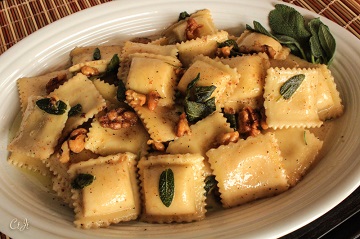 Ingredients:
1 package butternut squash ravioli, locally made by Saporito Fine Pasta, available at Sigona's
8 oz. unsalted butter
1/2 cup toasted walnut pieces
1/3 cup fresh sage leaves, larger leaves sliced
Salt and pepper, to taste
Optional: Freshly grated Parmigiano-Reggiano cheese
Directions: Place the cold butter in a medium skillet preheated over medium heat. Do not swirl or move around. Once the butter has melted and has begun to turn brown around the edges, add the sage and salt and pepper to taste. When the sage begins to give off its aroma and slightly crisps up, add the nuts.
Meanwhile, cook ravioli according to package directions.
To serve, add the ravioli into the hot skillet with the browned butter mixture. Remove and serve on a warm platter. If desired, top with Parmigiano-Reggiano.