March Oil & Balsamic Must-Haves!
Tropical Coconut & Lime Shrimp with Mango and Mini Sweet Peppers
The enticing and tropical-vacation-type scents of coconut and lime that waft through the house while cooking this dish will bring the whole family to the table. This is a quick weeknight meal that's dairy-free and gluten-free, and you can easily use cauliflower rice for the base if you're grain-free! Adapted from The Olive Oil & Vinegar Lover's Cookbook. Serves 4.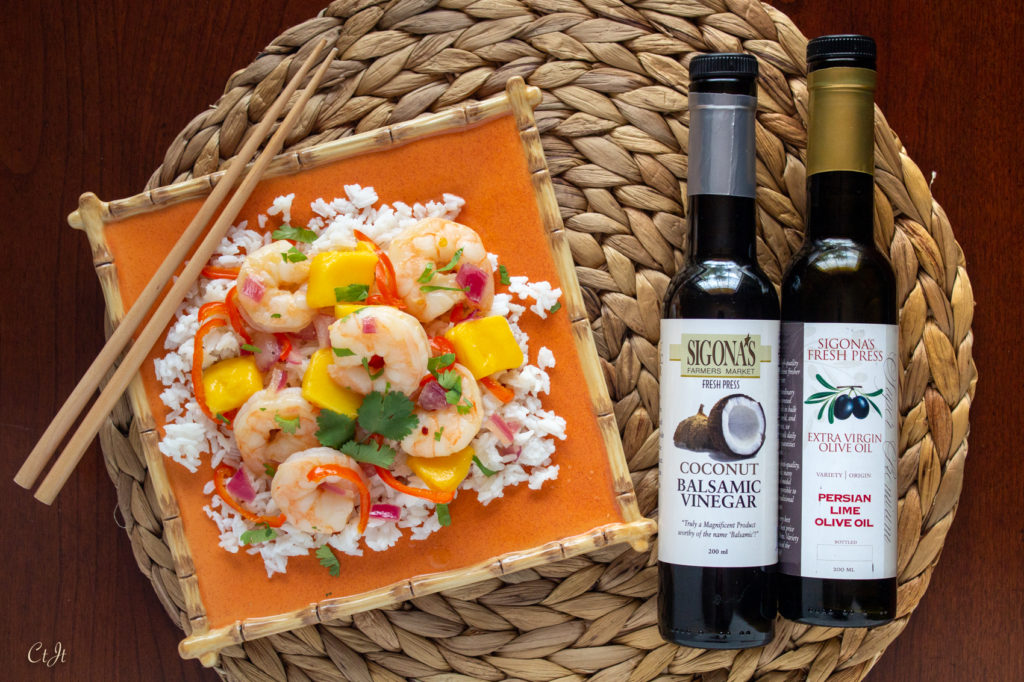 Ingredients:
1 lb. wild Patagonian red shrimp (about 20-24 shrimp; they come shelled and deveined)
Sea salt, to taste
A Pinch or two red pepper flakes
1/2 cup Sigona's Coconut Balsamic
3 mini sweet peppers, seeded and julienned
1/3 cup chopped red onion
1 mango, peeled and chopped
Chopped fresh cilantro, for garnish
Cooked rice or cauliflower rice, for serving
Directions: In a large bowl, toss the shrimp with the olive oil, salt and red pepper flakes. Allow to sit for about 5 minutes.
Heat a large skillet (non-stick preferred) over medium-high heat. Add the balsamic and bring to a boil. Add the mini peppers, red onion and the contents of the bowl with the shrimp to the skillet; spread out the shrimp in a single layer. Cook shrimp for about 1 ½ to 2 minutes a side or until pink, opaque and curled.
Add the mango and stir to combine. Allow to cook about 1 minute more. Remove the pan from the heat. Serve the mixture over rice; garnish with chopped cilantro.
Golden Pineapple Balsamic Glazed Ham Steak
Ham steaks are an excellent choice for a quick, weeknight meal. The steaks are precooked so prep and cook-time are minimal. Pineapple and ham are a classic combo! Serve this dish with a side of mashed potatoes, asparagus or a simple salad. Inspired by The Olive Oil & Vinegar Lover's Cookbook. Serves 4.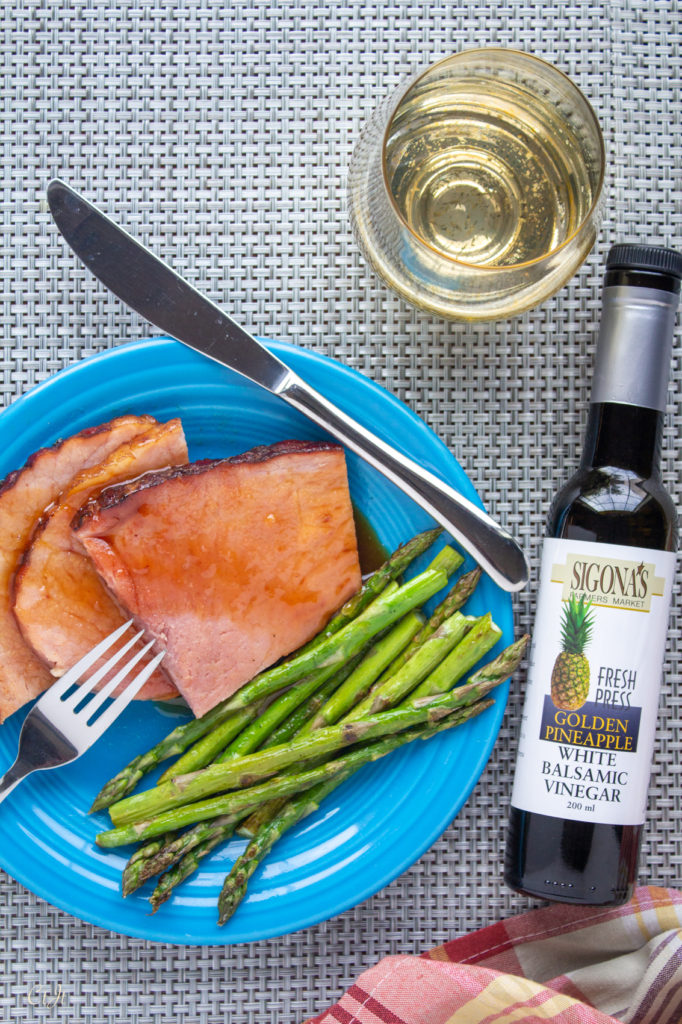 Ingredients:
2 Tbsp honey, such as Honey Hole Honey Co. local, raw honey, found only at Sigona's
1 tsp Dijon mustard
Freshly ground black pepper, to taste
1 large ham steak, such as Niman Ranch applewood smoked uncured ham steak, available at Sigona's in Redwood City
Directions: In a small saucepan combine the balsamic, honey, 1 tablespoon oil, Dijon and pepper. Bring to a boil over medium-high heat, whisking occasionally. Reduce heat to low and continue to cook, whisking occasionally, for 7 minutes. Remove from heat.
Heat remaining oil in a large sauté pan over medium-high heat. Add the ham steak and brush the top with some of the balsamic mixture. Cook for 2 to 3 minutes a side, flipping once, brushing the top when flipped with the balsamic mixture. Remove steak and keep warm.
Reduce heat to medium-low and add the remaining balsamic mixture to the pan, scraping up the brown bits. Allow the mixture to cook for 1 minute then transfer to a small bowl.
Slice the steak into serving portions and drizzle with the balsamic glaze. If the glaze has thickened too much, add 1 teaspoon of water and reheat, stirring, over low. Serve any remaining glaze on the side.