Fresh Local Apricot Recipes
Apricot, Watercress & Fennel Mini Tartines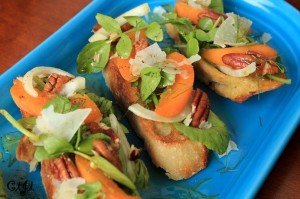 A tartine is considered to be an open-faced sandwich with a rich, fancy spread. Blenheim apricots are lush, rich and fancy, not to mention fleeting, so we like the idea of using them for these mini tartines. Humor us, if you will. Serves 4.
Ingredients:
8 slices from a baguette, cut on the bias to be about 1- to 1 ½ –inch thick
1/4 cup pecans, roughly chopped (toasting optional)
Sigona's Fresh Press Extra Virgin Olive Oil, for brushing and drizzling
About 1/2 – 3/4 a bunch watercress, about 2 loosely packed cups, small stems removed from thicker stalks, stalks discarded
1/4 cup sliced fennel (save the fronds for garnish)
2 tsp fresh lemon juice
Salt & pepper, to taste
2 local Blenheim apricots, halved, pitted and thinly sliced
Freshly shaved Parmigiano-Reggiano or Manchego
Garnish: chopped fennel fronds
Directions: Lightly brush both sides of the baguette slices with olive oil. You can put the baguette slices in the oven to broil, but I recommend using a grill (outdoor or stovetop). Over medium-high heat, grill both sides of the slices just slightly, about 1 minute per side. This makes the bread crispy on the outside and chewy on the inside.
In a medium bowl, toss the watercress and fennel with lemon juice and season with salt. Allow to mixture to sit for about 2 minutes, and then add the apricots and pecans. Toss the mixture to coat well.
Lay the baguette slices on a serving tray. Add a bit of the watercress and apricot mixture to each slice. Sprinkle on the shaved Parmigiano-Reggiano and fennel fronds, season with a bit of pepper. Drizzle the dish with olive oil. Enjoy!
Radicchio, Watercress & Apricot Salad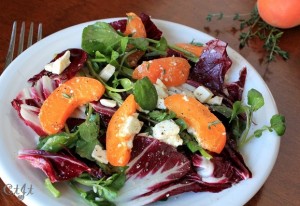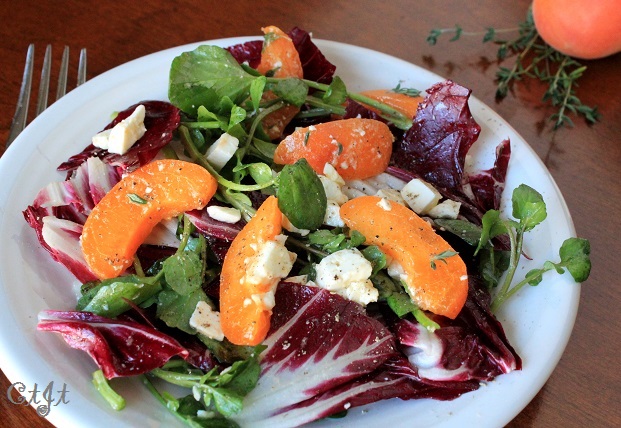 The gorgeous colors of this dish are just as delicious as the fantastic flavors of this simple dish. Adapted from Every Day with Rachael Ray. Serves 4 to 6.
Ingredients:
1 head radicchio, leaves torn
1 bunch watercress, large stems trimmed
3 local Blenheim apricots, halved, pitted and sliced into wedges
1/2 – 3/4 cup crumbled blue cheese or feta, more or less to taste
1 ½ Tbsp Sigona's Blenheim Apricot Balsamic or white wine vinegar
1 ½ tsp chopped thyme
1 small clove garlic, minced
Salt and pepper, to taste, if needed
Directions: In bowl, toss radicchio, watercress, apricots and cheese. In small bowl, whisk remaining ingredients; season. Toss salad with dressing and serve.