Chicken Salad & Dill Havarti Wraps
Simply stated, this wrap is delicious. The creamy dill Havarti has a subtle and incredibly fresh flavor that adds just the right amount of herbaceousness and mouthfeel to every bite. Poaching chicken infuses flavor and makes for a juicy finished product, too. You can use any sort of wrap or even a lettuce leaf to roll up the layered ingredients and dig in. Inspired by Martha Stewart. Serves 2.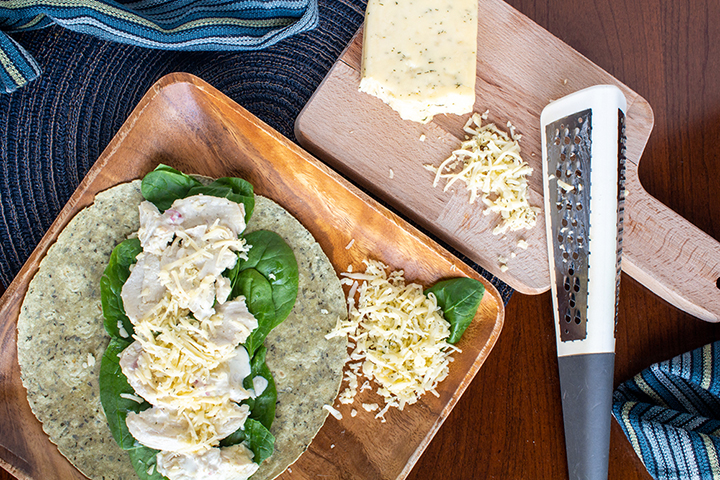 Ingredients:
1 boneless, skinless chicken breast half (6 to 8 ounces)
Salt, to taste
2 Tbsp mayonnaise or Greek yogurt
1 tsp minced shallot
1 tsp Dijon mustard
1 tsp white wine vinegar
2 tortilla-style wraps (we recommend garden spinach herb wraps or power green wraps) or large lettuce leaves (such as bibb, romaine or iceberg)
2 to 4 oz. shredded dill Havarti (sliced, if you prefer)
Fresh spinach
Directions: Poach the chicken in a small skillet with a lid. Bring 1 inch of salted water to a boil and add the chicken. Cover, reduce heat to low and cook for about 7 minutes. Remove from heat, leaving the lid in place. Allow chicken to steam for about 12 to 15 minutes, depending on thickness. Chicken is cooked when an instant-read thermometer reads 180°F in the thickest part of the breast.
Remove chicken from the skillet and set aside to cool to the touch. Thinly slice crosswise and place in a medium bowl.
Meanwhile, in a small bowl, whisk together the mayo/Greek yogurt, shallot, Dijon, vinegar, salt and pepper. Stir the sauce into the chicken; toss to coat. Allow the mixture to rest for about 5 minutes so the flavors meld.
To assemble the wraps, layer first the spinach on top of the wrap. Add the chicken then finish with the cheese. Fold in the sides of the wrap by about an inch, then roll up tightly from the bottom like a burrito.
Serve immediately or refrigerate, wrapped in plastic wrap or parchment, for up to 1 day.