Romano Beans with Burrata, Roasted Eggplant, Fresh Basil and Sigona's Garlic Oil
The flavors of the roasted eggplant with the crunch of the peppers and bright Romanos, combined with the briny burst of the capers, all paired with the creamy burrata — a semi-soft Italian cheese made from fresh mozzarella and cream — is almost too amazing to detail. This is fantastic when paired with toasted naan bread or as a side to roasted meat. Adapted from The New York Times. Serves 4 to 6.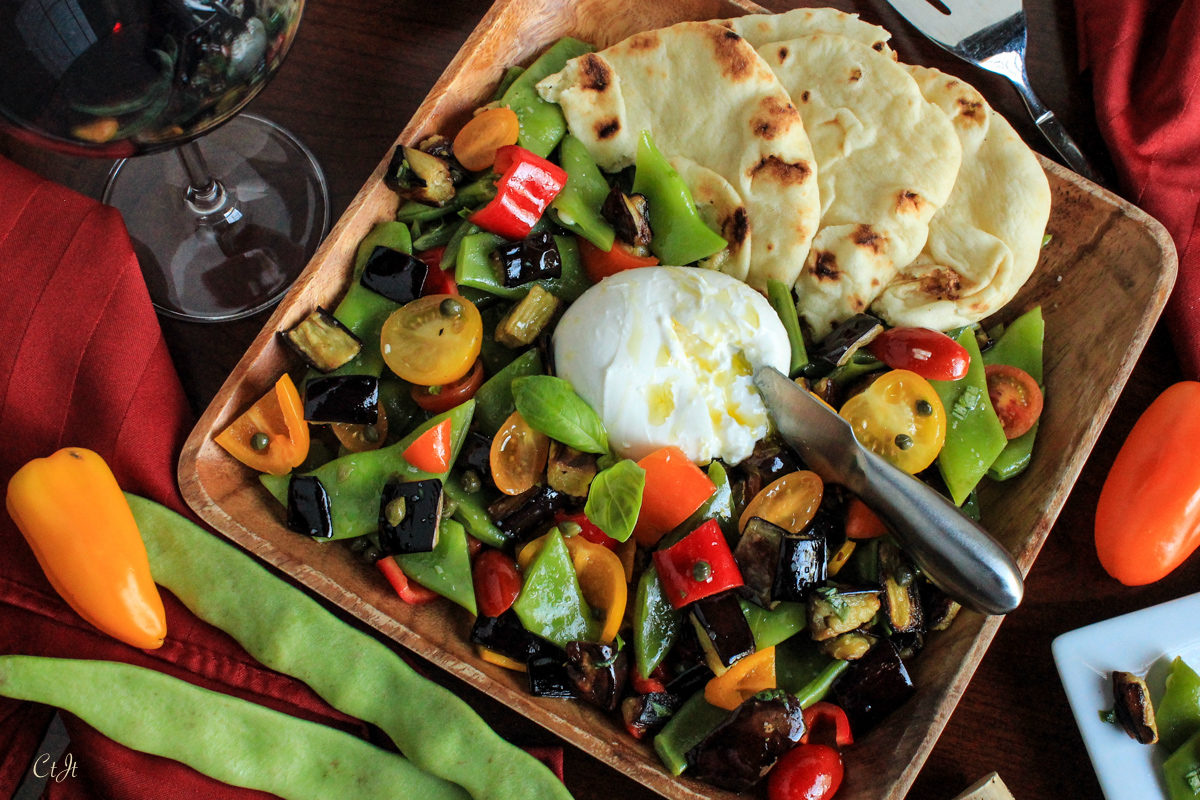 Ingredients:
One large eggplant, about 1 ¼pounds, diced into 1-inch pieces
Kosher salt, to taste, plus more for cooking beans
2/3cup Sigona's Fresh Press Garlic Oil, more as needed for drizzling
About 3/4 cup cherry tomatoes, halved
3/4 cup sweet mini peppers, about 5 or 6 peppers, halved, seeded and chopped
1pound Romano beans, sliced on the bias into 1- to 2-inch pieces; ends discarded
1Tbsp capers, drained
1/4cup torn fresh basil
2 red wine vinegar
Sea salt, to taste
Black pepper, to taste
8  ball of burrata, such as Belgioioso
Warmed or toasted naan bread, for serving
Directions: Preheat oven to 450°F.
Place the diced eggplant in a colander and set in the sink. Sprinkle with about 1/2 teaspoon salt and let stand for 20 minutes, tossing occasionally.
Dump eggplant out onto a clean kitchen towel. Pat the pieces dry; if quite damp, wrap the eggplant in the towel and squeeze out as much liquid as possible.
On a rimmed baking sheet, two if necessary, toss eggplant with 1/3 cup garlic olive oil and spread out in a single layer so no pieces are touching. Place in the oven to roast, flipping twice, until pieces are golden brown and skin has crisped slightly, about 20 minutes.
Meanwhile, bring a large pot of salted water to a boil; add the Romano beans and cook for 3 to 6 minutes until just tender. Drain well and immediately pop into an ice bath. Once cooled to the touch, slice the beans at an angle into 1-inch pieces and place in a large bowl with the tomatoes, peppers and 3 tablespoons garlic olive oil.
Add roasted eggplant and 2 more tablespoons garlic oil to the bowl; stir to combine. Add the capers, basil and vinegar. Season with salt and pepper, to taste.
When ready to serve, set the ball of burrata in the center of a large serving dish. Scoop the salad into a ring around the cheese and drizzle the whole dish with a little more garlic olive oil. Slice open the burrata and serve the dish with warm or toasted naan bread. Spread some of the burrata on the naan and top with the vegetables. Pair with a pinot noir, Syrah or Chianti.