Romano Beans with Burrata, Roasted Eggplant, Fresh Basil and Sigona's Garlic Oil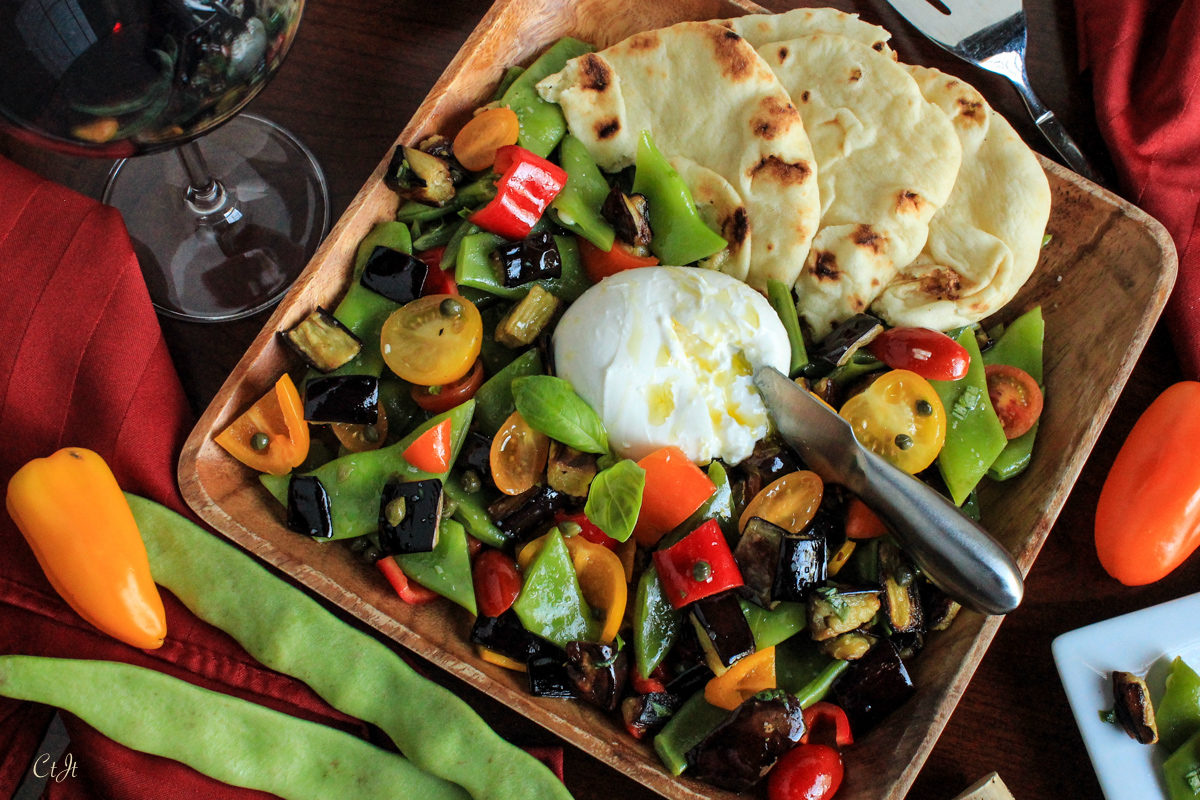 Romano beans, sometimes called Italian green beans, are recognizable by their wide, flat shape – distinct from other green beans. They're meaty, yet tender, and they hold up really well under cooking. This bean has a velvety, cream texture that – when cooked just right, is heavenly.
Fresh beans will convert almost anyone to becoming a fan. If you're used to canned or frozen green beans (and most especially if you do not care for them), we hope you'll take advantage of the local bean season and give them a whirl. We're pretty sure you'll be surprised and thrilled with them – and you'll never go back to the processed version again.
These beans are so tender, you can eat the entire pod, once you break off the fibrous stem end. Do you know how to check the freshness of a bean on the spot? Try putting a bean in the palm of your hand and snap one end with your thumb. If it bends to more than a 90-degree angle without snapping, it's past its prime.
Choosing and Using.
Break them in half to make sure they aren't hollow or dried out inside. (Old beans will tend to dehydrate, especially at both ends.)
They should feel velvety smooth and have a gel-like 'meat' to them.
We're firm believers in simply blanching veggies before they're used in dishes, but with these Italian green beans, you'll want to cook them a bit longer to bring out that velvety, creamy texture you don't get with other long beans such as Blue Lake.
Below is a recipe we know you'll love. Check out our other recipes for Romano beans, including:
Sautéed Romano Beans and Heirloom Tomatoes with Garlic Oil and Oregano Balsamic
Charred Romano Beans with a Creamy Tarragon Dressing
Pasta alla Genovese with Romano Beans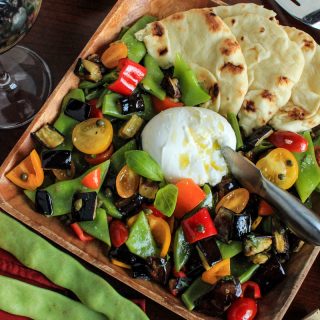 Romano Beans with Burrata, Roasted Eggplant, Fresh Basil and Sigona's Garlic Oil
The flavors of the roasted eggplant with the crunch of the peppers and bright Romanos, combined with the briny burst of the capers, all paired with the creamy burrata — a semi-soft Italian cheese made from fresh mozzarella and cream — is almost too amazing to detail.
Note that if you're using a ball of burrata that's 4 oz. or less, you may want to pick up two so you have at least 8 oz.
This is fantastic when paired with toasted naan bread or as a side to roasted meat. Adapted from The New York Times. Serves 4 to 6.
Ingredients
Ingredients:
One large eggplant

about 1 ¼pounds, diced into 1-inch pieces

Kosher salt

to taste, plus more for cooking beans

2/3

cup

Sigona's Fresh Press Garlic Oil

more as needed for drizzling

About 3/4 cup cherry tomatoes

halved

3/4

cup

sweet mini peppers

about 5 or 6 peppers, halved, seeded and chopped

1

pound

Romano beans

sliced on the bias into 1- to 2-inch pieces; ends discarded

1

Tbsp

capers

drained

1/4

cup

torn fresh basil

2

tsp

red wine vinegar

Sea salt

to taste

Black pepper

to taste

Two

3.5 oz ea. or one (8 oz ea.) ball of burrata cheese

Warmed or toasted naan bread

for serving
Instructions
Preheat oven to 450°F.

Place the diced eggplant in a colander and set in the sink. Sprinkle with about 1/2 teaspoon salt and let stand for 20 minutes, tossing occasionally.

Dump eggplant out onto a clean kitchen towel. Pat the pieces dry; if quite damp, wrap the eggplant in the towel and squeeze out as much liquid as possible.

On a rimmed baking sheet, two if necessary, toss eggplant with 1/3 cup garlic olive oil and spread out in a single layer so no pieces are touching. Place in the oven to roast, flipping twice, until pieces are golden brown and skin has crisped slightly, about 20 minutes.

Meanwhile, bring a large pot of salted water to a boil; add the Romano beans and cook for 3 to 6 minutes until just tender. Drain well and immediately pop into an ice bath. Once cooled to the touch, slice the beans at an angle into 1-inch pieces and place in a large bowl with the tomatoes, peppers and 3 tablespoons garlic olive oil.

Add roasted eggplant and 2 more tablespoons garlic oil to the bowl; stir to combine. Add the capers, basil and vinegar. Season with salt and pepper, to taste.

When ready to serve, set the ball of burrata in the center of a large serving dish. Scoop the salad into a ring around the cheese and drizzle the whole dish with a little more garlic olive oil. Slice open the burrata and serve the dish with warm or toasted naan bread. Spread some of the burrata on the naan and top with the vegetables. Pair with a pinot noir, Syrah or Chianti.
Notes
Sigona's garlic infused olive oil is available in both our markets or online at www.sigonas.com 
Click here for more recipes featuring Sigona's garlic infused olive oil.