Don't Let the Cheese Stand Alone
Don't Let the Cheese Stand Alone
Healthcare workers, grocers, public utilities… these are just a few of the industries deemed essential at this time. Have you ever thought about the dairy cows? How about those working in agriculture? All the farmers, ranchers, people harvesting and tending crops or animals? They're working just as much as before COVID-19. Cows can't just stop producing milk!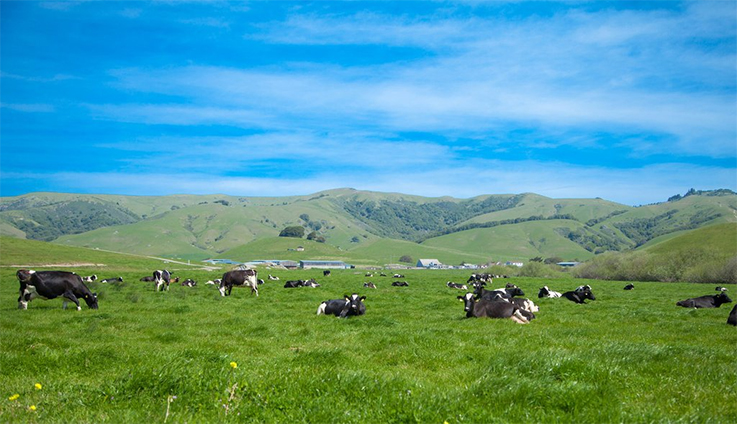 Though the grocery stores are busy, there has been a rapid decline in demand for certain foods, such as specialty cheeses. Restaurants, cruises, hotels, catering services, all of these have suspended their orders from vendors such as creameries and cheese companies. But, as stated above, the cows still produce milk, and all that milk is still made into cheese or other dairy deliciousness. All that deliciousness needs to go somewhere!
Enter Sigona's!
We at Sigona's are proud to work with local vendors, such as farmers, cheesemakers, artisan bread makers. We are doing what we can to help each other out during this wild and crazy season. We're all in this together, and we're glad to be able to offer you, our customers, the opportunity to help support the food and agriculture industry at a time when it's needed most.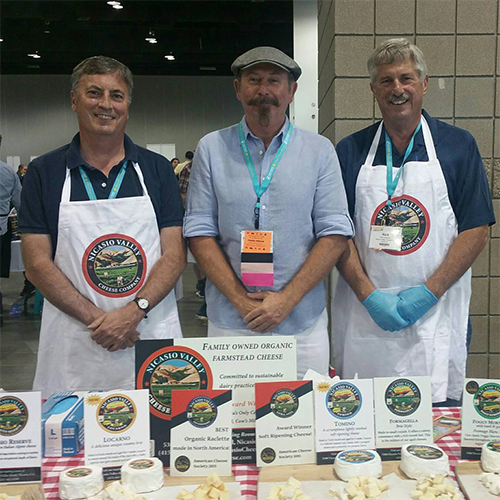 We are featuring this week a locally made cheese from Nicasio Valley Cheese Company. Nicasio Valley Cheese Co. is just one of the local cheese companies we are proud to feature in our stores, in addition to Central Coast Creamery and Stepladder Creamery to name a few.
Nicasio Valley Cheese Company has made cheese since 2010, but the sustainably organic ranch on which its cattle graze has been family owned and operated since 1919 when Fredolino Lafranchi immigrated from Switzerland. You've probably seen one of the Lafranchi brothers, either Scott or Rick, sampling cheese in our stores!
"My father, Will Lafranchi, traveled many times to Maggia, Switzerland, the town from which his father, Fred, had immigrated, and it was there he would sample all the local cheeses that were so different than what was made and available in US at that time," said Rick Lafranchi of Nicasio Valley Cheese Co. "Dad had once said he thought it would be a great idea for the family to make the cheeses our Swiss ancestors made, and it was in the 2000s we made that dream a reality.
"In 2002, conventional milk prices were at rock bottom and we knew that in order to keep our ranch and dairy operational, we'd need to add value to our product," said Rick. "We thought about entering the cheese world and looked to our Swiss heritage to for inspiration and development."
All the Nicasio Valley Cheese Co. organic, farmstead cheeses are modeled after cheeses made in Maggia, the Swiss village from which Grandpa Fred immigrated. With the help of Maurizio Lorenzetti, a cheesemaker from Maggia, Nicasio Valley has perfected more than nine cheeses, ranging from the creamy fromage-blanc style Foggy Morning, to the Nicasio Reserve, classic Swiss-Italian mountain cheese with a rich flavor that is refined and luxurious from at least five months of aging.
We are honored to offer Nicasio Valley Cheese Co.'s award-winning cheeses, and we are especially excited to offer you the San Geronimo this week for free when you spend $30 or more in-store. This offer is available Wednesday, 4/29/20 – 5/5/20, or while supplies last.
San Geronimo is a raclette-style cheese, making it exceptional for melting. It's also great as a table cheese for enjoying with crackers or a baguette. "San Geronimo is a very enjoyable cheese that will add a lot of zest to a toasted cheese or a burger," said Rick. "It has a powerful yet pleasant taste; it's a cheese you'll taste, but it's not going to overpower other flavors."
If you're ever up in Marin, you can pop by Nicasio Valley Cheese Co. Operations look a little different, due to current circumstances, but the cheeses are still available for purchase at its onsite retail store.