Pistachio-Crusted Salmon
Nuts and fish are both excellent sources of beneficial nutrients, including heart-healthy antioxidants and omega-3 fatty acids. This is a delicious, quick way to make salmon that's packed with flavor. Great for a weeknight meal! Adapted from Cooking Light. Serves about 2.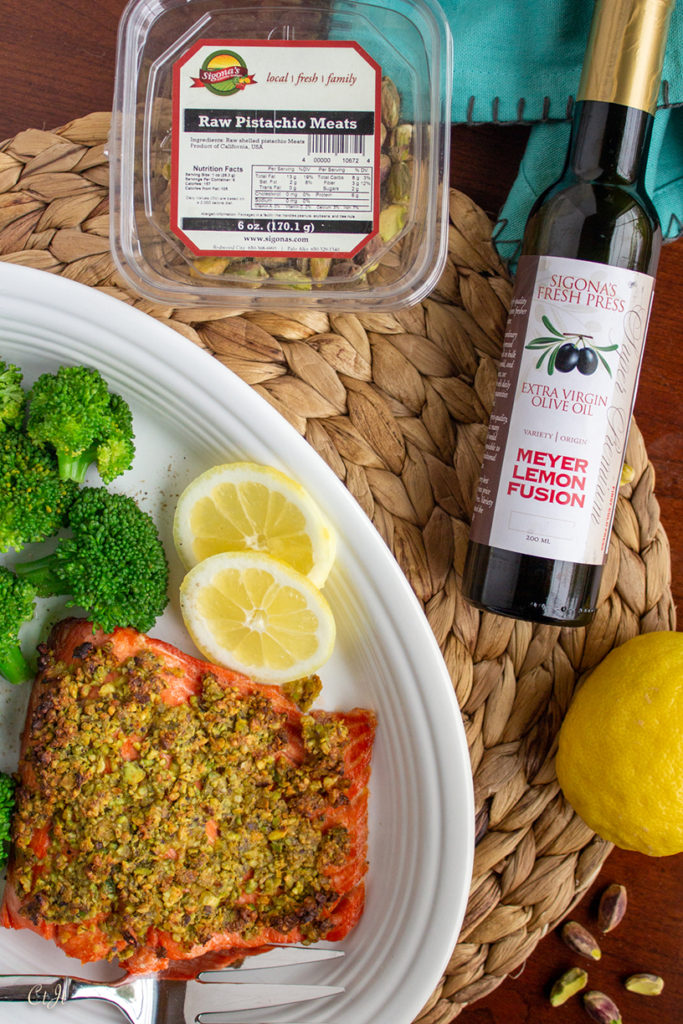 Ingredients:
1/4 cup finely chopped raw pistachios (found in Sigona's Dried Fruit & Nuts section)
2 tsp. Dijon mustard
1 tsp. lemon zest
1 skin-on salmon filet, about 8 to 10 oz.
2 Tbsp Sigona's Meyer Lemon Fusion Extra Virgin Olive Oil
Salt and pepper, to taste
Directions: Preheat oven to 450°F.
In a small bowl, mix together the chopped pistachios, Dijon and zest. Rub the salmon with olive oil; season with salt and pepper. Place salmon skin-side down on a foil-lined baking sheet; top with the pistachio mixture, patting it out to an even layer.
Bake salmon for 10 to 12 minutes or until a thermometer reaches 130°F in the thickest portion. Allow to rest about 5 minutes before serving.