May Olive Oil and Balsamic Must-Try Recipes!
For the entire month of May, enjoy sales on four fantastic oil & balsamics both in-store & online: Espresso Balsamic, Strawberry Balsamic, Red Chili Harissa Oil, & Key Lime White Balsamic!
Raspberry Tart with Chocolate & Espresso Ganache
This decadent dessert is a beauty to behold and a breeze to whip up. Incorporating Sigona's Espresso Balsamic adds an underlying rich and caramely sweetness to the ganache. Dust the finished product with extra powdered sugar, if desired. Inspired by Heather Christo. Serves 6 to 8.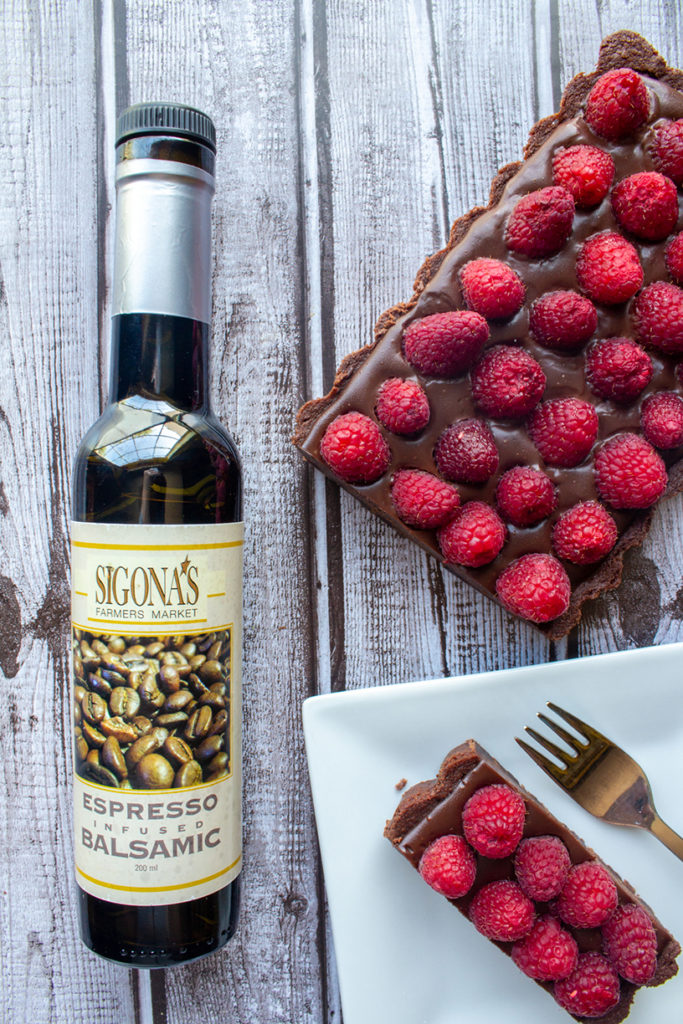 Crust:
2/3 cups all-purpose flour
1/3 cup cocoa powder (dark or other, depending on preference)
1/2 cup powdered sugar, plus more for dusting, if desired
1/2 cup cold salted butter, cut into small pieces (Don't have salted butter? Add 1/2 tsp of salt)
Ganache:
8 oz. quality chocolate, such as Ghiradelli semi-sweet or dark, or look at the assortment of locally made and artisanal chocolate bars and chunks available at Sigona's
3/4 cup heavy cream
2 Tbsp butter, at room temperature
At least 12 oz fresh raspberries (blueberries are also an option)
Directions: Preheat the oven to 400°F. Lightly grease a tart pan; set aside.
In a food processor, pulse together the flour, cocoa, sugar and butter (and salt, if necessary) until the ingredients come together to form a moist dough.
Press the dough firmly into the tart shell, getting it up the sides and between the flutes; create an even layer on the bottom.
Bake the tart shell for 12 minutes. Remove from oven and poke the crust with a fork a few times to release the steam. Use the back of a spoon or measuring cup to firmly press down the crust to form a flatter, even base. Return to oven for 3 minutes more.
Allow tart shell to cool thoroughly. If time is of the essence, place the shell in the freezer to speed the cooling process.
Meanwhile, prepare the ganache.
In a small pot, bring the cream and balsamic to a simmer over medium-low heat, stirring occasionally (don't let it boil). Place the chocolate in a heat-proof bowl and pour the simmered cream mixture on top.
Whisk to combine the cream and the chocolate. When chocolate is melted, add the butter and continue to whisk until the ganache is glossy and butter is incorporated.
Pour the ganache into a cooled tart shell; gently spread out to an even layer. Allow the tart to sit for 10 minutes to cool.
After the tart has cooled for 10 minutes, place raspberries in even rows on top of the ganache, 4 in each row.
Slice and serve. Store remaining in the fridge, bringing to almost room temperature before serving.
Harissa-Seared Scallops with a Mango Balsamic Salsa
This dish packs a sweet heat made from a combination of our spicy red chili oil and our mango white balsamic — a combination inspired by the mango con chili treat. This would also work with shrimp or prawns. Serves 4.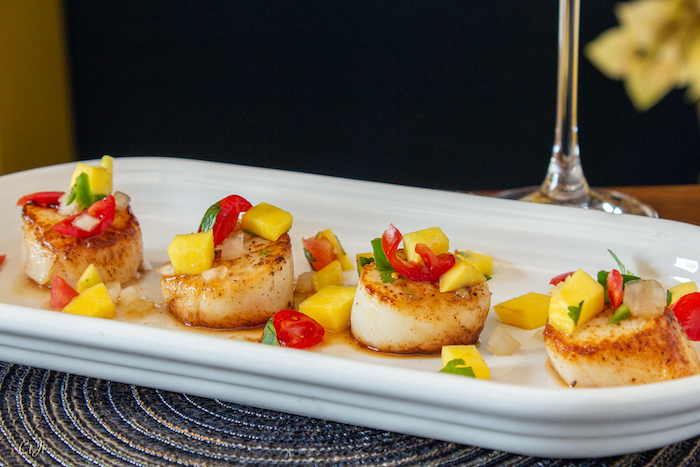 Ingredients:
1 large tomato, diced (about 3/4 cup diced)
Half an onion, diced
Half a jalapeño, seeded and diced
1 Tbsp Sigona's Red Chili Harissa Olive Oil (it's spicy!)
1 Tbsp butter
8 large dry-packed sea scallops
Salt and pepper, to taste
3 Tbsp Sigona's Mango Balsamic
1 large mango, such as a Keitts, peeled and diced (at least 1 cup)
2 tbsp chopped fresh cilantro
Directions: Stir together the tomatoes, onion and jalapeño in a bowl. Set aside.
Rinse and pat dry the scallops. Season both sides with salt and pepper. Set aside.
Add the harissa oil and butter to a large skillet over medium-high heat. When the butter has melted and the combination is just starting to smoke, add the scallops, being careful that they don't touch. Cook for just 1 minute 30 seconds each side, flipping once. Scallops should have a nice golden-brown sear that is about 1/4 inch deep on each side, and the middle should still be slightly translucent. Use tongs to transfer just the scallops to a plate; set aside, keeping warm.
Reduce heat to medium and add the balsamic to the skillet to deglaze. Use a wooden spoon or rubber spatula to scrape up the brown bits from the bottom of the pan as the balsamic reduces. After 2 minutes, add the tomato and onion mixture; cook, stirring, for another 2 minutes. Transfer mixture to a bowl and stir in the mango and cilantro.
Serve the scallops with the mango salsa, either on the side or spooned over the top.
Vodka Tonic (or Gin & Tonic) with Key Lime Balsamic
Of course, G&Ts are best with a spritz of lime juice, but you'll be pleasantly surprised how refreshing the drink can be with a bit of our key lime white balsamic. Impress your guests with this unique, easy drinking cocktail. Serves 1.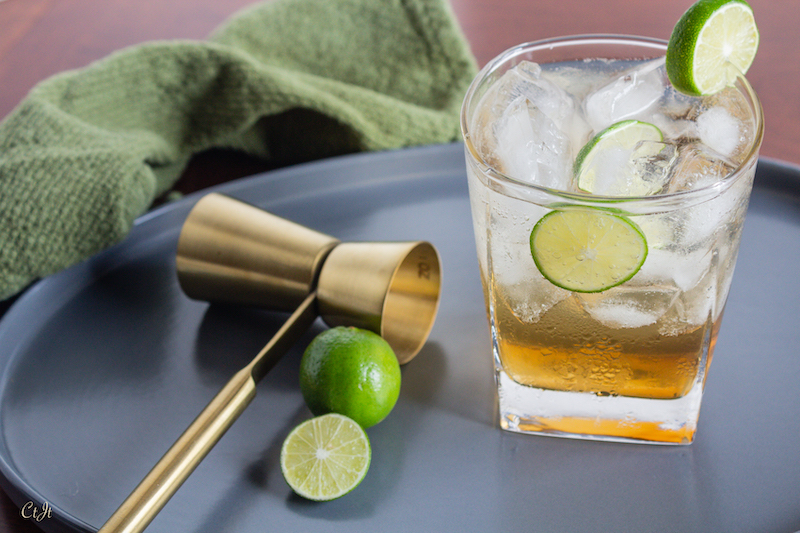 Ingredients:
5 oz tonic water (preferably light/low sugar), or seltzer
2 oz vodka or gin
1 1/2 tsp Sigona's Key Lime White Balsamic, or to taste
Key limes, for squeezing and garnish
Ice
Directions: Add the vodka and balsamic to a glass. Squeeze in juice from a quarter of a key lime. Fill glass with ice and then add the tonic water. Gently stir. Add 2 slices of key lime to the glass and another on the rim for garnish, if desired.
Raw Swiss Chard Salad with Fresh Strawberries, Barley, Feta and Sigona's Basil Oil
Looking for a way to change up your side salad? You've got to try this one. Don't skip the basil oil— it adds an absolutely delicious layer of flavor that's herbaceous and fresh; basil is fantastic with strawberries! Inspired by Cooking Light. Serves 4 to 6.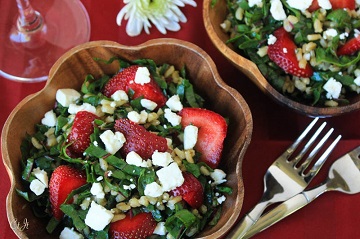 Ingredients:
1/2 cup uncooked barley or pearl barley
2 1/2 Tbsp Sigona's Basil Oil
1 1/2 tsp. minced red onion
1/2 tsp. honey, such as Mountain Bloom from Honey Hole Honey Co., available at Sigona's
Salt and pepper, to taste
1 bunch Swiss chard
At least 1 cup sliced fresh strawberries
Crumbled goat or Feta cheese, for sprinkling
Directions: Cook barley according to package directions. When it's done, drain any excess water. Rinse barley under cold water, drain well and set aside.
Meanwhile, in a large bowl, whisk together the oil, balsamic, onion and honey, Season with salt and pepper to taste.
Fold the chard leaves in half lengthwise, leaf fronts together, then slice off the thick, tough stem, up through the leaf (saving the stems for another recipe, if you wish). Roll the leaves up then thinly slice (chiffonade) into rounds, creating long, thin ribbons. Massage the ribbons between your hands for about 3 minutes or until they're just wilted a bit.
Add the chiffonade Swiss chard and barley to the vinaigrette; toss to coat. Divide among 4 to 6 salad plates, topping each with sliced strawberries and crumbled cheese. Serve.