Sigona's Simple Appetizer: Sweet Red Pepper Relish & Cream Cheese
Sigona's Simple Appetizer: Sweet Red Pepper Relish & Cream Cheese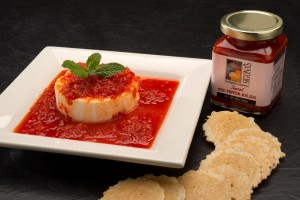 Sigona's Sweet Red Pepper Relish is terrific on:
roasted or grilled vegetables
polenta
cornbread
or even served as an accompaniment to beef, lamb, pork and poultry 
This spread is so versatile it can be used on just about anything! We think it's best to keep it simple and flatter your guests with flair for food like this:
Sweet Red Pepper Relish & Cream Cheese
Mix a jar of Sigona's Sweet Red Pepper Relish with 8-10 oz. cream cheese (You can either stir the two together or just pour a bit of the relish on top of the cream cheese as shown in the picture).
Garnish with mint leaves.
Serve with your favorite crackers or sliced baguette.