Recipe Roundup: Sigona's Mango White Balsamic
Our aged Mango White Balsamic is rich and sweet, followed by crisp floral notes. It's perfect for vinaigrettes, dressings, salsa, marinades, fruit salads, grilled chicken, pork or shrimp. It also pairs nicely with our Persian Lime Olive Oil.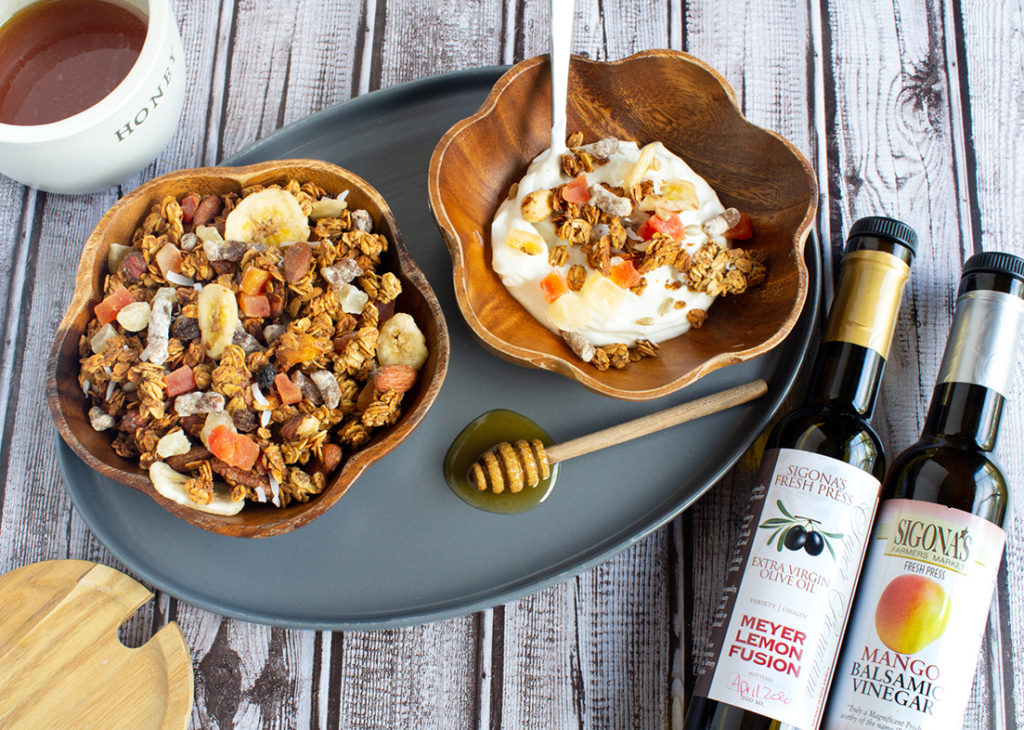 Tropical Granola With Sigona's Mango Balsamic & Meyer Lemon Fusion Olive Oil
This tasty little mixture is perfect for sprinkling over yogurt or even a smoothie bowl to add a little crunch. Feel free to add various fruits and nuts, or even experiment with a different balsamic and oil combination! Adapted from The Olive Oil & Vinegar Lover's Handbook. Makes about 4 cups, easy to double.
Ingredients:
2 cups rolled oats
1/2 cup mixed raw nuts
1/4 cup ground flaxseed
2 Tbsp Sigona's Mango Balsamic
2 Tbsp honey, such as Honey Hole Honey Co. honey, available at Sigona's
2 medium egg whites (or 1 large/ex large), lightly beaten until just frothy
1 cup Sigona's Tropical Trail Mix (includes date bits, bananas, coconut, sunflower seeds, papaya, pineapple and raisins)
Directions: Line a large rimmed baking sheet with parchment paper and preheat an oven to 325°F.
Stir together the oats, nuts and flax in a large mixing bowl. Set aside.
Stir together the balsamic, honey and oil in a small saucepan over low heat. Cook, stirring occasionally, until the honey has dissolved, about 2 minutes. Drizzle this over the oat mixture and toss to coat well. Add the beaten eggs to the oat mixture and gently incorporate with a fork.
Spread the mixture out in a single layer on the baking sheet. Bake for 15 minutes then remove and flip the granola around with a large spatula. Bake another 15 to 20 minutes, shaking once, until toasty golden.
Allow the mixture to come to room temperature. Add the granola to a large mixing bowl and gently fold in the dried fruit mix.
Store in an air-tight container at room temperature for up to 3 weeks.

---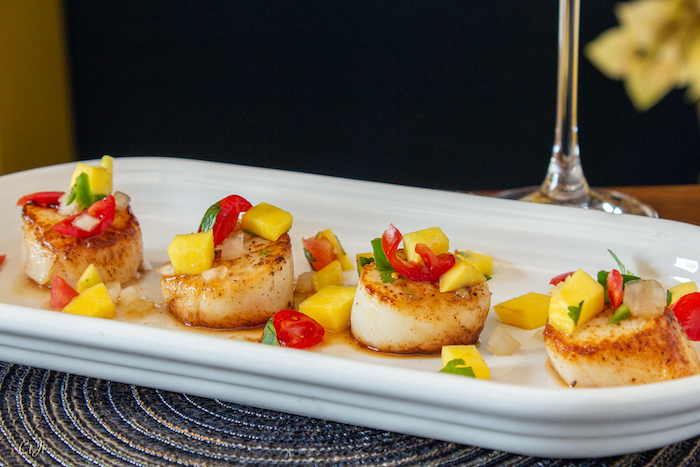 Harissa-Seared Scallops with a Mango Balsamic Salsa
This dish packs a sweet heat made from a combination of our spicy red chili oil and our mango white balsamic — a combination inspired by the mango con chili treat. This would also work with shrimp or prawns. Serves 4.
Ingredients:
1 large tomato, diced (about 3/4 cup diced)
Half an onion, diced
Half a jalapeño, seeded and diced
1 Tbsp Sigona's Red Chili Harissa Olive Oil (it's spicy!)
1 Tbsp butter
8 large dry-packed sea scallops
Salt and pepper, to taste
3 Tbsp Sigona's Mango Balsamic
1 large mango, such as a Keitts, peeled and diced (at least 1 cup)
2 tbsp chopped fresh cilantro
Directions: Stir together the tomatoes, onion and jalapeño in a bowl. Set aside.
Rinse and pat dry the scallops. Season both sides with salt and pepper. Set aside.
Add the harissa oil and butter to a large skillet over medium-high heat. When the butter has melted and the combination is just starting to smoke, add the scallops, being careful that they don't touch. Cook for just 1 minute 30 seconds each side, flipping once. Scallops should have a nice golden-brown sear that is about 1/4 inch deep on each side, and the middle should still be slightly translucent. Use tongs to transfer just the scallops to a plate; set aside, keeping warm.
Reduce heat to medium and add the balsamic to the skillet to deglaze. Use a wooden spoon or rubber spatula to scrape up the brown bits from the bottom of the pan as the balsamic reduces. After 2 minutes, add the tomato and onion mixture; cook, stirring, for another 2 minutes. Transfer mixture to a bowl and stir in the mango and cilantro.
Serve the scallops with the mango salsa, either on the side or spooned over the top.

---