Order Your Diestel Turkey Today!
Thanksgiving is only a few weeks away. This means it's time to order your Diestel turkey at Sigona's!
 Diestel turkeys are locally raised in Sonoma, CA. by the Diestel family– a fourth generation of sustainable farmers. Diestel Ranch has earned a reputation for producing the highest quality all-natural and organic free-range turkeys.
Diestel turkeys are healthy, nutritious and flavorful with an incredible tenderness and texture. Click here to learn how to roast your Thanksgiving turkey properly for a delicious and safe thanksgiving dinner.
To order yours: Stop by Sigona's in Redwood City and add your name to the order sheet, submit the order form or, call us at
(650) 368-6993 to reserve yours today!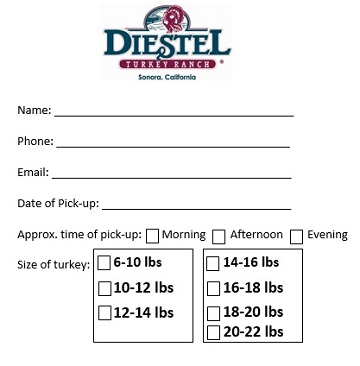 Quantities are limited! Be sure to place your order early.