In the Kitchen with Sigona's Featuring: Orange Flesh Honeydew
Melon, Prosciutto and Arugula Salad with Sigona's Summertime Peach Balsamic Vinaigrette
Here is a great summer salad that I make all the time. It pairs wonderfully with Sigona's Summertime Peach White Balsamic. Recipe adapted from Food Network. Serves 8 to 10.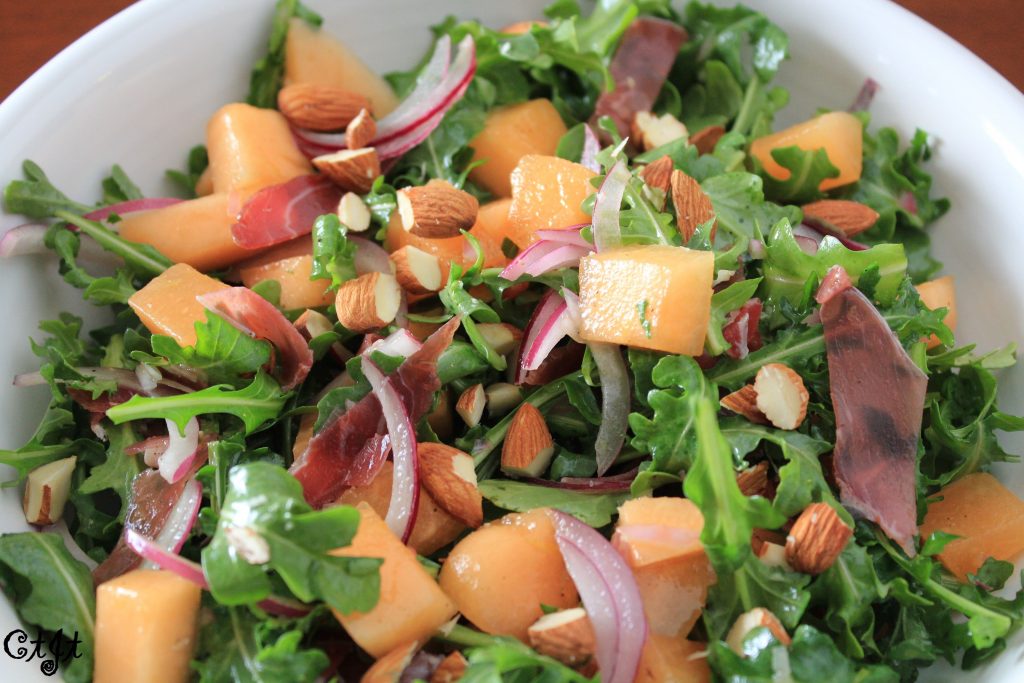 Ingredients:
1/4 cup Sigona's Summertime Peach White Balsamic
1 Tbsp. minced shallot
1/2 tsp. Dijon mustard
1/2 tsp. salt
1/4 tsp. freshly ground black pepper
1/3 cup Sigona's Meyer lemon extra virgin olive oil
1 Tbsp. chopped fresh herbs, such as basil, chives and parsley
1 melon, such as orange-flesh honeydew or cantaloupe, peeled, seeded and cut into 1/2-inch cubes
1/2 cup thinly sliced red onion*
8 thin slices prosciutto, cut into thin strips
10 oz. wild arugula, washed and spun dry (very dry!)
1 cup roughly chopped toasted sprouted gourmet almonds
*You can take a bit of the bite out of a red onion by soaking slices in ice water for about 5 minutes. Drain and pat dry before use.
Directions: In a mixing bowl combine the balsamic, shallot, mustard, salt and pepper; whisk to combine. While continuing to whisk, add the oil in a slow and steady stream. Whisk in the fresh herbs and set aside.
In a large bowl, combine the melon, red onion, prosciutto, wild arugula and sprouted almonds. Drizzle with a couple tablespoons of the vinaigrette and season lightly with salt and pepper. Toss gently to combine; all ingredients should be well coated with the vinaigrette; add more if needed, but not too much.
Serve immediately, serve remaining vinaigrette on the side.
---
Orange-Flesh Honeydew, Fig & Prosciutto with Fennel and Sigona's Basil Oil
Prosciutto and and cantaloupe is most definitely a classic combination — the saltiness of the prosciutto is countered by its sweet cantaloupe companion, creating a delicious flavor you might not usually expect from two simple ingredients. We've taken these two ingredients and added in a few other flavors and textures — the fennel adds fantastic crunch — to create a salad rather than a typical melon-prosciutto appetizer. Serves 4 to 6.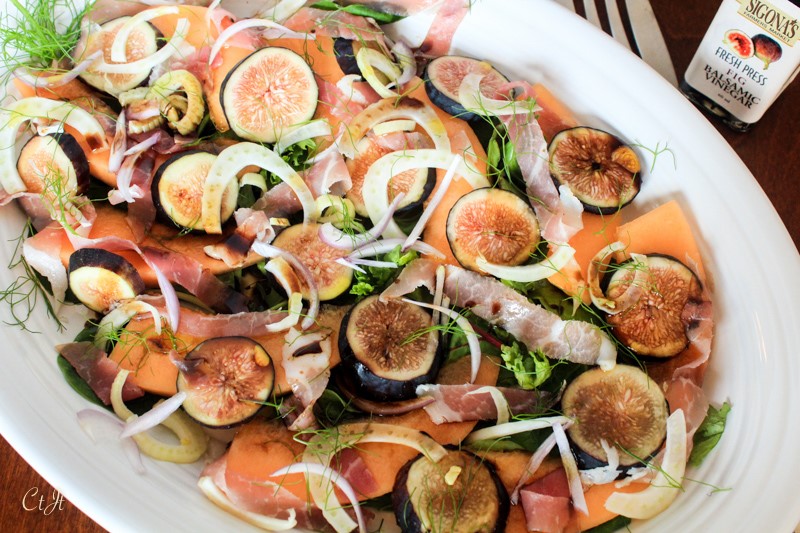 Ingredients:
1 cup mixed greens
1/2 an orange-flesh honeydew melon, seeded
4 to 6 figs, cut into 1/4-inch slices
2 to 4 oz. prosciutto, thinly sliced
1/4 cup thinly sliced fennel, plus 1 to 2 Tbsp. fennel fronds, for garnish
1 Tbsp. thinly sliced shallot
1 Tbsp. Sigona's Basil Oil
1 to 2 tsp. Sigona's Fig Balsamic
Salt and pepper, to taste
Directions: Cut the half melon in half and then cut the halves across the middle to create quarters. Cut the quarters into slices about 1/4-inch thick; remove the rind and discard.
Spread the greens out on a large platter. Top the greens evenly with a single layer of melon slices and then fig slices. Add on the prosciutto, the fennel and shallot in layers.
Drizzle the dish with the basil oil and then the balsamic. Season with salt and pepper. Finish with a garnish of fennel fronds.
Agua Fresca with Orange Flesh Honeydew, Lime & Mint
Agua Fresca is a light, refreshing fruit juice that originated in Mexico. This thirst-quencher is made by simply blending fruit with water and adding in a bit of lime. We like mint in ours, too. Add vodka or don't; we'll leave it up to you. Makes about 4 to 5 cups.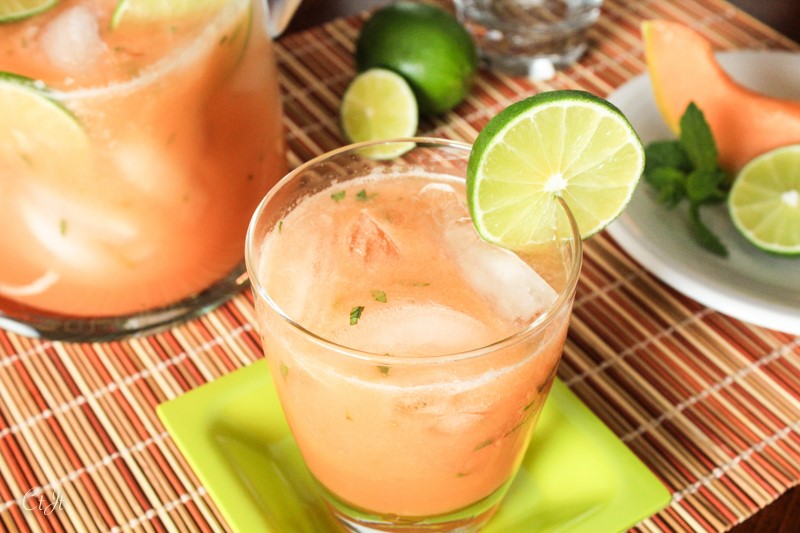 Ingredients:
5 cups cubed orange-flesh honeydew (about 1 melon), rind and seeds discarded
1 1/2 to 2 cups water
3 limes; 2 juiced, 1 sliced
1 to 2 Tbsp chopped fresh mint leaves
1 to 2 Tbsp. Agave nectar, honey or sugar, more or less to taste
Ice, for serving
Directions: Working in batches if necessary, blend the melon, water and lime juice (about 3 tablespoons to 1/4 cup) until smooth. Pour the mixture through a fine sieve, preferably mesh) pressing down on the pulp to extract as much juice as possible.
Note: Some like pulp, others don't. Strain the mixture as much or as little as you wish.
To a pitcher add the chopped mint and lime slices. Pour the melon mixture into the pitcher and stir to combine. Test the agua fresca for sweetness; add agave, honey or sugar if desired. Add ice to the pitcher. Allow mixture to sit for about 10 minutes to allow flavors to blend.
To serve: Add ice to individual glasses and pour the agua fresca over the top.
Melon & Prosciutto Skewered Hors d'oeuvres
Melon and prosciutto is a classic Italian pairing. I love the salty-sweet combination, especially when drizzled with our reduced fig balsamic. It presents just the right flavor…delicious! I have two time-saving tips for this dish: 1). Balling melon takes time (and a bit of skill) so feel free to cube instead of ball the melon. 2). If you don't want to take the time to make skewers, simply arrange the ingredients in a nice pattern on a large serving tray and allow guests to use toothpicks to skewer up the treat themselves. Makes about 9 skewers.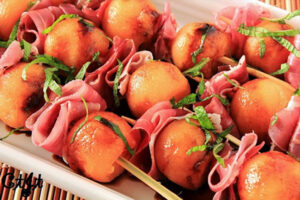 Ingredients
1 (4 oz.) package prosciutto, each slice cut lengthwise into 3 strips
1/2 an orange-flesh honeydew melon, halved, seeded and balled or cubed
4 TBL Sigona's fig balsamic (lusciously sweet and syrupy, delicious!)
4-6 large mint leaves, chiffonade (optional)
Directions: Add the balsamic to a small sauté or sauce pan. Bring to a light boil then reduce heat to a simmer. Cook, stirring occasionally, until reduced by half and it has thickened, becoming more syrup-like. About 10 minutes.
Skewer on the melon and prosciutto (weaving on the prosciutto), alternating pieces, to fill a skewer. You'll use about three pieces of melon and three pieces of prosciutto for each skewer. Repeat until all ingredients are used. Place finished skewers in a line on a cookie sheet.
Drizzle the completed skewers with the balsamic reduction. Arrange on a platter, either stacked in a pyramid or in a single layer in a circle pattern and sprinkle with the mint, if using. Serve.