August Olive Oil & Balsamics Sale Recipes
Each month we feature a select few of our olive oils and balsamics to offer at a special price. This month, you can try our Persian Lime Olive Oil, Garlic Oil, Golden Pineapple White Balsamic and our Strawberry Balsamic at a special price. Stock up now!
Bánh Mì with Sriracha-Lime Aioli and Vietnamese Pickle
Note the prep time for both the chicken and the pickle, but it's worth the wait – trust us! The Bánh Mì has an interesting story of origin, having to do with the French occupation of Vietnam, but the sandwich was made famous when Le Vo moved from Vietnam to San Jose, Calif., and opened Ba Le Bakery in 1982. The pickle is really what makes a Bánh Mì a Bánh Mì, but our Sriracha-lime aioli is what makes our take on this sandwich simply irresistible! Inspired by Andrea Nguyen of Viet World Kitchen. Serves about 4.
Vietnamese Daikon & Carrot Pickle (Do Chua)
1 carrot
One daikon radish, about a ½ to ¾ lb. (look for daikon with about a 2-inch diameter)
1/2 tsp salt
1 tsp, plus 1/4 cup granulated sugar, divided
1/2 cup water, lukewarm
2/3 cup distilled white vinegar
Chicken:
1.5 to 2 lb. boneless, skinless chicken thighs
1 tsp minced garlic
1/4 tsp Chinese Five Spice
2 Tbsp honey
2 Tbsp Hoisin sauce
1 ½ Tbsp soy sauce
1 Tbsp ketchup
Sriracha-Lime Aioli:
Sandwich Toppings:
Sandwich rolls or a wide baguette, such as bolillo buns; nothing too fancy
Soy sauce or liquid aminos, for splashing
Sliced cucumber
Fresh cilantro and/or other fresh herbs
Sliced jalapeño
Prepare the pickle: Peel both the carrot and the daikon. Cut into matchsticks about 3 inches long and about as wide as the fattest part of a chopstick; place in a bowl. Add the salt and 1 tsp of the sugar. Using your hands, massage the carrot and daikon for about 3 minutes. This expels the water and softens the veg. They're perfectly softened when you can bend a daikon matchstick in half and make the ends touch without snapping the stick. Drain the mixture and rinse; press to remove excess water. Return mixture to bowl or a jar.
In a large measuring cup or bowl, whisk the remaining sugar with the vinegar and until dissolved. Pour the mixture over the vegetables (it should cover the vegetables). Allow the mixture to marinate for at least 1 hour before serving. It will keep in the fridge for up to 4 weeks.
Prepare the chicken: Trim and flatten the thighs. Place the chicken in a glass baking dish or a large zip-top bag. In a bowl, whisk together all the remaining ingredients then pour over chicken. Allow to marinate in the fridge at least 3 hours, or up to 1 day, before grilling.
Allow chicken to return to room temperature before grilling. Preheat an outdoor grill or indoor grill pan over medium-high heat. Grill the chicken about 3 to 4 minutes a side or until cooked through (165°F)
Allow to rest about 5 minutes then slice against the grain. Keep warm until ready to use.
Prepare the rolls: Preheat an oven to 325°F. Bake the sandwich rolls for about 8 minutes until the outside is crisp and they sound hollow when tapped. Allow to cool before serving.
Meanwhile, prepare the aioli: In a blender or a mixing cup for an immersion blender, add the egg, sriracha, and salt. While the blade is running, slowly drizzle in the oil; continue blending until the mixture is emulsified. Set aside.
To Build the Bánh Mì: Drain servings of the pickle and pat dry. Without slicing all the way through, slice the rolls lengthwise (leave a hinge). Scoop out a little of the bread (to better fit ingredients inside, my dear!), then spread some of the aioli all over the inside of the roll then lightly dash a bit of soy sauce or liquid aminos on top. Layer on the chicken, the pickle, the cucumber, jalapeño and the herbs. Close up that Bánh Mì, serve remaining aioli on the side and dig in!
---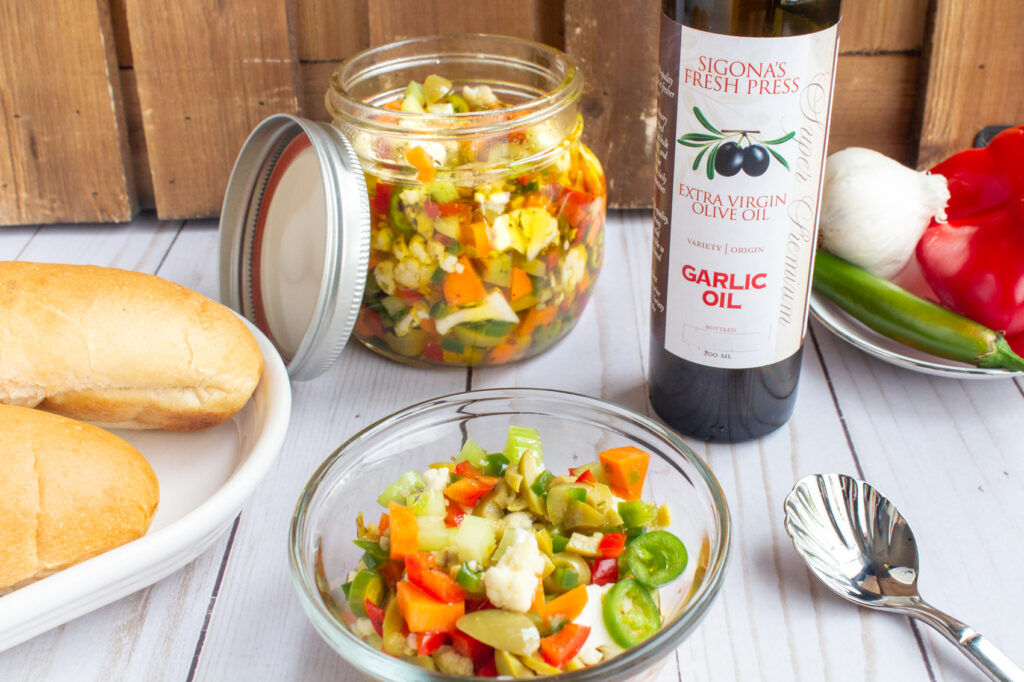 Chicago-Style Giardiniera with Sigona's Garlic Oil
This spicy, crunchy, flavorful, marinated condiment is a favorite among those from Chicago and Italy alike. Use it to top your Italian beef sandwiches, a hot dog, burgers…the list goes on and on! The biggest difference between Chicago-style and Italian giardiniera is the brine and marinade; Chicago-style is made with a mix of oil and vinegar, while Italian uses vinegar only. We love using our Garlic Olive Oil to add an extra layer of flavor – just note that olive oil congeals (becomes firm) when refrigerated, so allow the giardiniera to come to room temperature for about 30 minutes before serving so the oil becomes a liquid again. Makes about 3 to 4 cups.
Ingredients:
1 cup diced cauliflower
1 cup diced, peeled carrots
1 cup diced celery
1/2 a red bell pepper, seeded and diced
1 jalapeño, diced
2 to 4 serrano peppers, diced
1 garlic clove
3 Tbsp salt
2 cups water
1/2 cup rough chopped green olives
2 cups Sigona's Garlic Olive Oil
1 tbsp. dried oregano
Directions: Place the prepared cauliflower, carrots, celery, peppers and garlic in a medium bowl. In a separate bowl, whisk together the salt and water until salt is dissolved. Pour over the veggies; cover and allow to sit in the fridge for at least 24 hours.
Drain the vegetable mixture and return to the bowl; stir in the chopped olives. Transfer the mixture, if desired, to a quart jar. In a separate bowl or measuring cup, stir together the garlic oil and oregano. Pour the veggies; cover and refrigerate.
Allow the mixture to marinate at least 24 hours before enjoying. Remember, olive oil congeals when refrigerated, so allow the giardiniera to sit at room temperature for 30 minutes before serving.
---
Pineapple Balsamic Whipped Mascarpone & Cream
A delightfully luscious and delicious dessert dip, perfect for enjoying with in-season fruits and a glass of wine. Makes about 3 cups. You can swap out the balsamic for other flavors, to complement the flavor.
Ingredients:
Summer Seasonal Fruits:
Peaches
Apricots
Plums
Pineapple
Mango
Berries
Directions: Whip the cream with a hand or stand mixer (or a whisk if you've got the stamina!) When there are soft peaks, add 2 tablespoons of the balsamic. Whip again until the peaks are just about stiff, then add 1 tablespoon more balsamic. Fold in the mascarpone and 1 additional tablespoon of the balsamic. Use the mixer or whisk to combine the cream and the mascarpone.
Whisk in up to 2 additional tablespoons of the balsamic, to taste. Chill for about 15 minutes or until ready to serve.
Plate and serve the whipped mascarpone with slices of summer or seasonal fruits.
---
Springtime Insalata Caprese with Basil Oil and a Strawberry Balsamic Reduction
Fresh, surprising, herbaceous and perfect for spring! This makes for a delightful appetizer or even a side salad. You may be wondering about strawberries and mozzarella, but it's our Sigona's Basil Oil that brings the whole dish together, paired with the syrupy sweet strawberry balsamic reduction. Adapted from The Olive Oil & Vinegar Lover's Cookbook. Serves 2 to 4.
Ingredients:
Directions: Add the balsamic to a small sauce pan over medium-high heat. Bring to a boil then reduce to medium low and cook for about 10 minutes, stirring occasionally. The reduction is done when it is reduced by nearly half and nicely coats the back of a spoon. Set aside to cool.
Toss the strawberries and mozzarella with 1 tablespoon basil oil, season with salt and pepper. Spread out the berries and cheese on a serving tray and then add the basil leaves.
Drizzle the entire dish with the remaining basil oil and a tablespoon or so of the reduced strawberry balsamic. Serve as is or provide small skewers.