November 2021 Infused Olive Oil & Balsamic Sale Recipes
We select new infused olive oils and balsamics each month for an in-store and online sale to give more people an opportunity to try these fantastic products. We love them and hope you do too! The following are on sale this month:
Lemongrass-Mint White Balsamic
Tangerine Balsamic
Grapefruit White Balsamic
Satsuma Vanilla Cream White Balsamic
Persian Lime Olive Oil
Below are some recipes to get you going. There are more suggestions on the blog too!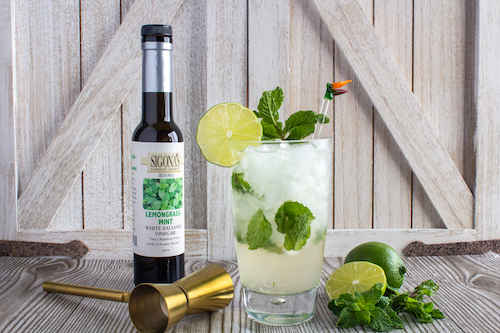 Lemongrass-Mint Balsamic Mojito
This is a light, refreshing drink that's a great to serve with foods that have a spicy kick! Serves 1.
Ingredients:
6 fresh mint leaves, plus a sprig for garnish
1 1/2 Tbsp simple syrup (see below)
1 Tbsp fresh lime juice, plus a lime slice for garnish
1 Tbsp Sigona's Lemongrass Mint White Balsamic
2 oz light Rum
club soda
Directions: Place mint, simple syrup, lime juice and balsamic in a tall, wide glass. Using a wooden spoon or a muddler, muddle the ingredients together for about 30 seconds. Add ice cubes, the rum and top with club soda. Garnish with a sprig of mint and a slice of lime.
Simple Syrup
Stir together the water and sugar in a small saucepan. Bring to a boil over medium-high heat then remove from heat and allow to cool to room temperature. Store in the fridge for up to 1 month.
---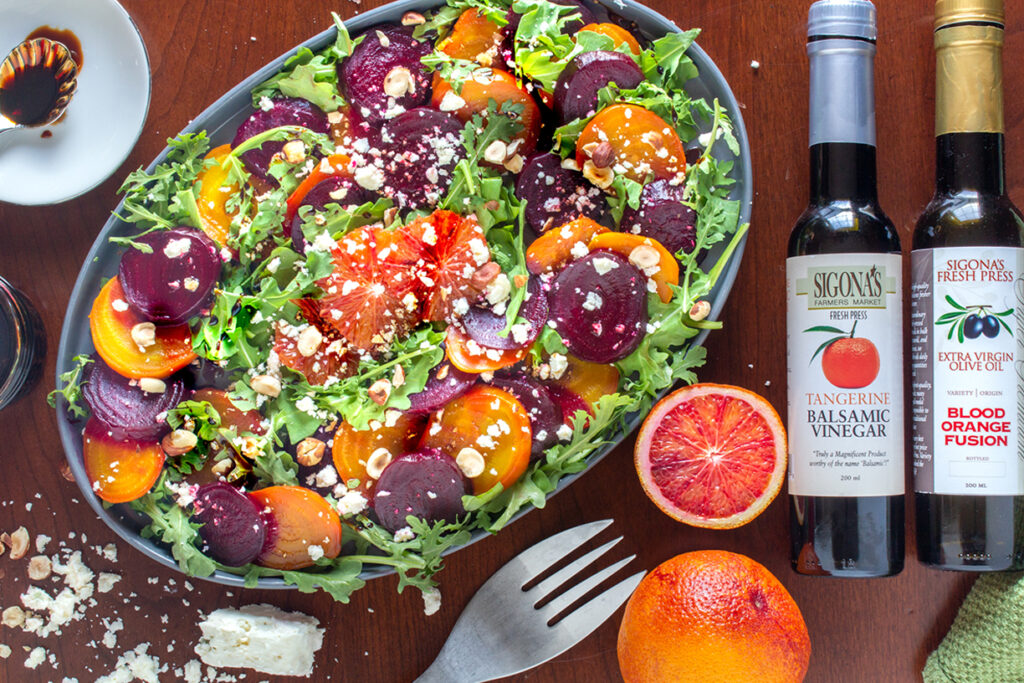 Blood Orange Roasted Beets with Crumbled Cheese and Hazelnuts, Drizzled with a Tangerine Balsamic Reduction
This is a bright and beautiful dish to serve during the dreary winter months. The beets soak up the flavor of the blood orange oil as they roast, adding to their natural sweetness, and the tangerine balsamic reduction lends another layer of syrupy sweetness balanced with a mild tanginess. Beets pair deliciously with blue or goat cheese, but if you're dairy-free, you can leave the cheese off entirely. Serves 4 to 6.
Ingredients:
4 golden beets, trimmed and scrubbed
4 red beets, trimmed and scrubbed
Zest from half a blood orange or Navel orange (use the half the orange for garnish)
1 tsp fresh minced rosemary or ½ tsp dried
Salt and pepper, to taste
200 ml Sigona's Tangerine Balsamic
A couple handfuls arugula
1/3 cup hazelnuts, lightly crushed
1/3 cup crumbled blue cheese, more to taste (you can also use crumbled goat cheese)
Directions: In a bowl, mix together the blood orange oil, zest, rosemary, salt and pepper. Toss the beets in the oil, ensuring they are well coated. Wrap each beet in foil and place on a rimmed baking sheet. Roast for 45 mins to 1 hour, until knife tender (time varies depending on beet size). Remove and set aside to cool to the touch. When cool, remove the skins by peeling it off with your fingers or rubbing with a paper towel.
As beets cool, prepare the balsamic reduction. Add the balsamic to a small heavy-bottomed saucepan and bring to a simmer over medium-low heat. Allow to simmer for about 20 minutes, stirring occasionally, until reduced by half; it should be thick and syrupy. Remove from heat; the balsamic will continue to reduce and thicken off the heat.
Slice into discs about 1/4-inch thick. Arrange a little arugula on a platter, then add the beets in a circular design, alternating colors and nestling them among and on top of the arugula; add more arugula as desired.
Sprinkle the arranged beets with crumbled cheese and hazelnuts. Garnish with a few slices of orange. Drizzle the dish with a couple tablespoons of the balsamic reduction, serve the remaining on the side. Serve immediately.
---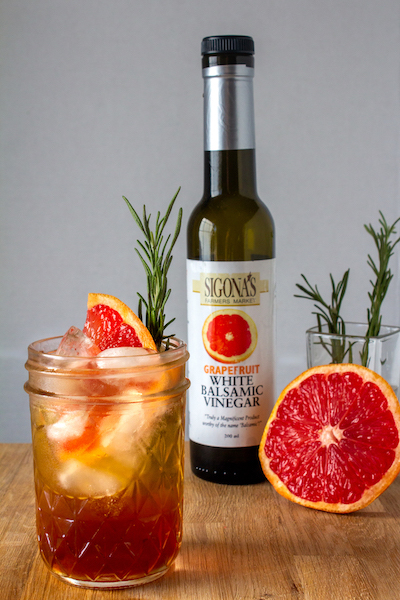 Grapefruit-Infused Balsamic Shrub
What's a shrub? It's a vinegar-based drink made by soaking fruit in drinking vinegar for a couple days, straining and mixing it with something fizzy, such as club soda or sparking water, and maybe a little simple syrup. However, using Sigona's infused balsamics makes the process less of a waiting game! Our balsamics are already full of flavor so the process takes minutes instead of days. Stirring in liquor is up to the individual (we recommend vodka or gin). This makes enough shrub base to serve 2.
Ingredients:
2 jiggers Sigona's Grapefruit White Balsamic (6 tablespoons)
Half a pink grapefruit, sliced into supremes* (save the rest for garnish)
Simple syrup, to taste**
Ice
Club soda or sparkling water, as needed
Garnishes: rosemary sprigs, grapefruit slices
Optional: Add liquor as desired, such as vodka or gin
Directions: Add the balsamic to a bowl or medium glass measuring pitcher.
*To supreme citrus: Cut the top and bottom off the fruit. Slice the peel from the fruit, top to bottom, getting as close to the flesh as possible. Once the peel is removed, slice any remaining pieces of white pith from the fruit so no white remains. Working over a bowl to catch the juices, slice closely along the sides of each membrane to neatly remove the citrus segments in between.
Add the grapefruit supremes to the balsamic and use a muddler to lightly mash them for a few seconds. Refrigerate for at least 30 minutes then strain; discard the muddled fruit.
To concoct the drink, add ice to an 8 oz. glass. Add 1 jigger (9 tsp) of the balsamic, the simple syrup if using (start with 1/2 tsp) and top with club soda. Garnish with a sprig of rosemary and a half-slice of grapefruit.
**To make simple syrup: Combine equal parts sugar and water in a saucepan. Bring to a boil, stirring, until sugar has dissolved. Allow to cool to room temperature or chill in the fridge before using.
---
One Skillet Chicken with a Satsuma-Vanilla & Marmalade Glaze
This dish is similar to orange chicken from your favorite Chinese restaurant. Next time you have a desire for takeout, try this recipe instead. It's simple, healthy and delicious! Serve with sautéed broccolini or even garlic mushrooms. Serves 4.
Ingredients:
Directions: In a medium bowl, whisk together the balsamic and the marmalade. Set aside.
Heat the Persian Lime olive oil in a large skillet over medium-high heat. Salt and pepper both sides of the chicken then add them to the skillet. Cook chicken for about 10 minutes, flipping once, until chicken is cooked through and is crispy brown on the outside. Transfer to a plate and set aside.
To the same skillet, over medium heat, add the balsamic mixture. Stir, scraping the brown bits up from the bottom of the skillet. Reduce heat to low and simmer for about 1 minute. Reintroduce chicken to the skillet, spooning the sauce over the chicken. Simmer the ingredients together for about two minutes then remove from the heat.
Transfer chicken to a serving dish, drizzle with remaining glaze and sprinkle with sesame seeds. Serve immediately.
---
Bánh Mì with Sriracha-Lime Aioli and Vietnamese Pickle
Note the prep time for both the chicken and the pickle, but it's worth the wait – trust us! The Bánh Mì has an interesting story of origin, having to do with the French occupation of Vietnam, but the sandwich was made famous when Le Vo moved from Vietnam to San Jose, Calif., and opened Ba Le Bakery in 1982. The pickle is really what makes a Bánh Mì a Bánh Mì, but our Sriracha-lime aioli is what makes our take on this sandwich simply irresistible! Inspired by Andrea Nguyen of Viet World Kitchen. Serves about 4.
Vietnamese Daikon & Carrot Pickle (Do Chua)
1 carrot
One daikon radish, about a ½ to ¾ lb. (look for daikon with about a 2-inch diameter)
1/2 tsp salt
1 tsp, plus 1/4 cup granulated sugar, divided
1/2 cup water, lukewarm
2/3 cup distilled white vinegar
Chicken:
1.5 to 2 lb. boneless, skinless chicken thighs
1 tsp minced garlic
1/4 tsp Chinese Five Spice
2 Tbsp honey
2 Tbsp Hoisin sauce
1 ½ Tbsp soy sauce
1 Tbsp ketchup
Sriracha-Lime Aioli:
Sandwich Toppings:
Sandwich rolls or a wide baguette, such as bolillo buns; nothing too fancy
Soy sauce or liquid aminos, for splashing
Sliced cucumber
Fresh cilantro and/or other fresh herbs
Sliced jalapeño
Prepare the pickle: Peel both the carrot and the daikon. Cut into matchsticks about 3 inches long and about as wide as the fattest part of a chopstick; place in a bowl. Add the salt and 1 tsp of the sugar. Using your hands, massage the carrot and daikon for about 3 minutes. This expels the water and softens the veg. They're perfectly softened when you can bend a daikon matchstick in half and make the ends touch without snapping the stick. Drain the mixture and rinse; press to remove excess water. Return mixture to bowl or a jar.
In a large measuring cup or bowl, whisk the remaining sugar with the vinegar and until dissolved. Pour the mixture over the vegetables (it should cover the vegetables). Allow the mixture to marinate for at least 1 hour before serving. It will keep in the fridge for up to 4 weeks.
Prepare the chicken: Trim and flatten the thighs. Place the chicken in a glass baking dish or a large zip-top bag. In a bowl, whisk together all the remaining ingredients then pour over chicken. Allow to marinate in the fridge at least 3 hours, or up to 1 day, before grilling.
Allow chicken to return to room temperature before grilling. Preheat an outdoor grill or indoor grill pan over medium-high heat. Grill the chicken about 3 to 4 minutes a side or until cooked through (165°F)
Allow to rest about 5 minutes then slice against the grain. Keep warm until ready to use.
Prepare the rolls: Preheat an oven to 325°F. Bake the sandwich rolls for about 8 minutes until the outside is crisp and they sound hollow when tapped. Allow to cool before serving.
Meanwhile, prepare the aioli: In a blender or a mixing cup for an immersion blender, add the egg, sriracha, and salt. While the blade is running, slowly drizzle in the oil; continue blending until the mixture is emulsified. Set aside.
To Build the Bánh Mì: Drain servings of the pickle and pat dry. Without slicing all the way through, slice the rolls lengthwise (leave a hinge). Scoop out a little of the bread (to better fit ingredients inside, my dear!), then spread some of the aioli all over the inside of the roll then lightly dash a bit of soy sauce or liquid aminos on top. Layer on the chicken, the pickle, the cucumber, jalapeño and the herbs. Close up that Bánh Mì, serve remaining aioli on the side and dig in!