Available Now! Dream of the Mountain Ravioli
A New Sigona's Exclusive,
Handmade Locally in Redwood City by Saporito Pasta!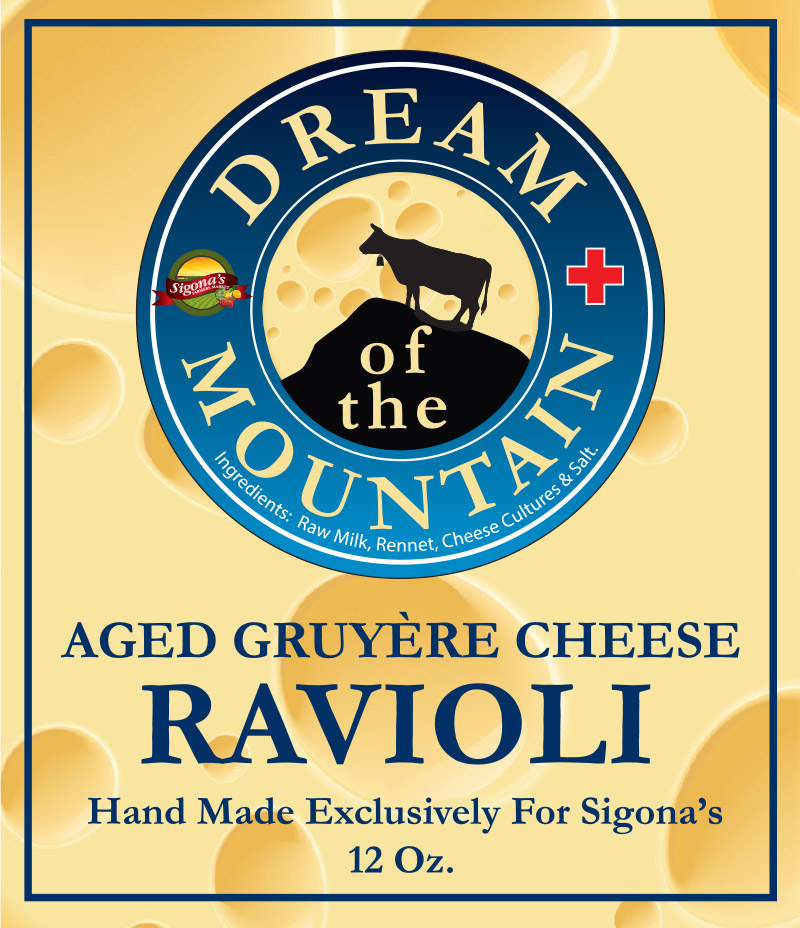 The Dream Is Real!
Sigona's sells a cheese called Dream of the Mountain, a Gruyere cheese from the Switzerland, that quickly became a customer favorite after its debut about a year ago. But that's not what makes it so special. This is a one-of-a-kind cheese and it is sold exclusively at Sigona's.
You know what else is sold exclusively at Sigona's? Locally made ravioli STUFFED with Dream of the Mountain cheese! We'll get to more about that in a minute. First…
A little about Dream of the Mountain:
Located on a magical mountainside in Switzerland is where the dream was discovered by Sigona's own specialty foods and cheese curator, John Nava. On the morning of the cheese's naming day, Nava was at the breakfast table of a husband and wife team of world-champion cheesemakers, Bernhard Meier & Marlies Zaugg. After one bite of what was generally referred to as "mountain cheese," Nava said right then and there that the rich, buttery, nutty, and absolute taste sensation of a cheese should be called "Dream of the Mountain," and he knew our customers would love it.
What To Do with a Cheese This Special?
Nava has always got his gears turning; he works hard to come up with new ways to promote and collaborate with local makers in an effort to develop new exclusive products for you, our customers. So, when we have something as treasured as this exclusive cheese, you can bet Nava is up late, formulating something special. We reached out to our friends at Saporito Pasta in Redwood City, and.. boom: a one-of-a-kind, handmade Dream of the Mountain ravioli was born!
"You'd be hard-pressed to find a better-tasting, more decadently rich cheese ravioli anywhere, even at the finest restaurants," said Nava. "This is not your Italian (or Sicilian!) grandma's ravioli…it's way better!"
We couldn't be more excited to roll out this new, extraordinary, and locally made deliciousness. We know you will absolutely love both the ravioli and how it came to be!
Don't Miss Out!
Dream of the Mountain Ravioli — it's handmade and delivered daily — will be available at both Sigona's locations. Find it on sale for a limited time: $9.99 for a 12 oz. pkg. (Reg $14.99). We'll have a very limited supply, so hurry down and snag a package before we sell out!