Recipe Roundup: Roasted Sesame Oil
This oil is roasted nice and slow to deliver an endless wealth of flavors. It adds incredible taste to Asian-inspired dishes and sauces as well as roasted potatoes or veggies.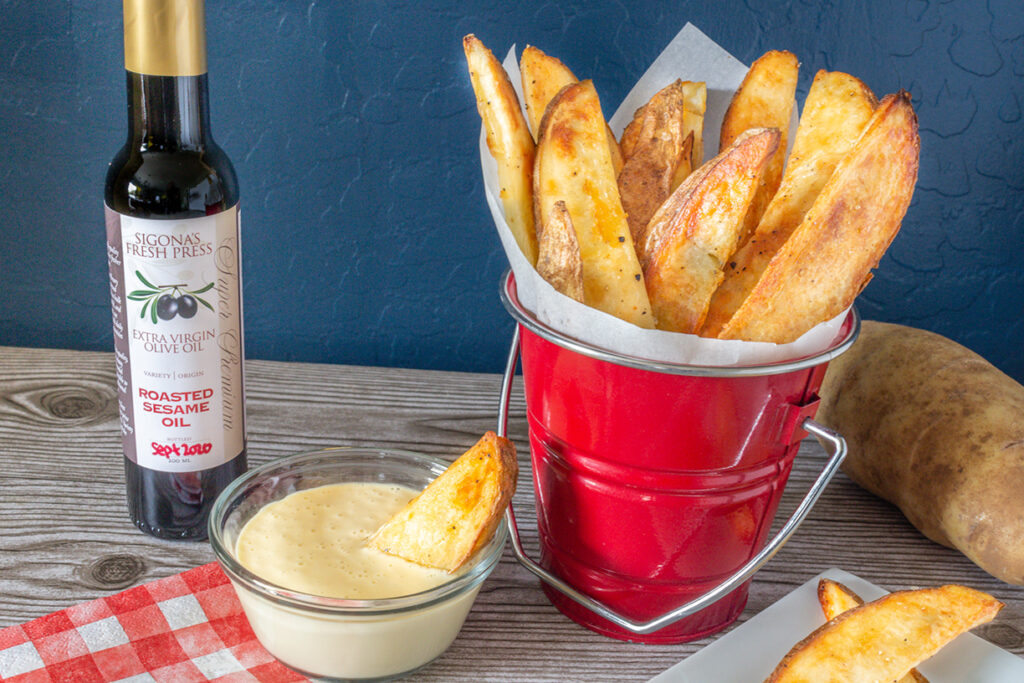 Sesame-Roasted Steak Fries
Steak night just got a whole lot more exciting! Simply roasting wedges of potato in sesame oil presents a whole new layer of flavor – you might be surprised by how a simple oil can make such a difference in taste! Make sure you eat them right out of the oven, dipped in your favorite dipping sauce or our sesame aioli (recipe follows). Inspired by Real Simple. Serves 4.
Ingredients:
Serve with Sesame Aioli (recipe follows)
Directions: Preheat oven to 425°F.
Slice potatoes in half lengthwise, then slice lengthwise into wedges about 3/4-inch thick. Place wedges in a bowl and cover with cold water. Allow to soak for 5 minutes; drain, rinse and pat dry.
Place wedges on a parchment-lined baking sheet. Drizzle with oil; season with salt and pepper. Toss until wedges are well coated, then spread out in a single layer.
Roast wedges for 50 to 60 minutes, flipping once at 30 minutes. Fries are done when tender inside with a crispy, golden-brown outside (check at 50 mins). Serve immediately.
---
Sesame Aioli
This is rich and tart, creamy and nutty aioli is simply delicious with sesame-roasted steak fries right out of the oven. It's also good with crudités, on a cabbage, veg & shredded chicken salad or alongside with seafood. Store remaining aioli in the fridge and use within 3 days. Makes About 1 1/4 cup.
Ingredients:
Directions: Place all but the oils in a blender or food processor and pulse to incorporate. With the blade running, slowly drizzle in the oils and blend the mixture until emulsified and smooth. Taste; add more honey or salt, if needed.

---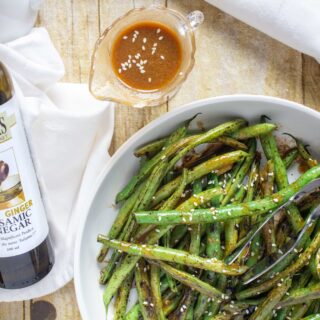 Honey Ginger Balsamic Sautéed Green Beans
These cook all in the same skillet. There is no need for parboiling or blanching before they're sautéed with the balsamic. Serve these alongside our recipe for One Skillet Chicken with a Satsuma-Vanilla & Marmalade Glaze to make it a complete meal! Serves 4 to 6.
Ingredients
Ingredients:
1/2

Tbsp

Sigona's Fresh Press Extra Virgin Olive Oil

such as Galega

1

lb.

fresh green beans

such as Blue Lake beans, ends trimmed

Kosher salt

to taste

1

tsp

Sigona's Honey Ginger infused balsamic

2

Tbsp

soy sauce

2

Tbsp

tahini

1

Tbsp

honey

2

tsp

Sigona's Roasted Sesame Oil

1

clove

garlic

minced

Sesame seeds

for garnish
Instructions
Heat olive oil in a large skillet over medium heat. Add the green beans and the balsamic and sauté until tender, about 6 minutes.

Season lightly with salt to taste and remove from heat.

In a bowl, combine the soy sauce, tahini, honey, roasted sesame oil and garlic. Whisk together thoroughly. Drizzle over the green beans and lightly toss to combine. Sprinkle with sesame seeds, if desired.
Notes
You can find the olive oils and the infused balsamic in both our markets and online at www.sigonas.com
---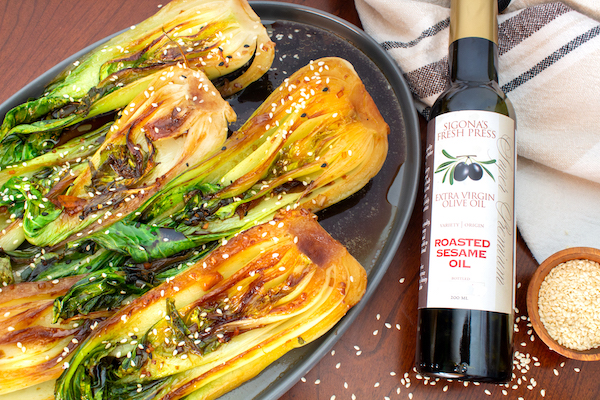 Quick & Easy Sesame Baby Bok Choy
This flavorful side dish comes together in just minutes and is a great accompaniment to fish, chicken or pork. Serves 4 to 6.
Ingredients:
3 Tbsp Sigona's Roasted Sesame Oil, divided
1 shallot, diced
2 cloves garlic, minced
A pinch of red pepper flakes, optional
3 baby bok choy, halved
1 Tbsp soy sauce (or coconut aminos if gluten-free is desired)
Sesame seeds, for garnish
Directions: Heat 2 tablespoons of sesame oil in a large skillet over medium heat. Add the shallot and cook, stirring for one minute. Add another tablespoon of the sesame oil, garlic and pepper flakes, if using, and cook until fragrant. Add the soy sauce, water and bok choy, cut-side down. Cook bok choy for 2 minutes or until the edges and tops are crisped and lightly browned. Flip and cook about 1 to 2 minutes more.
Use tongs to transfer bok choy to a serving platter. Drizzle with the pan sauce, sprinkle with sesame seeds and serve warm.
---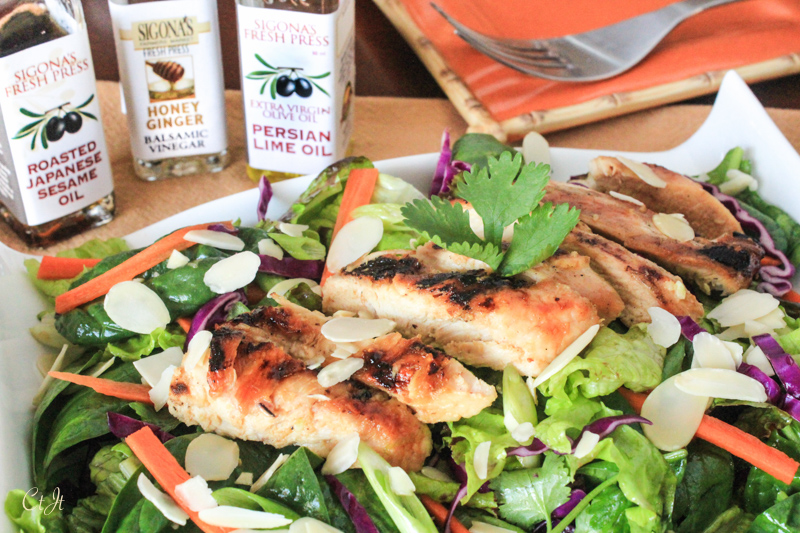 Chinese Chicken Salad with a Honey Ginger, Roasted Sesame and Persian Lime Vinaigrette
Light, flavorful and packed with good veggies, this salad is fantastic as a main entree for lunch or dinner. For more substance and protein, toss in up to two cups of cooked quinoa in with the greens. Serves about 4.
For the dressing:
For the salad:
2 cooked chicken breasts (we like them grilled)
About 1/2 to 3/4 of a head of red leaf lettuce, torn to bite-sized pieces (may use romaine if desired)
1/2 to 1 cup shredded red cabbage
About 3 oz. baby spinach
1 carrot, cut into matchsticks
2 to 4 green onions, sliced on the bias
1/4 cup cilantro leaves (optional)
1/4 cup blanched, sliced almonds (look for them in our dried fruit & nut section)
Directions: Prepare the vinaigrette by whisking together all the ingredients in a small bowl. Set aside to allow the flavors to meld together.
In a large bowl, add the lettuce, spinach, cabbage, carrot, green onions and cilantro leaves, if using.
Slice the cooked chicken into long strips and place in a bowl. Add 2 tablespoons of the vinaigrette to the chicken and toss to coat.
Drizzle 2 tablespoons of the vinaigrette over the greens and toss, toss, toss to coat well. Transfer the greens to a serving bowl or dish.
Arrange the sliced chicken on top of the salad, sprinkle with desired toppings and serve with any remaining vinaigrette on the side.
---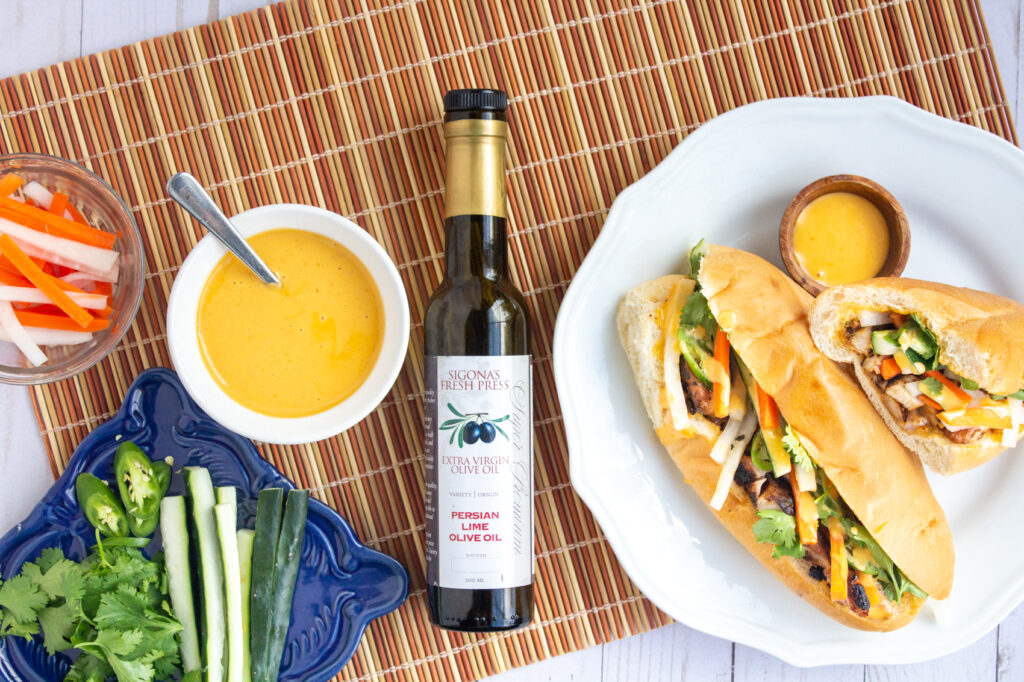 Bánh Mì with Sriracha-Lime Aioli and Vietnamese Pickle
Note the prep time for both the chicken and the pickle, but it's worth the wait – trust us! The Bánh Mì has an interesting story of origin, having to do with the French occupation of Vietnam, but the sandwich was made famous when Le Vo moved from Vietnam to San Jose, Calif., and opened Ba Le Bakery in 1982. The pickle is really what makes a Bánh Mì a Bánh Mì, but our Sriracha-lime aioli is what makes our take on this sandwich simply irresistible! Inspired by Andrea Nguyen of Viet World Kitchen. Serves about 4.
Vietnamese Daikon & Carrot Pickle (Do Chua)
1 carrot
One daikon radish, about a ½ to ¾ lb. (look for daikon with about a 2-inch diameter)
1/2 tsp salt
1 tsp, plus 1/4 cup granulated sugar, divided
1/2 cup water, lukewarm
2/3 cup distilled white vinegar
Chicken:
1.5 to 2 lb. boneless, skinless chicken thighs
1 tsp minced garlic
1/4 tsp Chinese Five Spice
2 Tbsp honey
2 Tbsp Hoisin sauce
1 ½ Tbsp soy sauce
1 Tbsp ketchup
Sriracha-Lime Aioli:
Sandwich Toppings:
Sandwich rolls or a wide baguette, such as bolillo buns; nothing too fancy
Soy sauce or liquid aminos, for splashing
Sliced cucumber
Fresh cilantro and/or other fresh herbs
Sliced jalapeño
Prepare the pickle: Peel both the carrot and the daikon. Cut into matchsticks about 3 inches long and about as wide as the fattest part of a chopstick; place in a bowl. Add the salt and 1 tsp of the sugar. Using your hands, massage the carrot and daikon for about 3 minutes. This expels the water and softens the veg. They're perfectly softened when you can bend a daikon matchstick in half and make the ends touch without snapping the stick. Drain the mixture and rinse; press to remove excess water. Return mixture to bowl or a jar.
In a large measuring cup or bowl, whisk the remaining sugar with the vinegar and until dissolved. Pour the mixture over the vegetables (it should cover the vegetables). Allow the mixture to marinate for at least 1 hour before serving. It will keep in the fridge for up to 4 weeks.
Prepare the chicken: Trim and flatten the thighs. Place the chicken in a glass baking dish or a large zip-top bag. In a bowl, whisk together all the remaining ingredients then pour over chicken. Allow to marinate in the fridge at least 3 hours, or up to 1 day, before grilling.
Allow chicken to return to room temperature before grilling. Preheat an outdoor grill or indoor grill pan over medium-high heat. Grill the chicken about 3 to 4 minutes a side or until cooked through (165°F)
Allow to rest about 5 minutes then slice against the grain. Keep warm until ready to use.
Prepare the rolls: Preheat an oven to 325°F. Bake the sandwich rolls for about 8 minutes until the outside is crisp and they sound hollow when tapped. Allow to cool before serving.
Meanwhile, prepare the aioli: In a blender or a mixing cup for an immersion blender, add the egg, sriracha, and salt. While the blade is running, slowly drizzle in the oil; continue blending until the mixture is emulsified. Set aside.
To Build the Bánh Mì: Drain servings of the pickle and pat dry. Without slicing all the way through, slice the rolls lengthwise (leave a hinge). Scoop out a little of the bread (to better fit ingredients inside, my dear!), then spread some of the aioli all over the inside of the roll then lightly dash a bit of soy sauce or liquid aminos on top. Layer on the chicken, the pickle, the cucumber, jalapeño and the herbs. Close up that Bánh Mì, serve remaining aioli on the side and dig in!
---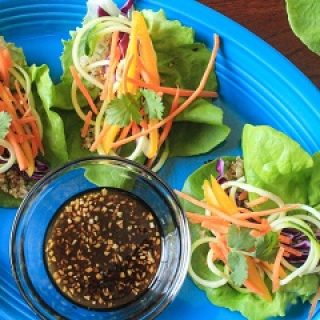 Fresh Veggie & Quinoa Lettuce Cups with a Honey-Ginger-Soy Dipping Sauce
You can add any veggies you have on hand to these cups. I love to have lots of different veggies chopped, julienned or shredded in the fridge that are easy to grab if I'm in a hurry. I love the crisp freshness of the veggies and the punch of flavor from the dipping sauce. Making lettuce cups takes no time at all, and you can dip them in any sauce you please; either make your own or find your favorite store-bought dressing or dip. Makes 2 to 4 cups, depending on leaf size.
Ingredients
For the Lettuce Cups:
2 to 4

leaves

from a head of Pescadero-grown Suncrest™ Bibb lettuce

separated

About 3/4 cup cooked quinoa

1

medium carrot

halved, julienned or shredded

1/3

cup

julienned red cabbage

Half a zucchini or cucumber

halved and julienned or spiraled

Half a bell pepper

julienned

A little fresh cilantro

for garnish
Optional Additions:
Grilled chicken

Sliced avocado

Radishes

Italian or summer squash

Roasted shrimp or prawns

Tofu

Mango

Various chilis if you like some heat

Mushrooms

Black or other beans
Dipping Sauce (makes more than you'll need):
1/4

cup

Sigona's Honey-Ginger White Balsamic

SEE NOTE

2

Tbsp.

Sigona's Roasted Sesame Oil

SEE NOTE

1

tsp.

minced fresh garlic

2

Tbsp.

tamari soy sauce
Instructions
Divide the prepared ingredients evenly between each lettuce leaf. Set aside.

In a small bowl mix together the ingredients for the dipping sauce. Divide among two small serving bowls.

To eat the lettuce cups, fold the leaves as if you're folding a burrito: Fold the bottom end up over some of the filling, leaving the stem end out to use as a sort of handle, and then fold in the sides and roll it forward. Place them seam-side-down to serve.

Serve with dipping sauce.
Notes
Sigona's balsamics, olive oils and specialty oils are available in our markets and online at www.sigonas.com.
---
Gai Lan with Sautéed Shrimp
Gai Lan is also known as Chinese broccoli. It's a delicious green and makes for a healthy dish that comes together in just minutes. I prefer a gluten-free soy sauce or coconut aminos, but using oyster sauce adds another fantastic dimension of flavor. Serves about 2. – Carmelo Sigona
Ingredients: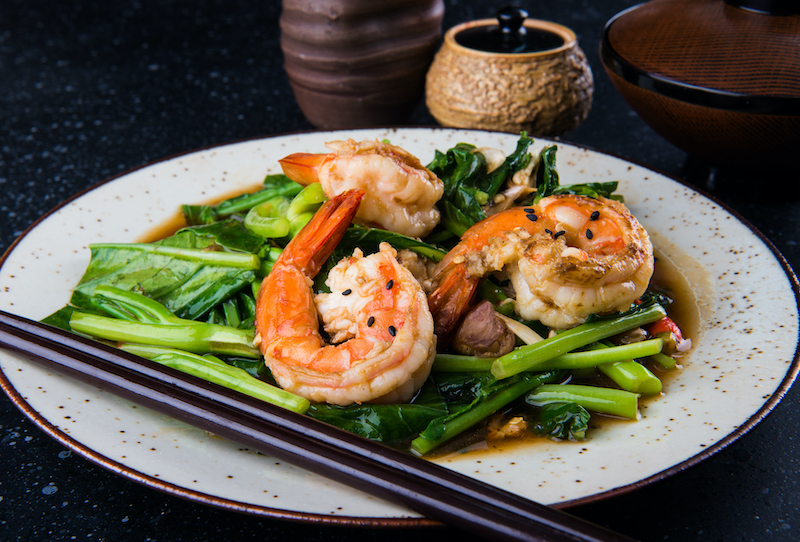 1 bunch gai lan, rinsed well
2 Tbsp Sigona's Garlic Oil
A pinch of red pepper flakes
8 to 10 red Patagonian shrimp
Either 1 to 2 Tbsp soy sauce/coconut aminos, to taste, or 2 to 3 Tbsp oyster sauce, to taste
Optional: sesame seeds, for sprinkling
Directions: Bring a large pot of salted water to a boil. Add the gai lan and blanch for 60 to 90 seconds (they'll still have quite a crunch; you may par boil them longer, if desired). Using tongs, remove the gai lan and pat dry with a kitchen towel.
Heat garlic oil in a medium-large sauté pan over medium-high heat. Add the red pepper flakes and the shrimp. Cook shrimp for about 1 minute on each side. Add the sesame oil, soy sauce/oyster sauce and the gai lan; toss to coat. Cook, tossing occasionally, until the liquid is mostly absorbed, just a couple minutes. Transfer to a serving dish and sprinkle with sesame seeds, if desired.
---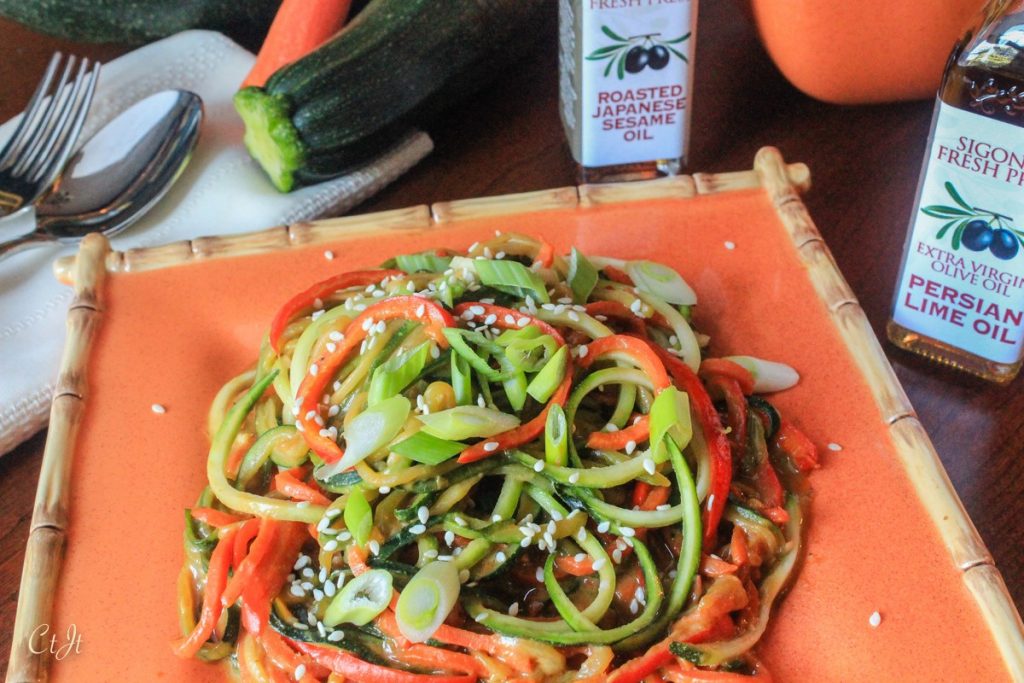 Thai Peanut Zoodles with Carrot and Bell Pepper
You'll be so pleased with how this turns out. Not only is it a healthier, low-carb and gluten-free "noodle" dish, but it's still packed with amazing Thai flavors and just a hint of spice, which you can knock up or down, if you wish. Serves about 4.
Ingredients:
3 zucchini
2 large carrots
1/2 a red bell pepper
1/4 cup creamy peanut butter
3 Tbsp. soy sauce
2 1/2 Tbsp. hoisin sauce
2 tsp. lime juice
2 tsp. Sigona's Roasted Sesame Oil
1 to 2 cloves garlic, minced
1/4 tsp. ground ginger
A pinch or two red pepper flakes, to taste
2 Tbsp. Sigona's Persian Lime Olive Oil
For serving:
Sesame seeds, for serving
A couple green onions, sliced on the bias, for serving
Chopped fresh cilantro, for serving (optional)
Roasted peanuts, for serving (optional)
Directions: Using your favorite gadget for spiralizing, spiralize the zucchini and carrot; set aside. Julienne the pepper; set aside.
In a medium bowl, whisk together the peanut butter, soy sauce, hoisin sauce, lime juice, sesame oil, garlic, ginger and red pepper flakes (to taste).
Heat olive oil in a large sauté pan over medium heat. Add the zucchini, carrots and bell pepper. Season with salt and pepper; cook for about 5 minutes or until the "noodles" are a bit tender but still have a little crispness; like al dente pasta. Using tongs, remove the veggies from the pan.
Wipe out the pan and return to the stove over medium heat. Add the whisked sauce and cook for about 1 minute. Add the "noodles" to the sauce and toss to coat.
To serve, use tongs to grab a portion of the noodles; twist as you plate to create a swirl-like pile of noodles onto individual serving plates. Top with sliced green onions and sesame seeds. Add a little cilantro and roasted peanuts, if desired.