This oil is roasted nice and slow to deliver an endless wealth of flavors. It adds incredible taste to Asian-inspired dishes and sauces as well as roasted potatoes or veggies.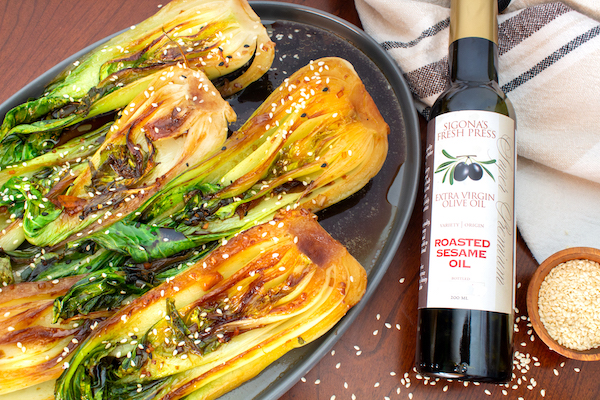 Quick & Easy Sesame Baby Bok Choy
This flavorful side dish comes together in just minutes and is a great accompaniment to fish, chicken or pork. Serves 4 to 6.
Ingredients:
3 Tbsp Sigona's Roasted Sesame Oil, divided
1 shallot, diced
2 cloves garlic, minced
A pinch of red pepper flakes, optional
3 baby bok choy, halved
1 Tbsp soy sauce (or coconut aminos if gluten-free is desired)
Sesame seeds, for garnish
Directions: Heat 2 tablespoons of sesame oil in a large skillet over medium heat. Add the shallot and cook, stirring for one minute. Add another tablespoon of the sesame oil, garlic and pepper flakes, if using, and cook until fragrant. Add the soy sauce, water and bok choy, cut-side down. Cook bok choy for 2 minutes or until the edges and tops are crisped and lightly browned. Flip and cook about 1 to 2 minutes more.
Use tongs to transfer bok choy to a serving platter. Drizzle with the pan sauce, sprinkle with sesame seeds and serve warm.
---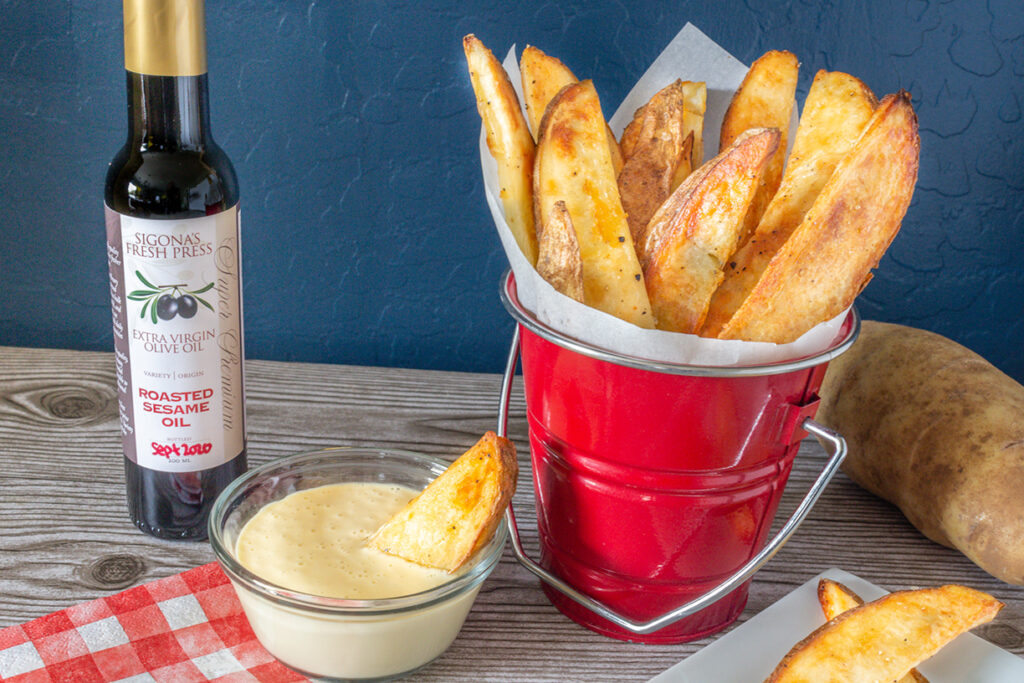 Sesame-Roasted Steak Fries
Steak night just got a whole lot more exciting! Simply roasting wedges of potato in sesame oil presents a whole new layer of flavor – you might be surprised by how a simple oil can make such a difference in taste! Make sure you eat them right out of the oven, dipped in your favorite dipping sauce or our sesame aioli (recipe follows). Inspired by Real Simple. Serves 4.
Ingredients:
Serve with Sesame Aioli (recipe follows)
Directions: Preheat oven to 425°F.
Slice potatoes in half lengthwise, then slice lengthwise into wedges about 3/4-inch thick. Place wedges in a bowl and cover with cold water. Allow to soak for 5 minutes; drain, rinse and pat dry.
Place wedges on a parchment-lined baking sheet. Drizzle with oil; season with salt and pepper. Toss until wedges are well coated, then spread out in a single layer.
Roast wedges for 50 to 60 minutes, flipping once at 30 minutes. Fries are done when tender inside with a crispy, golden-brown outside (check at 50 mins). Serve immediately.
---
Sesame Aioli
This is rich and tart, creamy and nutty aioli is simply delicious with sesame-roasted steak fries right out of the oven. It's also good with crudités, on a cabbage, veg & shredded chicken salad or alongside with seafood. Store remaining aioli in the fridge and use within 3 days. Makes About 1 1/4 cup.
Ingredients:
Directions: Place all but the oils in a blender or food processor and pulse to incorporate. With the blade running, slowly drizzle in the oils and blend the mixture until emulsified and smooth. Taste; add more honey or salt, if needed.