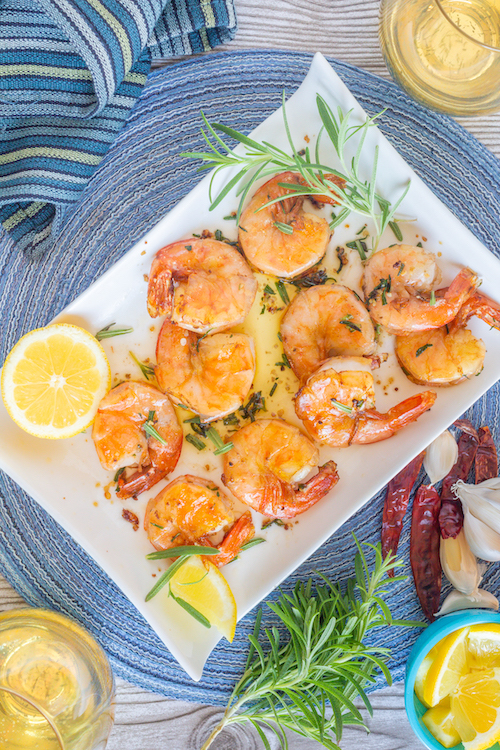 Shrimp cook in a matter of minutes and are easy to overcook, so just a few minutes a side is sufficient. Cooking shrimp with shells on allows the shrimp to stay juicy, and it also locks in more flavor than if cooked without shells. After cooking them this way, you might never reach for a bag of shelled shrimp again! These wild blue shrimp from Baja, Calif., are super fresh — never frozen — and come to us without any preservatives or additives, so what you're getting is shrimp as they're meant to be – sweet, succulent and fresh. Though they have a blue tint when raw, the shrimp turn pink when cooked. Infusing the oil with chile gives the dish a little heat and a lovely color; choose a chile that's mild or hot — the choice is yours. Inspired by Food 52. Serves about 4.
Ingredients:
1 dried chile pepper, such as arbol or small ancho (the chile de arbol packs more heat)
Water, for soaking chile
About 1 lb. wild blue shrimp (leave shell and legs on)
1/4 cup Sigona's Fresh Press Extra Virgin Olive Oil
2 cloves of garlic, peeled and minced
2 sprigs rosemary, finely chopped
Sea salt, for sprinkling
Lemon wedges, for serving
Directions: Soak the chile pepper in water for about 15 minutes. Drain and pat dry.
Heat oil and chile together over medium in a large skillet (preferably cast iron). Allow chile to infuse the oil for about 4 minutes, shaking the pan occasionally. Increase heat to medium-high and add the shrimp in a single layer. (Remove chile, if desired.)
Allow the shrimp to cook untouched for 2 minutes, then flip. Add the garlic and rosemary and allow to cook with the shrimp for another 2 minutes or until the shrimp have turned pink and curled up, and the shell has crisped a bit. Be careful not to overcook.
Transfer shrimp to a serving platter; use a rubber spatula to scrape all the oil and herbs out of the skillet, drizzling over the shrimp. Discard the chile. Immediately sprinkle the shrimp with salt. Serve shrimp with lemon wedges on the side.