In the Kitchen with Sigona's Featuring: Wild Raspberry Honey
Cara Cara & Jicama Salad with a Wild Raspberry Honey Vinaigrette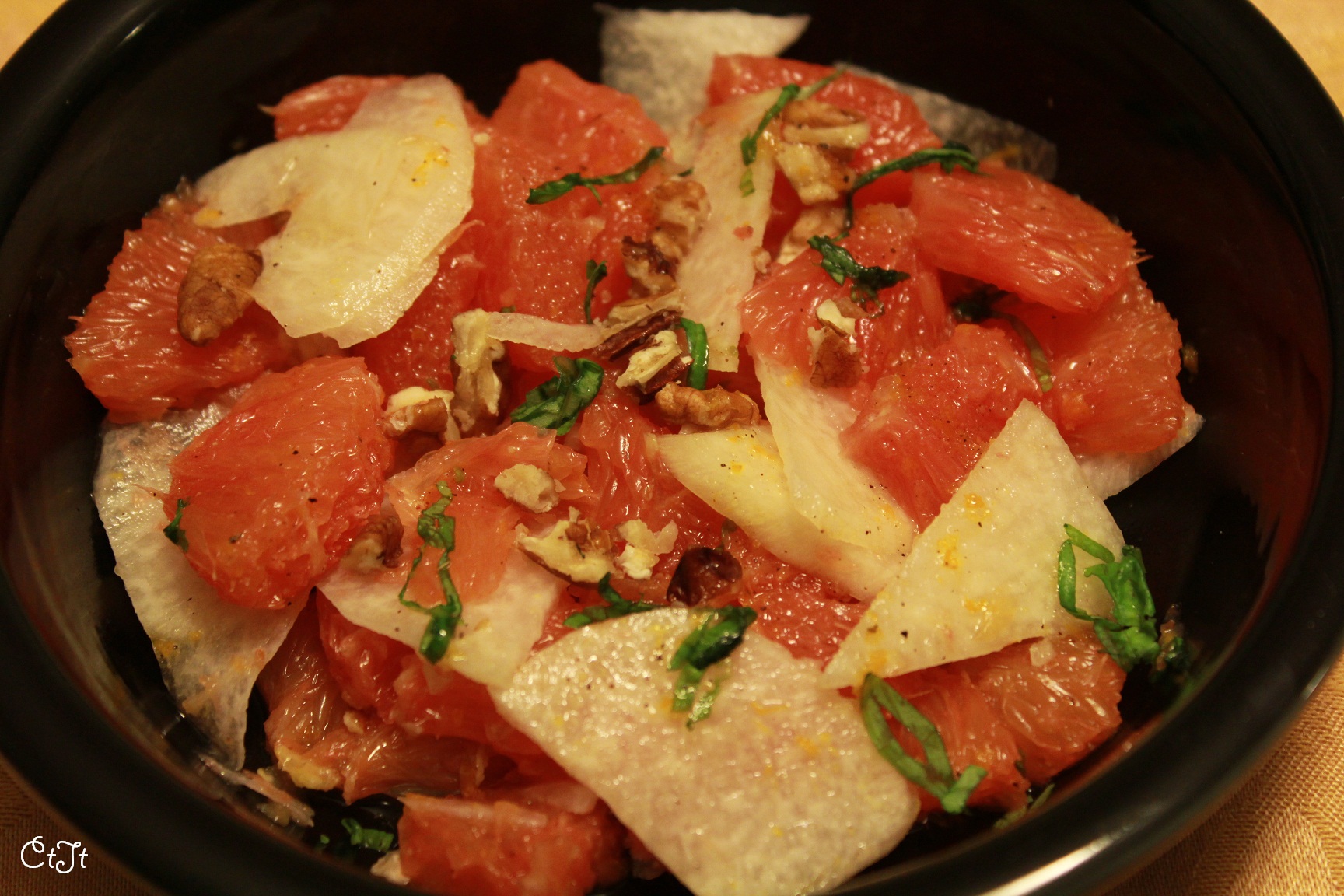 One of the brightest things about winter is fresh citrus. The sweet-tart taste of Cara Cara oranges transports me to a sunny, warm day on the patio or, better yet, the beach. This winter citrus salad with a wild raspberry honey vinaigrette pairs well with grilled chicken or fish. Serves 4-6. Adapted from The Earth-Bound Cook.
For the Vinaigrette:
About 2 TBL minced red onion, to taste
1/4 cup apple cider vinegar
1 TBL hot water
1/3 cup Wild Raspberry Honey from Honey Hole Honey Co.
Zest from 1 Cara Cara orange
1 tsp salt
Black pepper, to taste
1 1/2 TBL Sigona's just-pressed, local California Koroneiki extra virgin olive oil
In a bowl, whisk together the minced onion and apple cider vinegar. Stir in the water, honey, zest, salt and pepper. While whisking briskly, drizzle in the olive oil to emulsify the mixture. Set aside.
For the Salad:
6 Cara Cara oranges, peeled with a knife to remove the peel and the white pith, then sliced and quartered
12 oz. jicama, shaved and quartered (a mandolin would be helpful here, using the .75mm blade, but a sharp knife works fine)
1/3 cup julienned fresh mint leaves
1/2 cup crushed pecan halves, toasted (wrap whole pecan halves in a towel and lightly hit with a mallet or rolling pin to crush)
Combine prepared oranges and jicama in a bowl. Add 1/3 cup of the vinaigrette and toss to coat. Let sit for 5 minutes or longer to let the flavors come together.
Stir in the julienned mint just before serving and top with the crushed pecans. Serve the remaining vinaigrette on the side.
Fresh Baguette with Creamy Cheese and Wild Raspberry Honey
Looking for a quick snack to help relax your mind after a long day at work? This simple delight will do the trick! Our wild raspberry honey is kissed with a hint of raspberry that pairs wonderfully with creamy cheeses.
What you need:
A fresh baguette
Wild Raspberry Honey from Honey Hole Honey Co.
A creamy cheese (choose one or more of the following):

Organic Mt. Tam triple cream, Cowgirl Creamery's signature cheese, from Pt. Reyes Station, CA
Nicasio Valley Cheese Co.'s organic Foggy Morning, a fromage blanc-style cheese from Nicasio, CA
Laura Chenel chevre, a mild flavored goat cheese, from Sonoma, CA
Redwood Hill Farm's Camellia (Camembert-style) goat cheese from Sonoma, CA
Cypress Grove chevre from Arcata, CA
Directions: Cut the baguette at an angle (on the bias, as they call it) to create 1-inch-thick slices. Dab each slice with creamy cheese and drizzle on a bit of wild raspberry honey. Enjoy with a glass of chilled white wine, such as a Chardonnay or Sauvignon Blanc.