December Balsamic & Olive Oil Sale Recipes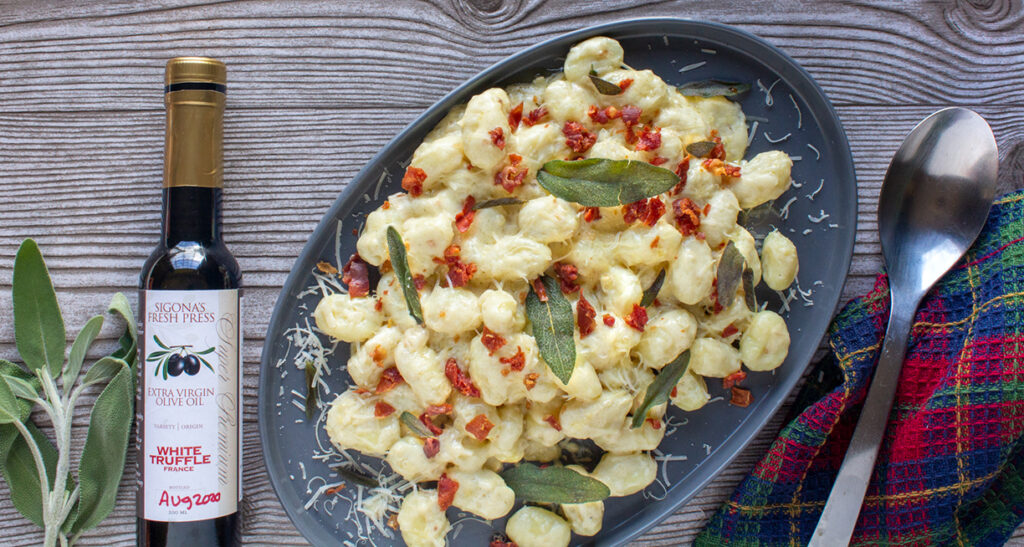 Creamy Truffled Gnocchi with Parmigiano Reggiano, Crisped Prosciutto and Sage
This is a dish made in heaven! Soft, pillowy gnocchi are tossed in a creamy cheese sauce, finished with a little white truffle oil and then topped with crisped prosciutto and sage. It's quick and absolutely delicious. Inspired by Eating Well. Serves 2 to 4.
Ingredients:
3 ½ Tbsp Sigona's Garlic Oil, divided
16 to 20 fresh sage leaves
2 slices prosciutto, diced
1 shallot shallot, minced
3/4 cup heavy cream
1/4 freshly grated Parmigiano Reggiano, plus more for serving
Salt and pepper to taste
1 pound gnocchi (store-bought or make your own)
Directions: Prepare a large pot of salted water to boil.
Heat 2 tablespoons garlic oil in a medium skillet over medium heat. Add sage leaves in a single layer and sauté, for about 30 to 60 seconds a side until crisp. Leaving the oil in the skillet, transfer the leaves to a paper towel-lined plate. Add the prosciutto and cook, stirring occasionally, until crisp, about 1 to 2 minutes. Leaving the oil in the skillet, transfer the prosciutto to the same plate with the sage. Set aside.
Add remaining oil to the skillet. Stir in the shallot and cook until soft and translucent, about 1 minute. Add the cream and bring to a boil. Reduce heat to low and allow cream to simmer for about 5 minutes or until reduced by half. Whisk in the cheese and season with salt and pepper. Remove from heat and cover loosely to keep warm.
---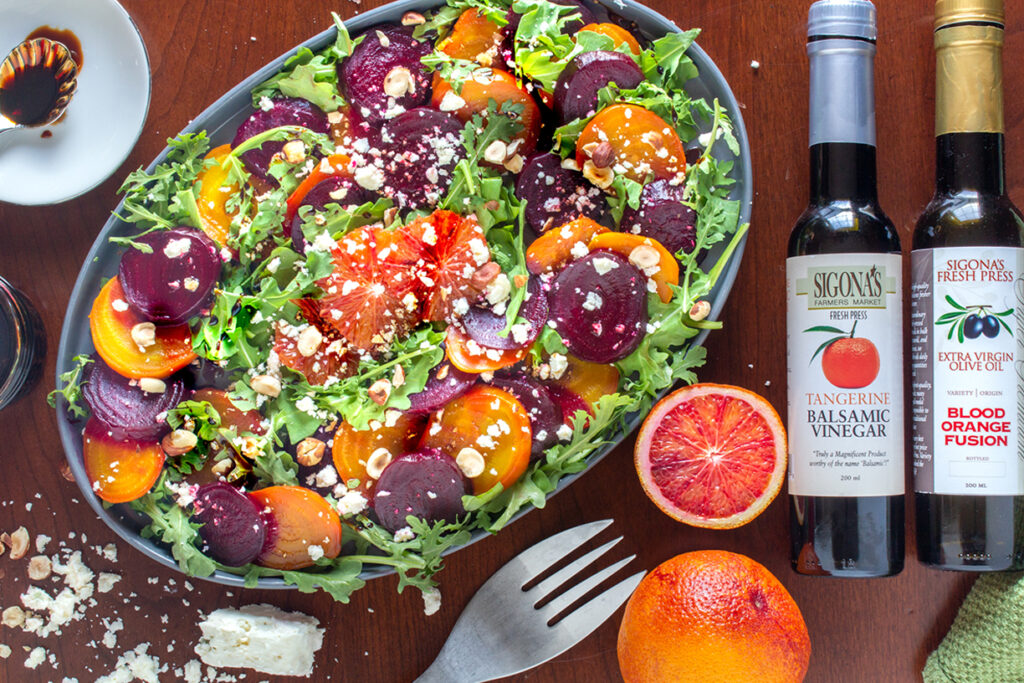 Blood Orange Roasted Beets with Crumbled Cheese and Hazelnuts, Drizzled with a Tangerine Balsamic Reduction
This is a bright and beautiful dish to serve during the dreary winter months. The beets soak up the flavor of the blood orange oil as they roast, adding to their natural sweetness, and the tangerine balsamic reduction lends another layer of syrupy sweetness balanced with a mild tanginess. Beets pair deliciously with blue or goat cheese, but if you're dairy-free, you can leave the cheese off entirely. Serves 4 to 6.
Ingredients:
4 golden beets, trimmed and scrubbed
4 red beets, trimmed and scrubbed
Zest from half a blood orange or Navel orange (use the half the orange for garnish)
1 tsp fresh minced rosemary or ½ tsp dried
Salt and pepper, to taste
200 ml Sigona's Tangerine Balsamic
A couple handfuls arugula
1/3 cup hazelnuts, lightly crushed
1/3 cup crumbled blue cheese, more to taste (you can also use crumbled goat cheese)
Directions: In a bowl, mix together the blood orange oil, zest, rosemary, salt and pepper. Toss the beets in the oil, ensuring they are well coated. Wrap each beet in foil and place on a rimmed baking sheet. Roast for 45 mins to 1 hour, until knife tender (time varies depending on beet size). Remove and set aside to cool to the touch. When cool, remove the skins by peeling it off with your fingers or rubbing with a paper towel.
As beets cool, prepare the balsamic reduction. Add the balsamic to a small heavy-bottomed saucepan and bring to a simmer over medium-low heat. Allow to simmer for about 20 minutes, stirring occasionally, until reduced by half; it should be thick and syrupy. Remove from heat; the balsamic will continue to reduce and thicken off the heat.
Slice into discs about 1/4-inch thick. Arrange a little arugula on a platter, then add the beets in a circular design, alternating colors and nestling them among and on top of the arugula; add more arugula as desired.
Sprinkle the arranged beets with crumbled cheese and hazelnuts. Garnish with a few slices of orange. Drizzle the dish with a couple tablespoons of the balsamic reduction, serve the remaining on the side. Serve immediately.
---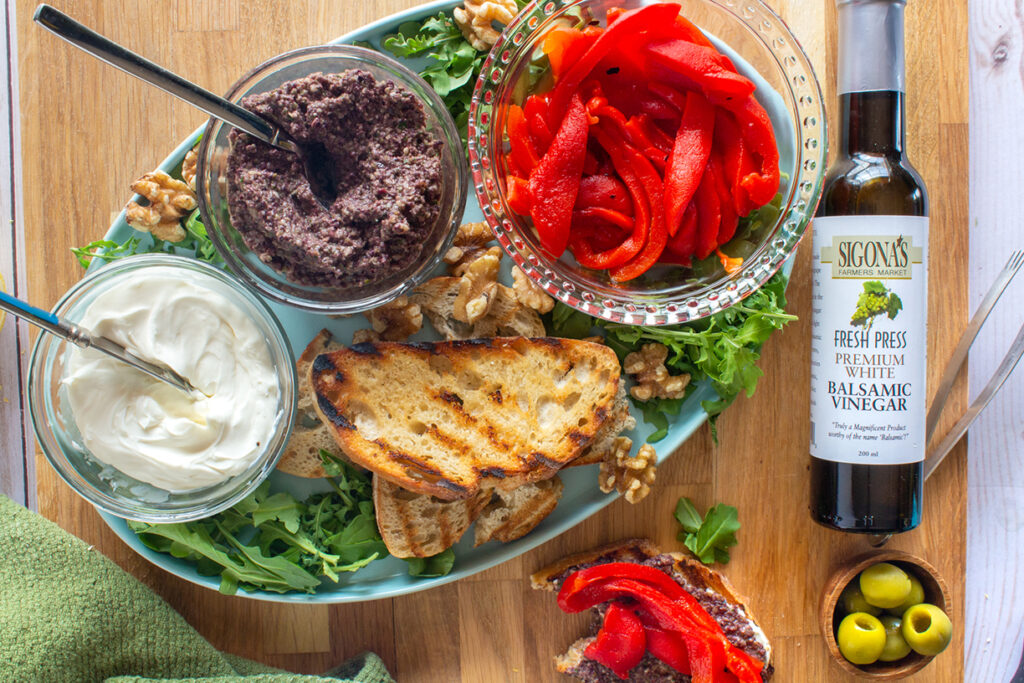 Simple Olive Tapenade
This simple condiment is delicious in many ways. Toss it with pasta, spread it on a baguette or cracker and top with roasted red peppers, or use it as a topping on roasted pork. It's also great for pizzas or anything that could use a little salty, savory or umami factor. The white balsamic brightens the mix, and the Tuscan herb oil provides all the necessary herbaceousness in one shot. Makes about 2 ½ cups.
Ingredients:
1 cup pitted kalamata olives
1 cup pitted green olives, such as Castelvetrano
1/2 cup fresh parsley
2 cloves garlic
2 Tbsp capers, drained
1/2 cup walnuts
Zest and juice from half a lemon, to taste
Directions: Add the olives, parsley, garlic, capers and balsamic to a food processor. Pulse to incorporate. With the blade running, drizzle in the olive oil. Add the walnuts and pulse to desired texture. Finish with lemon zest and juice, to taste.
Serving suggestion: Toast slices of baguette, spread with a creamy cheese (goat or cream cheese), add a layer of tapenade and top with jarred roasted red peppers. Divine!