In the Kitchen with Sigona's featuring: Organic, Locally Grown Strawberries
Sweet Strawberries & Mango Tossed with Fresh Tarragon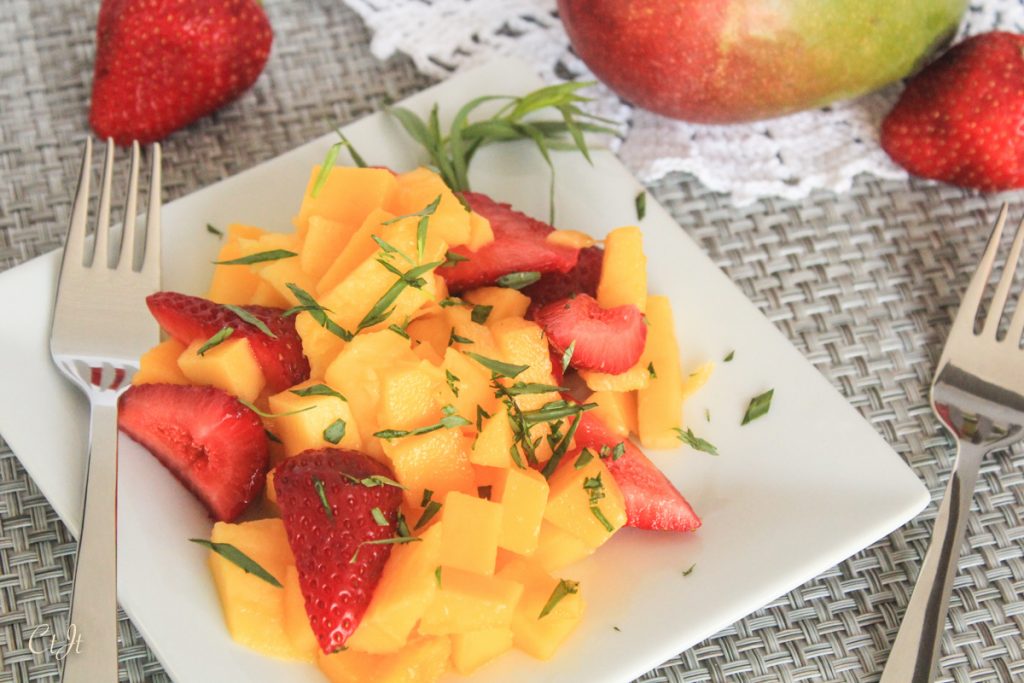 This simple serving suggestion is great for breakfast or an afternoon snack. Tarragon packs a strong, licorice-like herbaceous flavor that pairs deliciously well with fresh mango and sweet strawberries. A little tarragon goes a long way, so start with just one tablespoon, adding more to taste. Serves 4.
What you need:
2 mangos, such as a Hayden, Manila or Kent mango, peeled, sliced and diced into 1/2-inch cubes
About 8 to 10 local strawberries, stemmed and quartered
About 2 Tbsp chopped tarragon, more or less to taste
Directions: Toss the mango and strawberries with a bit of the chopped tarragon. Taste; add more tarragon if desired. Plate and serve.
Cilantro-Lime Grilled Chicken with Strawberry-Avocado Salsa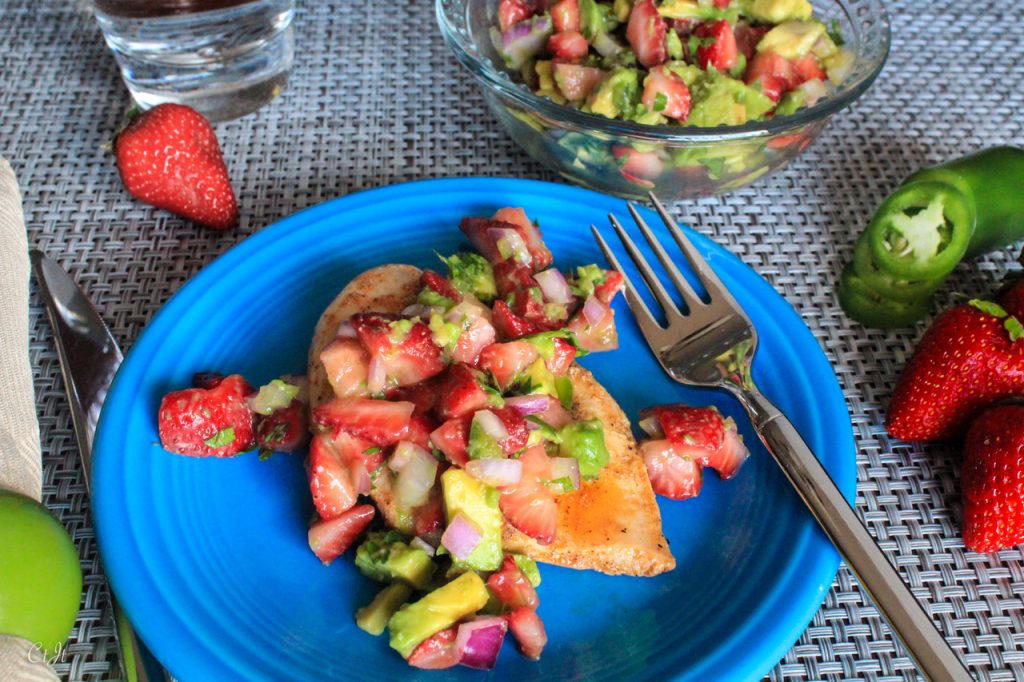 Strawberries are just as great savory as they are sweet! We love how this berry is incorporated into a fresh salsa to top grilled chicken. The salsa is also awesome on fish, fish tacos or just with chips. It comes together in just minutes. Inspired by Cooking Light. The dish is paleo-friendly and dairy- and gluten-free. Serves 2.
For the Chicken:
1 Tbsp Sigona's Fresh Press Extra Virgin Olive Oil
2 Tbsp chopped cilantro
1 lime zested and juiced
2 tsp. honey, such as local, raw honey from Honey Hole Honey Co., available only at Sigona's
Salt and pepper, to taste
2 boneless, skinless chicken breasts
For the Salsa:
1 avocado, halved, peeled and diced
1 cup roughly diced strawberries
About 1/4 a small red onion, diced
2 Tbsp. fresh minced cilantro
About 1 tsp. minced jalapeño pepper, seeds removed (more or less jalapeño, to taste)
2 tsp. fresh lime juice
Salt, to taste
Directions: In a blender or other mixing device, puree together the olive oil, honey, cilantro, zest, lime juice, salt and pepper. Place chicken breast in a shallow dish or zip-top bag; add marinade and allow to marinate for at least 2 hours.
About 30 minutes before you grill the chicken, prepare the salsa. Place all ingredients together in a medium bowl and gently stir to mix well. Allow salsa to sit for at least 15 minutes while you grill the chicken, to allow the flavors to meld before serving.
To cook chicken, preheat a grill to medium high heat. Remove chicken from marinade, shaking off and discarding excess. Grill chicken about 6 to 7 minutes a side, keeping lid closed except to flip chicken once. Chicken is cooked through when a thermometer reads 165° when inserted into the thickest part of the breast. Allow to rest 5 minutes before serving or slicing.
To serve, plate the chicken and top with the salsa.
Vanilla Bean Balsamic-Roasted Strawberries with Pistachios and Honeyed Mascarpone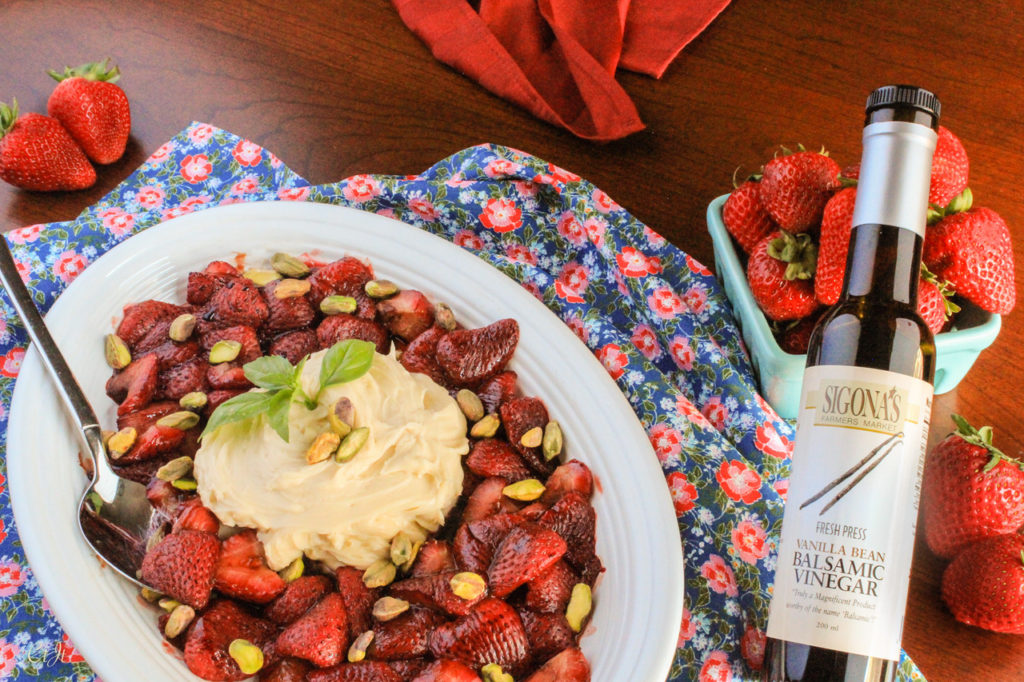 Roasted strawberries soften a little as their natural sugars caramelize, creating a flavor that is matched well by our vanilla bean balsamic, whose flavor also intensifies as it reduces in the oven. A scoop of honeyed mascarpone served with a spoonful of these balsamic-roasted strawberries makes for a lovely, easy dessert. Serves about 4 to 6.
Balsamic Strawberries:
1 1/2 lbs. strawberries, rinsed, patted dry, stemmed, hulled and halved (large berries quartered)
3 Tbsp Sigona's Vanilla Bean Balsamic
Honeyed Mascarpone:
1 cup mascarpone
1/4 cup honey, such as local, raw & unfiltered orange blossom honey from Honey Hole Honey Co., available only at Sigona's
1/2 tsp vanilla extract, optional
Optional garnishes:
1/2 cup shelled, raw pistachios
Fresh basil or mint, julienned, depending on flavor preferences
Directions: Preheat oven to 400°F. Line a rimmed baking sheet with parchment paper.
In a large bowl, toss the strawberries with the balsamic until well coated. Dump out the berries and balsamic onto the prepared baking sheet and spread out in a single layer. Roast for 12 to 15 minutes, shaking pan once.
Meanwhile, in a medium bowl, whip together the mascarpone and honey until well combined.
Serving options: A). Scoop the mascarpone onto the center of a serving tray. Surround the mascarpone with the berries, top with pistachios and/or other desired garnish and serve. B). Scoop a couple tablespoons of the mascarpone into individual serving dishes. Top each serving with some of the strawberries, finishing with desired garnish. Serve & enjoy!
Strawberry Champagne Muddle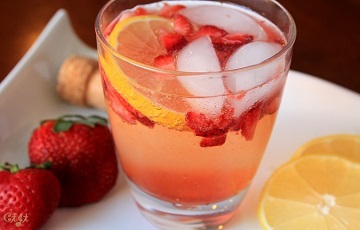 With a little slice of lemon, this refreshing sparkler is bound to be a new hit at brunch. Inspired by Bon Appetit. Makes 3 to 4.
Ingredients:
1 cup chopped fresh strawberries, hulled and stems removed
At least 6 Tbsp ginger ale
3 to 4 thin lemon slices
Ice cubes
1 bottle of chilled champagne
Directions: Divide strawberries among three or four juice glasses (about 6 to 8 oz.) Add about 1 1/2 tablespoons ginger ale to each glass and then mash with a muddler (the handle of a wooden spoon or the like works in a pinch). Add lemon slice to each and mash slightly to release flavor. Add several ice cubes to each glass, then fill with champagne.