In the Kitchen with Sigona's Featuring: Organic Broccoli
Garlic Roasted Broccoli with Parmigiano Reggiano and Lemon Zest
Looking for an alternative to steamed broccoli? Try this simple, flavorful oven-roasted version that comes together in just about the same amount of time as steaming. Serves about 6 as a side.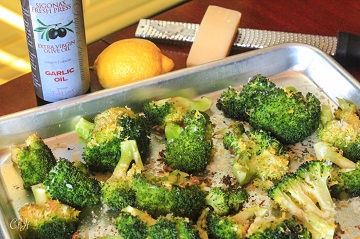 Ingredients:
1 head organic broccoli, cut into florets (leave some of the stem length, it's just as edible as the top)
3 Tbsp. Sigona's Garlic Oil
2 Tbsp. freshly grated Parmigiano Reggiano
Zest of 1 lemon
Kosher salt and pepper, to taste
Directions: Preheat oven to 400°F.
On a rimmed baking sheet, toss the broccoli with the garlic oil. Spread broccoli out in a single layer and bake for 15 to 20 minutes total, shaking the pan about half way through.
Immediately after removing the broccoli from the oven, sprinkle on the cheese, lemon zest, salt and pepper; toss well to coat. Serve warm.
Oven Baked Broccoli & Zucchini Rounds with Old World Marinara Dipping Sauce
Whip up a batch of these kid-friendly broccoli patties tonight for dinner and serve them with marinara for dipping. Sometimes serving veggies in a fun way makes mealtime a bit easier on the kids and parents, right? You can store any extra in the freezer and simply warm in the micro for a quick snack or side. Makes about 14 patties.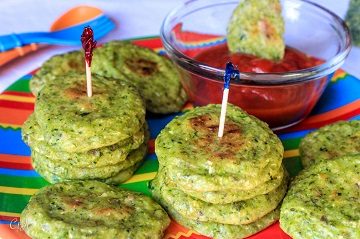 Ingredients:
1 cup broccoli florets
1 cup sliced zucchini (about half a large zucchini)
1/2 cup flour (all purpose or gluten-free)
2 medium eggs, such as Wattle & Comb pasture-raised eggs, available at Sigona's
1 tsp. dried basil
1/2 tsp. garlic powder
1/2 tsp. salt or to taste
Sigona's Old World Marinara, for dipping
Directions: In a food processor, pulse the broccoli and zucchini until ingredients are minced (being careful they don't begin to liquify). Transfer the mixture to a large bowl.
To the mixture, add the flour, eggs and spices. Stir to mix well. Cover and refrigerate the mixture for at least 30 minutes. Drain any excess liquid after chilling.
When ready to bake, preheat the oven to 375°F. Line a baking sheet with parchment paper.
Spoon heaping tablespoons full of the mixture onto the prepared baking sheet and gently pat into rounds. You may need to bake them in two batches, depending on the size of baking sheet.
Bake the cakes for 13 minutes, flip them over and bake for another 7 minutes (20 minutes total) or until cooked through.
Serve warm or at room temp with a side of marinara for dipping.
Raw Broccoli Salad with Golden Raisins, Sunflower Seeds and Creamy Avocado
This salad gets its creaminess from an avocado-based dressing; there is absolutely no dairy or mayo at all! This is a fantastic, nutrient-packed dish to serve with any grilled meats. Inspired by Ceara's Kitchen and Vegetarian Times. Serves about 4 to 6.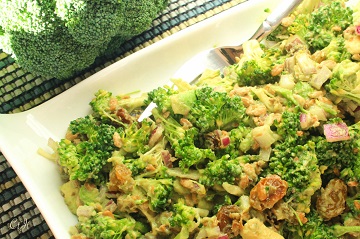 Ingredients:
2 medium avocados
2 Tbsp. freshly squeezed lemon juice
1 heaping Tbsp. Sigona's Garlic Oil
1 Tbsp. + 1/4 cup sunflower seeds, divided (roasted/salted optional)
1 tsp. honey, such as Eucalyptus from Honey Hole Honey Co., available only at Sigona's (more to taste)
1/2 tsp. apple cider vinegar
2 large leaves basil or 1/2 tsp. dried basil
Salt, to taste
About 4 cups bite-sized organic broccoli florets
1/3 cup golden raisins (find them in Sigona's dried fruit & nut section)
1/4 cup diced red onion*
*To take a bit of the bite out of a red onion, soak the chopped pieces in ice water for at least 5 minutes before using. Drain and pat dry.
Directions: In a food processor, blend together one avocado, the lemon juice, garlic oil, 1 tablespoon sunflower seeds, honey, vinegar, basil and salt until smooth, about 1 to 2 minutes. Taste; add more honey or adjust seasoning if necessary.
In a large bowl, add the broccoli florets, raisins, 1/4 cup sunflower seeds and red onion. Cube the remaining avocado and add to the bowl.
Pour the avocado dressing over the mixture and gently stir until all is well coated. Use up to 1 tablespoon water to thin the dressing if necessary.
If not eating straight away, make sure salad is covered and sealed well before refrigerated to keep the avocado from oxidizing (turning brown).