August 2021 Olive Oil and Balsamic Sale Recipes
Each month we feature a handful of our infused oils and balsamics for a sale for YOU! We have so many infused oils and balsamics that we want to make it easier for you to try them all. They're on sale both in-store and online. Featured this month: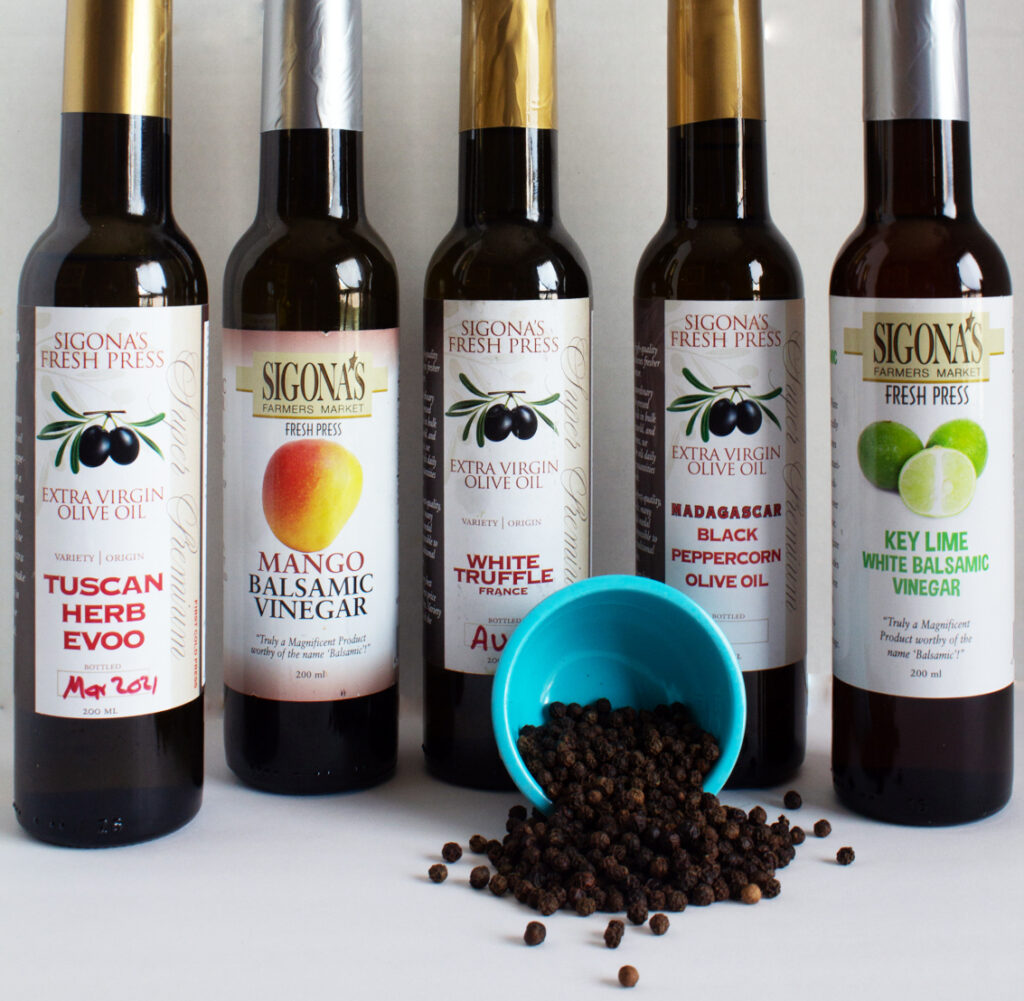 White Truffle Oil
Key Lime White Balsamic
Mango White Balsamic
Tuscan Herb Olive Oil
Madagascar Black Peppercorn Oil (NEW!)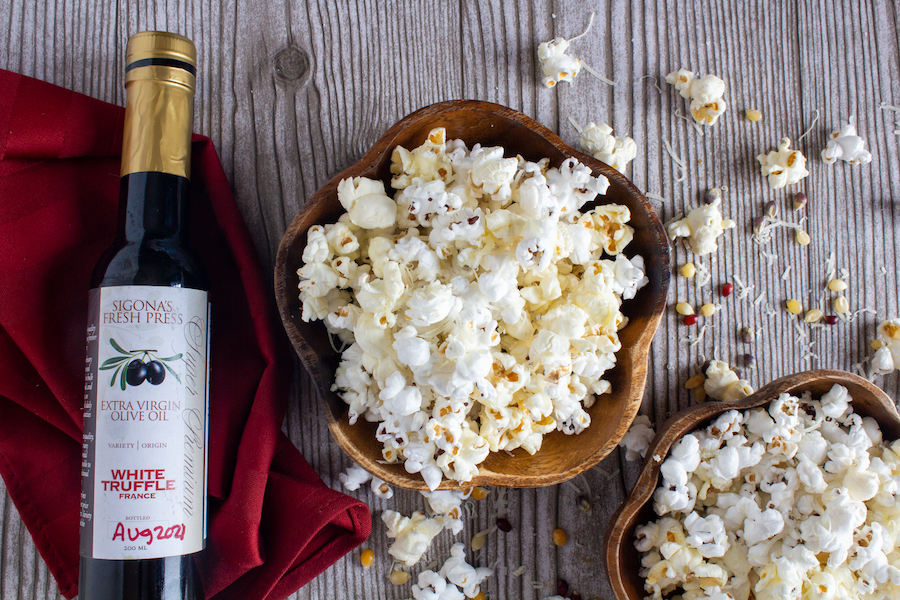 Truffle Popcorn with Parmigiano Reggiano
Make your popcorn fancy with Sigona's White Truffle Oil and some freshly grated Parmigiano Reggiano! Remember, a little truffle oil goes a long way, so start with just 1 tablespoon and do a taste test to see if you need a little more. Serves about 4.
Ingredients:
1/2 cup corn kernels, popped
2 Tbsp butter
1 Tbsp Sigona's White Truffle Oil (add more if desired)
1 cup freshly grated Parmigiano Reggiano
Salt, to taste
For stove top popping: 2 Tbsp neutral oil
Directions: In an air popper or over the stove, pop your popcorn and place in a large bowl.
In a small saucepan over medium-low heat, melt the butter then stir in the truffle oil.
Pour the butter mixture over the popcorn and toss to coat. Add the cheese; toss to coat. Season with salt, to taste.
---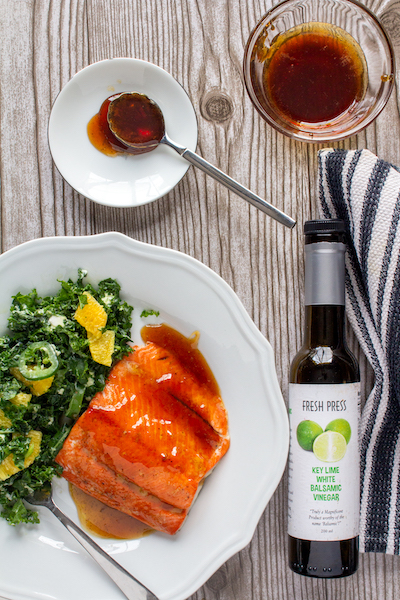 Key Lime Balsamic & Honey Glazed Salmon
This is a quick and delicious way to make a weeknight meal. The tart of the lime is mellowed by honey as well as the reduction process, creating a fantastically sweet, citrus flavor. Serves 2.
For the salmon:
For the glaze:
1/4 cup Sigona's Key Lime White Balsamic
1 1/2 Tbsp honey, such as local, raw honey from Honey Hole Honey Co., available only at Sigona's
1/4 tsp salt
1/4 tsp pepper
Directions: Preheat oven to 425°F.
In a small saucepan, stir together the balsamic, honey, salt and pepper. Bring to a boil, stirring occasionally; reduce to low and simmer, stirring occasionally, for 8 to 10 or until it has reduced by almost half. Remove from the heat and transfer to a bowl. It will continue to thicken as it cools.
Line a rimmed baking pan with foil and lightly grease with oil. Brush both sides of the salmon with oil and season with salt and pepper. Place the salmon skin-side down on the foil then roast for about 8 to 12 minutes or until cooked through (the FDA recommends 145°F though some salmon fans say 125°F for an optimum flavor experience).
Once the salmon is plated, drizzle with the key-lime balsamic & honey glaze. Serve immediately.
---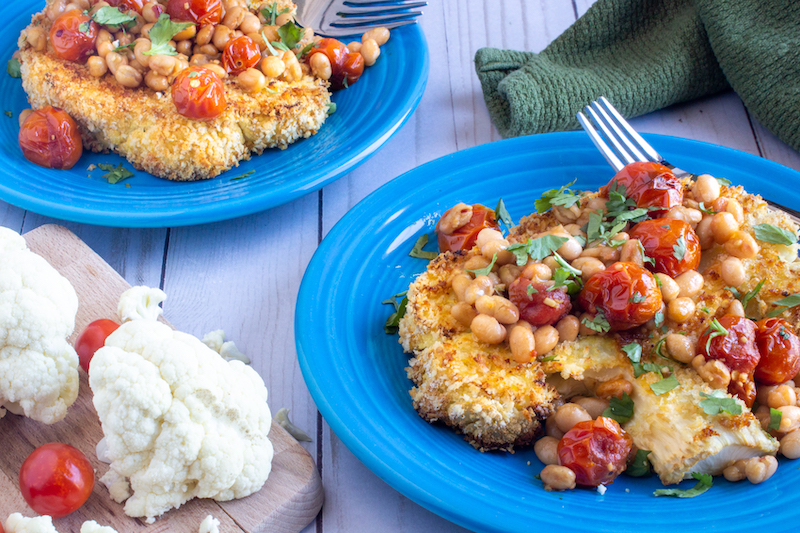 Panko & Parmesan Crusted Cauliflower Steaks with a Tuscan Herb Ragout
Crispy, toasted cauliflower steaks topped with tomato & bean ragout made with our Tuscan Herb olive oil is sure to be a new favorite. It's a great meal to serve on meatless Monday, and it's easy to make for those who prefer vegetarian dishes or need something gluten-free (just use gluten-free panko). Serves 2.
Ingredients:
Olive oil cooking spray (try putting Sigona's Fresh Press Extra Virgin Olive Oil in an oil sprayer)
1 large head of cauliflower, about 2 lbs
2 Tbsp arrowroot powder or cornstarch
1 large egg, beaten
Salt and pepper, to taste
1/2 cup panko breadcrumbs, preferably whole-wheat (you can also use gluten-free)
1/4 cup freshly grated Parmigiano Reggiano
2 1/2 Tbsp Sigona's Tuscan Herb olive oil, divided
Half a pint of cherry tomatoes
1/2 cup dry white wine
1 cup canned, no-salt-added white beans, rinsed
1 to 2 large cloves garlic, chopped
1/4 tsp crushed red pepper flakes
Fresh chopped herbs, for sprinkling, such as parsley, oregano or thyme
Directions: Preheat oven to 400°F. Generously coat a baking sheet with cooking spray. Set aside.
Prepare the cauliflower steaks: Remove any leaves from cauliflower, but leave the core and stems intact. With the heads stem-side up, use a large chef's knife to cut each through the stem to create two equal halves. Cut a 1-inch-thick slice from each half, using the part with the stem. You'll have extra cauliflower left over; use as cauliflower rice or crudités.
Line up three shallow dishes. Put cornstarch in dish one, the beaten egg in dish 2 and the panko, parmesan, salt and pepper in the third.
Dredge each side and the edges of each cauliflower steak in the cornstarch, shaking off any excess, then dip them in the egg and let any excess drip off. Lastly, press each side and the edges into the panko mixture. Place on the prepared pan and generously spray both sides of the cauliflower with cooking spray.
Bake, flipping the cauliflower and rotating the pan from front to back halfway through, until the cauliflower is tender and the coating is toasted and crispy, 45 to 55 minutes. Allow cauliflower to rest on the baking sheet while ragout is prepared.
Heat 1 1/2 Tbsp oil in a medium skillet over medium-high heat. Add tomatoes and cook, shaking the skillet occasionally, until they just start to burst, about 3 minutes. Add wine and cook until reduced by half, about 2 minutes. Stir in beans, garlic, crushed red pepper and season with salt; cook another 2 minutes then remove from heat.
To serve: Place one cauliflower steak on a serving dish. Spoon the bean ragout over the top and sprinkle with fresh herbs. Finish by drizzling each dish with about a half tablespoon of the Tuscan Herb oil.
---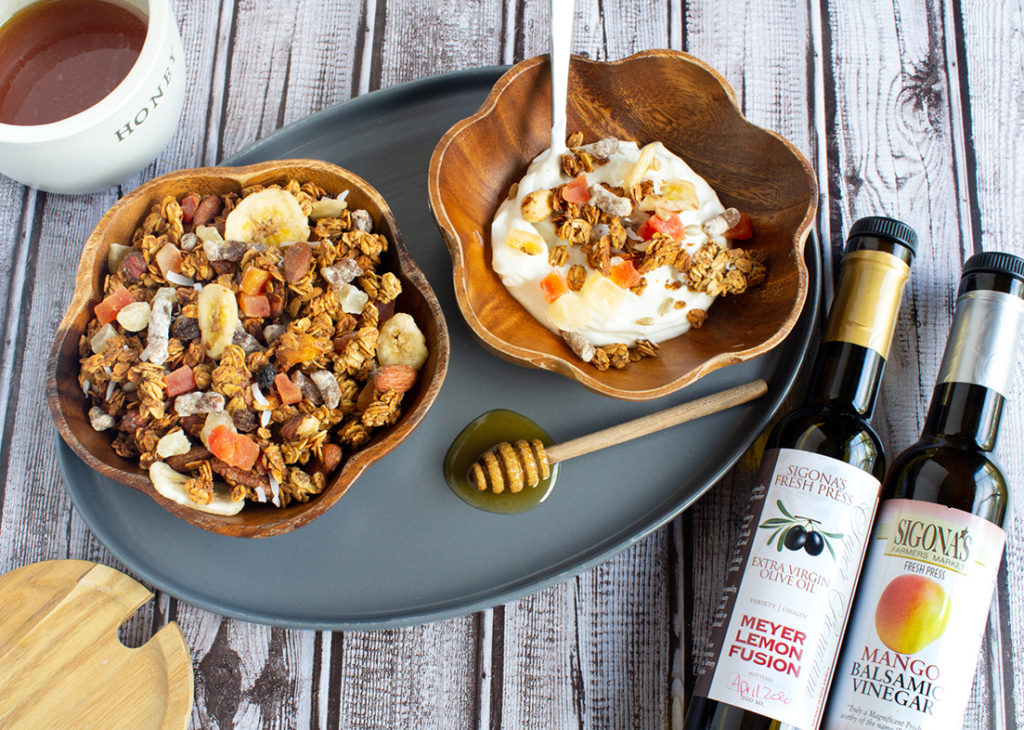 Tropical Granola With Sigona's Mango Balsamic & Meyer Lemon Fusion Olive Oil
This tasty little mixture is perfect for sprinkling over yogurt or even a smoothie bowl to add a little crunch. Feel free to add various fruits and nuts, or even experiment with a different balsamic and oil combination! Adapted from The Olive Oil & Vinegar Lover's Handbook. See the how-to video below the recipe! Makes about 4 cups, easy to double.
Ingredients:
2 cups rolled oats
1/2 cup mixed raw nuts
1/4 cup ground flaxseed
2 Tbsp Sigona's Mango Balsamic
2 Tbsp honey, such as Honey Hole Honey Co. honey, available at Sigona's
2 medium egg whites (or 1 large/ex large), lightly beaten until just frothy
1 cup Sigona's Tropical Trail Mix (includes date bits, bananas, coconut, sunflower seeds, papaya, pineapple and raisins)
Directions: Line a large rimmed baking sheet with parchment paper and preheat an oven to 325°F.
Stir together the oats, nuts and flax in a large mixing bowl. Set aside.
Stir together the balsamic, honey and oil in a small saucepan over low heat. Cook, stirring occasionally, until the honey has dissolved, about 2 minutes. Drizzle this over the oat mixture and toss to coat well. Add the beaten eggs to the oat mixture and gently incorporate with a fork.
Spread the mixture out in a single layer on the baking sheet. Bake for 15 minutes then remove and flip the granola around with a large spatula. Bake another 15 to 20 minutes, shaking once, until toasty golden.
Allow the mixture to come to room temperature. Add the granola to a large mixing bowl and gently fold in the dried fruit mix.
Store in an air-tight container at room temperature for up to 3 weeks.
---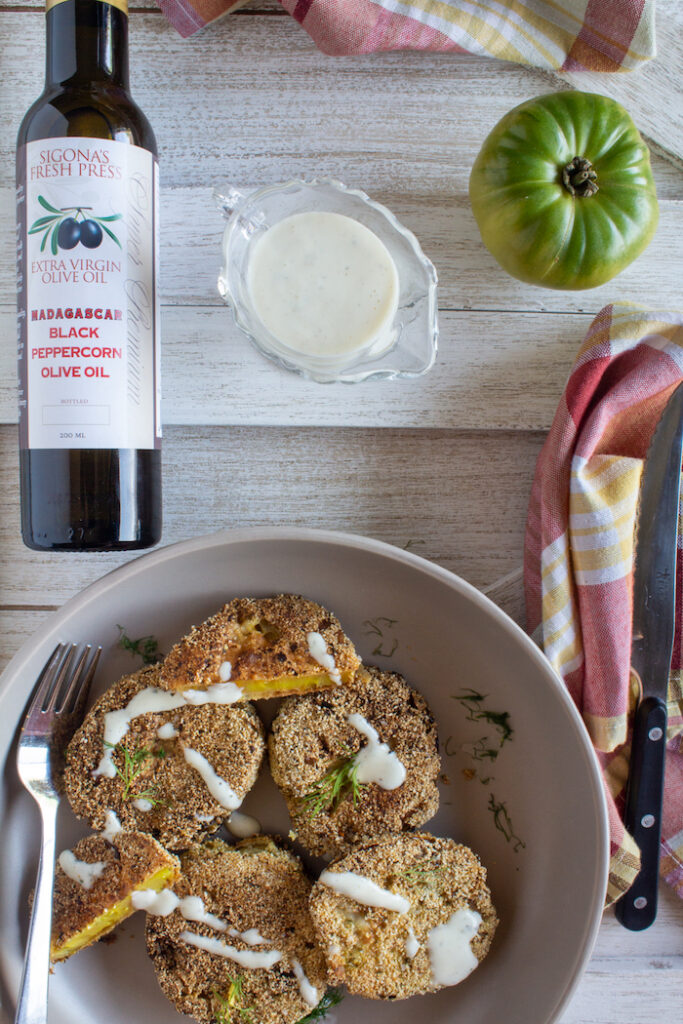 Cornmeal-Crusted Fried Green Tomatoes with a Creamy Madagascar Black Peppercorn Oil Dressing
These are fried with cornmeal to give an extra crunch to the outside layer of this classic dish. Drizzling the creamy dressing made with our Madagascar Black Peppercorn olive oil adds a burst of flavor you'll love. Adapted from Local Dirt. Serves 2 to 4.
Ingredients:
2 green tomatoes, cut horizontally into ~1/2-inch slices
Salt
1 egg
1 Tbsp water
3/4 cup all-purpose flour
3/4 cup cornmeal
Freshly ground black pepper
Grapeseed oil, for frying
Creamy Madagascar Black Peppercorn Dressing (recipe follows)
Fresh dill, for garnishing (a must!)
Directions: Lightly sprinkle the tomato slices with salt and set aside.
Whisk together the egg and water in a shallow dish. In a separate shallow dish add the flour; in a third shallow dish stir together the cornmeal, some salt and pepper.
Add enough oil to a large cast-iron skillet or other heavy-bottomed skillet so that there is a depth of at least 1/2 inch. Heat the oil over medium heat.
Create an assembly line as follows: tomatoes, flour, egg, cornmeal mixture and a baking sheet or large plate. One at a time, dip both sides of each tomato slice first in the flour and then to the egg mixture. Lastly, press the slices into the cornmeal mixture, shaking off any excess. Place them on the baking sheet/plate in a single layer until they're all coated.
Carefully add the tomatoes to the skillet in a single layer (in batches, if necessary). Fry for about 2 minutes each side, flipping once, or until golden. Remove with tongs and drain on paper towels.
Arrange fried tomatoes on a serving platter and drizzle with the creamy Madagascar Black Peppercorn dressing. Finish with a sprinkling of fresh dill (a must).
Creamy Madagascar Black Peppercorn Dressing: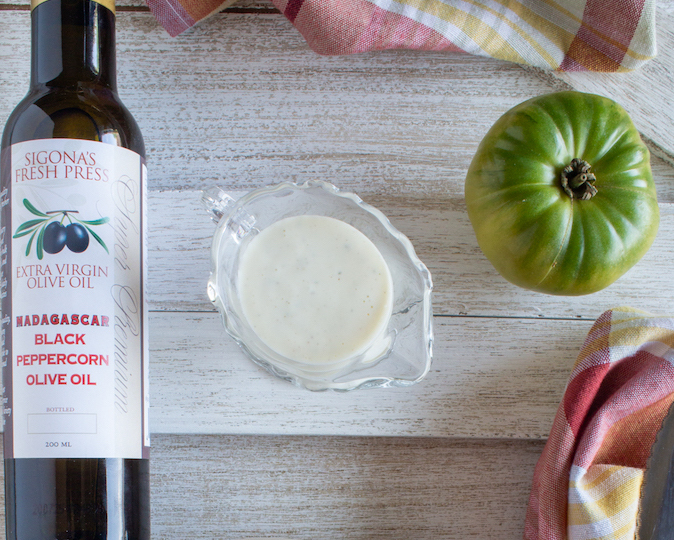 4 oz. Fromage Blanc, at room temperature
2 Tbsp buttermilk
1 tsp dried parsley
2 tsp red wine vinegar
2 Tbsp Sigona's Madagascar Black Peppercorn Olive Oil
Salt and pepper, to taste
In a small food processor or blender, mix together all the ingredients until creamy and smooth. Store in the fridge up to a week.