In the Kitchen with Sigona's Featuring: Black Mission Figs
Wine-soaked Fresh Black Mission Figs, Sicilian-Style
My grandfather used to make his own zinfandel wine with a combination of 1/4 Muscat grapes and 3/4 Lodi old vine Zinfandel. I have childhood memories of fresh fruits and his wine being served after dinner. Serving fresh fruit soaked in wine is a classic Sicilian (and Italian) after-dinner treat, and you truly can't beat fresh figs. Some might say that, traditionally, figs are better with prosecco, but using a fruit-forward zinfandel wine is, in my opinion, the best way to enjoy fresh figs in this manner. Enjoy! ~ Carmelo Sigona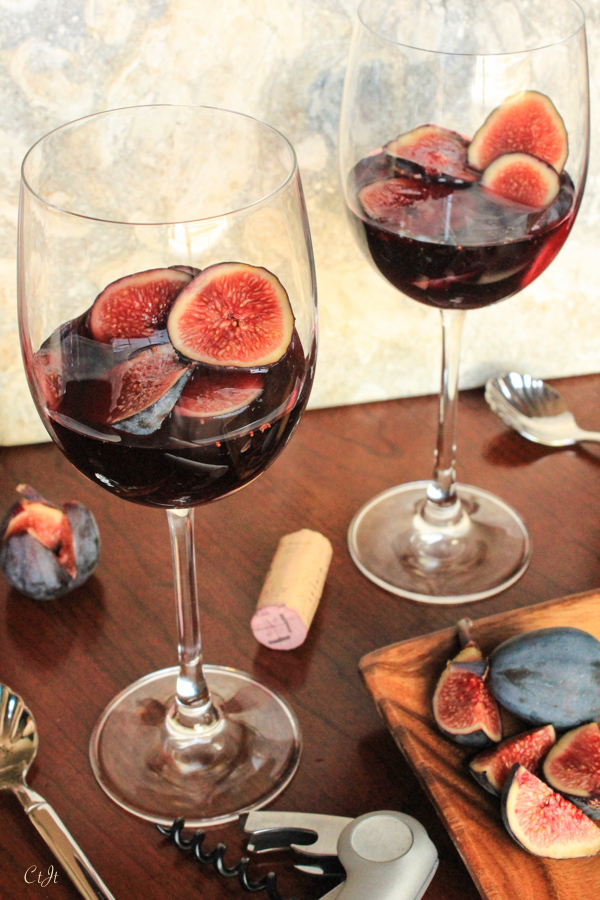 What you need:
Your favorite red wine, such as a Merlot, Cabernet, or Zinfandel. (Prosecco is also nice)
Fresh Organic Black Mission Figs, at least 2 per serving
Wine glasses
Spoons
Directions: Cut the figs top to bottom in slices about 1/4-inch thick. Add two sliced figs to the bottom of a wine glass. Pour in enough wine to nearly cover the figs, more or less as desired.
To serve, pair each wine glass with a spoon and enjoy at room temperature.
Raw, Overnight Oats with Fresh Figs, Strawberries and Hemp Seeds
Raise your hand if you often find yourself out of time to make a nutritious breakfast in the morning! Mixing up a batch of no-cook overnight oats is easy, healthy and delicious. Plus, it can be portable, if necessary, if made in a mason jar for the mornings when you really need to jet. We love this because all the ingredients are kept in their raw state, and they taste so good you won't even miss that the dish is served chilled. Inspired by Half Baked Harvest. Serves 2 to 4.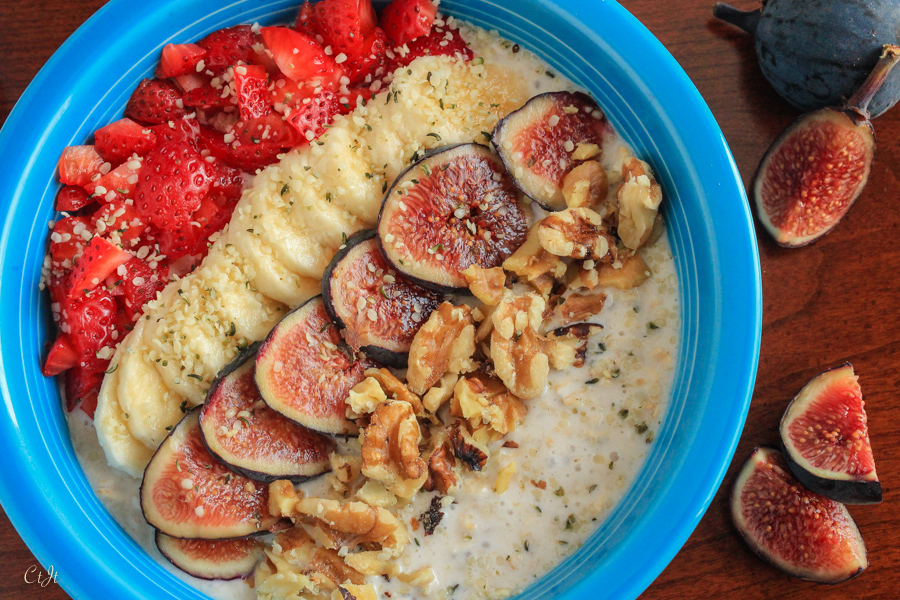 Ingredients:
2 very ripe bananas, plus more not-so-ripe bananas for garnish
1 cup old-fashioned rolled oats
1 1/2 cups milk (almond, oat, canned coconut…your choice!)
1/4 cup Greek yogurt (plain, vanilla or honey is nice)
2 Tbsp pure maple syrup, plus more for drizzling, if desired
1 Tbsp chia seeds
A pinch of salt
6 strawberries, stemmed and diced
At least 4 fresh Black Mission figs, sliced top to bottom
1/2 cup walnuts, roughly chopped
2 Tbsp hemp seeds
Directions: In a medium bowl, mash the ripe bananas with a fork until smooth. Add the oats, milk, yogurt, maple syrup, chia seeds and salt. Stir well to combine. Divide the mixture into 2 or 4 medium jars* or bowls. Cover and refrigerate at least 6 hours or overnight.
When time to eat, garnish the servings with diced strawberries, sliced banana, sliced fresh figs and walnuts. Sprinkle the whole dish with hemp seeds and drizzle on more maple syrup, if desired. Serve chilled.