In the Kitchen with Sigona's Featuring: Black Mission Figs
Local, fresh fig season comes and goes throughout the summer months, but mid-August is the best time of the year for fresh figs. We have worked with a local farmer in Corning, Calif., for over 20 year to bring in organically grown, fresh Black Mission figs that are simply outstanding.
Fresh figs lend themselves to many dishes or are good as is. They're even trendy on charcuterie boards. One of Carmelo Sigona's favorite ways to serve fresh figs after a dinner party is wine-soaked figs.
He places a sliced fig or two in a wine glass and adds some Zinfandel. It's a very Sicilian way to serve the traditional, after-dinner fruit course. Find that serving suggestion below!
Following are several recipes featuring fresh figs. Tell us in the comments which is your favorite or if you have another way you love to use fresh figs!
Air-Fryer Black Mission Figs with Blue Cheese and Prosciutto
Pomegranate Balsamic Stewed Figs
Roasted Fresh Figs with Blue Cheese and Fig Balsamic
Orange Flesh Honeydew, Fig & Prosciutto with Fennel and Sigona's Basil Oil
Wine-soaked Fresh Black Mission Figs, Sicilian-Style
Raw, Overnight Oats with Fresh Figs, Strawberries and Hemp Seeds
Roasted Pork Tenderloin with a Fresh Figs and a Balsamic Reduction
Fresh Figs Over Vanilla Bean Gelato with a Rum Drizzle
Frangelico Figs with Creamy Blue Cheese and Toasted Hazelnuts
Tuscan Herb Toasts with Chèvre, Arugula and a Fig Balsamic Reduction
Build Your Own Cheese or Charcuterie Board with Fresh Figs, Cheeses, Chutney and Cured Meats
Air Fryer Black Mission Figs with Blue Cheese and Prosciutto
Without slicing all the way through, cut a cross in the figs as if you're quartering them. Fill the slit with crumbled blue cheese or Gorgonzola. Wrap a 1-2" wide strip of prosciutto around the stuffed figs (it should secure to itself naturally, but you may wish to insert a toothpick).
Air fry at 400° for about 6 minutes or until the cheese has begin to melt and the prosciutto has lightly crisped.
Drizzle the cooked figs with a little Sigona's fig balsamic and enjoy!
---
Pomegranate Balsamic Stewed Figs
Why not stew figs with fig balsamic? Well, you could, but the pomegranate adds just the right of tart, to help temper the sometimes surprisingly strong sweetness of the figs, and it also brings another layer of flavor to this simple but delectable spread. Serve this on a charcuterie board along with Sweet Grass Dairy's Green Hill cheese, dollop it on ice cream or pair it with a grilled pork chop. Inspired by The Oil & Vinegar Lover's Handbook. Makes about 2 cups.
Ingredients:
1 lb. fresh figs, preferably Black mission figs (if you can't find fresh figs, you can use dried figs using this conversion chart. Reconstitute in hot water.
1/4 cup Sigona's Pomegranate Balsamic
2 Tbsp honey, such as raw, local Honey Hole Honey Co. honey found only at Sigona's
2 Tbsp water
Directions: Rinse and pat dry the figs. Remove the stems and quarter the fruit. Add figs to a heavy-bottomed saucepan along with the balsamic, honey and water. Use a wooden spoon to gently mush the figs a bit to release some of their seeds and juices.
Bring to a simmer over low/medium-low heat. Continue to simmer, stirring frequently, for 20 minutes. The finished mixture should be thicker with a syrup-like consistency.
Allow to cool to room temperature before serving. Store in an airtight container in the fridge for up to 1 month.
---
Roasted Fresh Figs with Crumbled Blue Cheese and Fig Balsamic
This is a quick and absolutely delicious way to use fresh figs! It's one of Robbie Sigona's go-tos when Black Mission figs are in season and locally grown in Corning, Calif. You can use goat cheese instead of blue cheese, or try either a gorgonzola or a gorgonzola dolce. Honey is also an excellent choice for drizzling. You can use the air fryer or an oven for this dish! Serves: as many as you wish.
What you need:
Fresh, organic Black Mission figs, halved lengthwise
Crumbled blue cheese or gorgonzola, about 1/2 to 1 tsp per fig
Sigona's Fig balsamic and/or raw honey
Optional: Crisped and crumbled prosciutto, to serve on the side (directions below)
Optional: fresh greens, such as arugula, for plating
Oven Directions: Preheat oven to 375°F.
Arrange figs on a rimmed baking sheet and add the cheese. Place in oven and allow to warm until cheese begins to soften but is not completely melted, about 3 to 5 minutes.
Transfer figs to a serving platter (dressed with greens, if desired) and drizzle with balsamic to your liking.
Serve immediately, with crumbled prosciutto sprinkled on top, if desired.
Air Fryer Directions: Preheat the air fryer to 400°F for about 3 minutes. Add the cheese-topped figs to the basket or tray and cook for 3 to 5 minutes, checking occasionally, until the cheese has softened and just begun to show signs of melting. Follow the rest of the instructions above to complete the dish.
Crispy Prosciutto: Preheat oven to 400°F. Line a rimmed baking sheet with parchment paper. Add slices of prosciutto and bake until just crisp, about 10 minutes. Allow to cool before crumbling. Can be stored in the fridge for up to a week. Place the prosciutto slices on a baking sheet lined with parchment paper and bake until just crisp, about 10 minutes.
---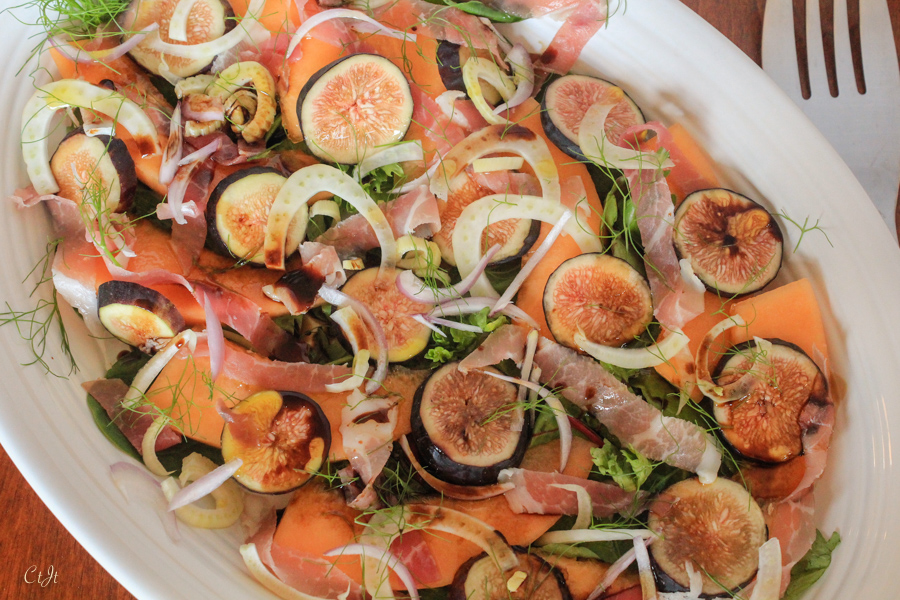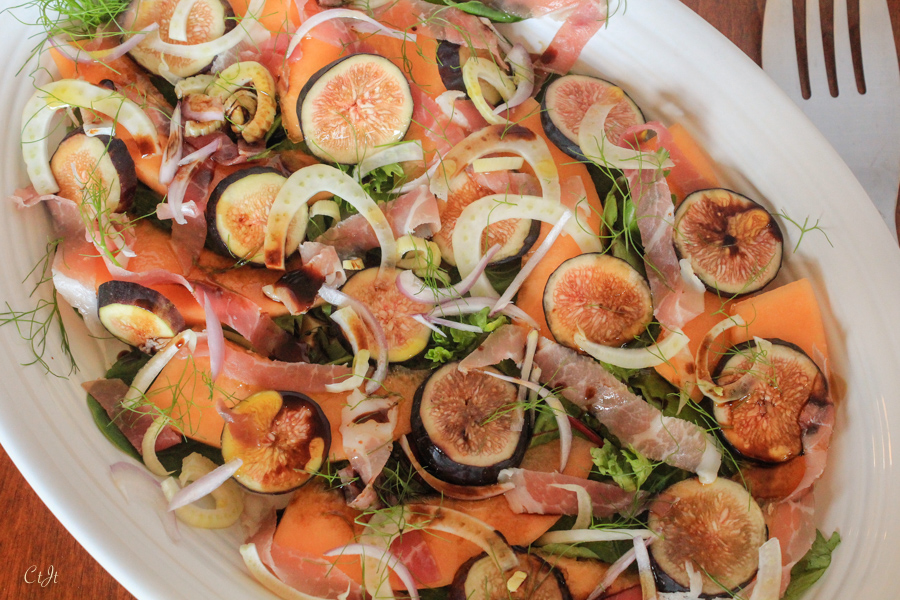 ---
Wine-soaked Fresh Black Mission Figs, Sicilian-Style
My grandfather used to make his own zinfandel wine with a combination of 1/4 Muscat grapes and 3/4 Lodi old vine Zinfandel. I have childhood memories of fresh fruits and his wine being served after dinner. Serving fresh fruit soaked in wine is a classic Sicilian (and Italian) after-dinner treat, and you truly can't beat fresh figs. Some might say that, traditionally, figs are better with prosecco, but using a fruit-forward zinfandel wine is, in my opinion, the best way to enjoy fresh figs in this manner. Enjoy! ~ Carmelo Sigona
What you need:
Your favorite red wine, such as a Merlot, Cabernet, or Zinfandel. (Prosecco is also nice)
Fresh Organic Black Mission Figs, at least 2 per serving
Wine glasses
Spoons
Directions: Cut the figs top to bottom in slices about 1/4-inch thick. Add two sliced figs to the bottom of a wine glass. Pour in enough wine to nearly cover the figs, more or less as desired.
To serve, pair each wine glass with a spoon and enjoy at room temperature.
---
Raw, Overnight Oats with Fresh Figs, Strawberries and Hemp Seeds
Raise your hand if you often find yourself out of time to make a nutritious breakfast in the morning! Mixing up a batch of no-cook overnight oats is easy, healthy and delicious. Plus, it can be portable, if necessary, if made in a mason jar for the mornings when you really need to jet. We love this because all the ingredients are kept in their raw state, and they taste so good you won't even miss that the dish is served chilled. Inspired by Half Baked Harvest. Serves 2 to 4.
Ingredients:
2 very ripe bananas, plus more not-so-ripe bananas for garnish
1 cup old-fashioned rolled oats
1 1/2 cups milk (almond, oat, canned coconut…your choice!)
1/4 cup Greek yogurt (plain, vanilla or honey is nice)
2 Tbsp pure maple syrup, plus more for drizzling, if desired
1 Tbsp chia seeds
A pinch of salt
6 strawberries, stemmed and diced
At least 4 fresh Black Mission figs, sliced top to bottom
1/2 cup walnuts, roughly chopped
2 Tbsp hemp seeds
Directions: In a medium bowl, mash the ripe bananas with a fork until smooth. Add the oats, milk, yogurt, maple syrup, chia seeds and salt. Stir well to combine. Divide the mixture into 2 or 4 medium jars* or bowls. Cover and refrigerate at least 6 hours or overnight.
When time to eat, garnish the servings with diced strawberries, sliced banana, sliced fresh figs and walnuts. Sprinkle the whole dish with hemp seeds and drizzle on more maple syrup, if desired. Serve chilled.
---
Roasted Pork Tenderloin with a Fresh Figs and a Balsamic Reduction
Just typing out this recipe makes my mouth water. While the ingredients and preparation are simple, the flavors are fantastic, making this a great dish for a quick weeknight dinner or an impressive one that will suit dinner guests. Serves 2 to 4.
Ingredients:
1 pork tenderloin (about 1 pound), excess fat and silver skin removed
Salt and pepper, to taste
2 Tbsp. unsalted butter
1 large shallot, diced
1 Tbsp chopped fresh rosemary
4 to 6 fresh, locally grown Black Mission figs, halved lengthwise
1/4 cup Sigona's Fig Balsamic
Directions: Preheat the oven to 400°F.
Rub pork with salt and pepper. Heat oil in a large, oven-safe skillet over medium-high heat. When hot, add pork to pan and cook, rotating about every 2 minutes, to brown all sides.
Roast pork in the oven for about 20 to 25 minutes or until a thermometer registers between 145°F and 160°F (it will still be slightly pink). Set aside and let stand for 10 minutes before cutting.
While pork is done and resting, begin the fig and balsamic sauce.
Add butter to a skillet over medium-high heat. When melted, stir in the shallots and rosemary and cook for one minute. Add the figs and balsamic; increase heat to high and bring to a light boil. Reduce heat to a simmer and cook, stirring occasionally, for about 5 minutes. The mixture will thicken a bit as it reduces. Turn off the heat and allow the mixture to sit for about 5 minutes, while you slice and plate the pork.
Slice the pork on the diagonal into one-inch slices and arrange on a serving platter. Drizzle the fig and balsamic mixture over the sliced pork, serve immediately.
---
Fresh Figs Over Vanilla Bean Gelato with a Rum Drizzle
A simple, seasonal, and flavorful dessert. While the macerated figs add a beautiful color, flavor and texture, the rum or brandy takes the dish to the next level. Inspired by How to Pick a Peach. Serves 2.
What you need:
2 or 3 fresh, locally grown Black Mission Figs, quartered or more lengthwise
Brown sugar, for sprinkling
Vanilla Bean Gelato
2 tsp. rum or brandy
Directions: Add sliced figs to a bowl and lightly sprinkle with a little brown sugar, just a few pinches. Gently stir once or twice, then allow the figs to sit and macerate for about 5 minutes.
Scoop desired amount of gelato into two serving dishes. Top with figs and drizzle with rum or brandy. Serve immediately.
---
Frangelico Figs with Creamy Blue Cheese and Toasted Hazelnuts
Frangelico is a hazelnut liqueur that is not overly sweet like some dessert liqueurs. It pairs deliciously with the salty cheese, adding to the silky texture and natural sweetness of figs. This comes together in minutes, yet is still impressive, even with minimal ingredients. Recipe from Luisa Ormonde of Luisa's Catering in San Carlos. Makes 16 pieces.
Ingredients:
1 cup Frangelico or other hazelnut liqueur
8 fresh figs, such as locally grown Black Mission figs, stems removed, cut in half lengthwise
8 oz. Montbriac cheese, at room temperature, cut or crumbled into at least 8 equal pieces (there will be more if using crumbled); Cheese substitutes: use Cambozola or Le Petit Bleu
3/4 cup hazelnuts, toasted and coarsely chopped
Directions: In a sauté or saucepan just large enough to hold the figs in one layer, bring the Frangelico to a boil, then turn the heat to medium-low. Add the figs, cut side down, and cook for 5 minutes, or until they begin to feel soft but not squishy.
Reserving the liquid, use a slotted spoon to remove the figs. Arrange figs on a serving tray, cut side up, and immediately top with the cheese (so it will begin to melt).
Meanwhile, increase the heat of the reserved liquid to high. Reduce the liqueur until it is a syrupy consistency, about 1 to 2 minutes. Watch carefully to make sure it doesn't burn.
Sprinkle the hazelnuts over the figs and drizzle the Frangelico reduction on top. Serve right away.
---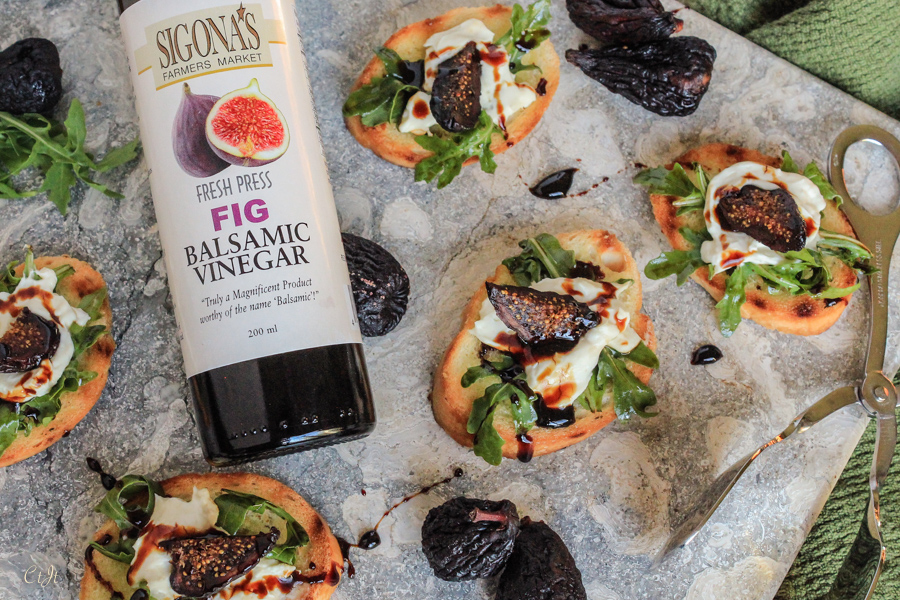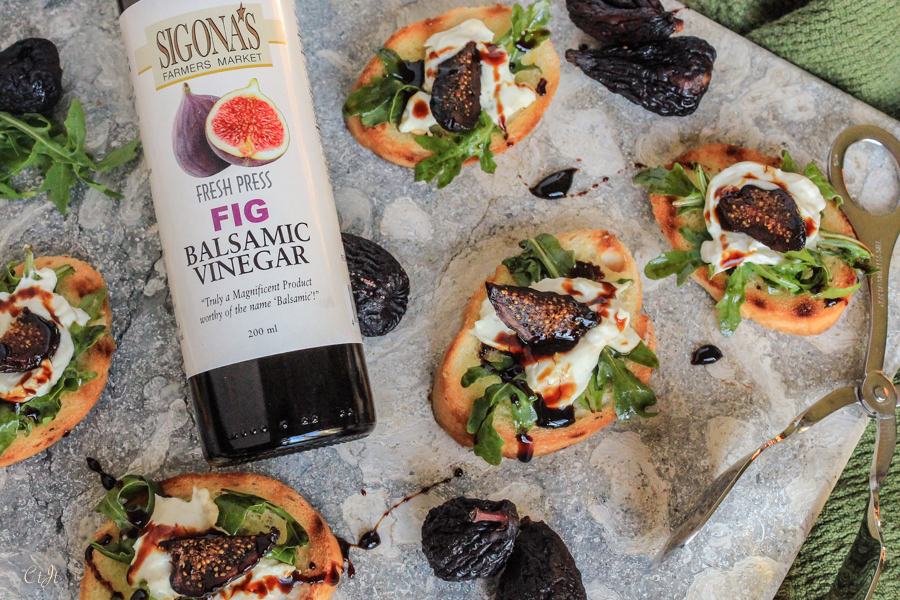 ---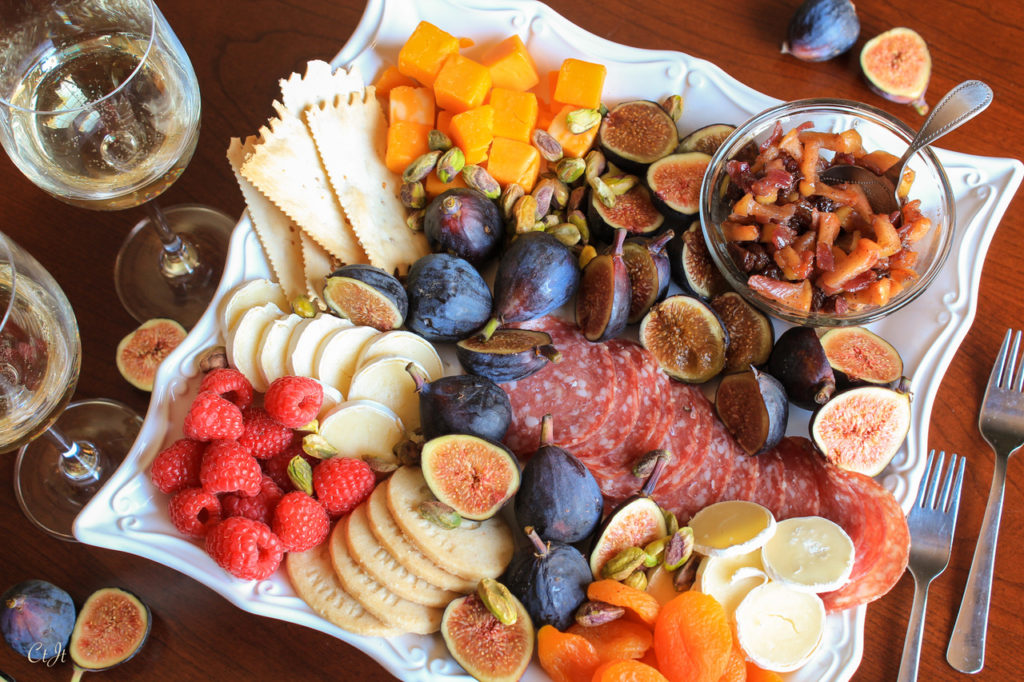 Build Your Own Cheese or Charcuterie Board with Fresh Figs, Cheeses, Chutney, and Cured Meats
The beauty of a cheeseboard or charcuterie platter is that you can add or take away any ingredients you want, however it suits your palate or the season. Fresh figs are a delicious indulgence as summer comes to an end, so eat up while you can!
Suggestions:
Fresh black mission figs, halved and whole
Brie, sliced
A savory chutney or quince paste
Cubed or sliced hard and soft cheeses, such as Gouda, Brie, Cheddars, Blues, goat cheese, Swiss, or Gruyere
Cured meats such as salami and prosciutto
Dried fruits, such as Blenheim apricots, cranberries, apple rings
Nuts, such as pistachios, pecans (flavored or plain), almonds (flavored or plain)
Fresh fruits, such as grapes, apples, berries
Crackers, plain or seasoned, such as Rustic Bakery Artisan Crisps or Flatbreads, Carr's Crackers, Bruschettini, or Crunchmaster Multi-Seed crackers.
Sweet or savory tea biscuits, such as Elegant & English Artisan Biscuits
Olives or other marinated options from Sigona's Olive Bar
Directions: Arrange the ingredients on a platter in an appealing way, positioning similar items across from each other instead of directly next to each other. Enjoy!