Strawberry Shortcake with Homemade Sweet Biscuits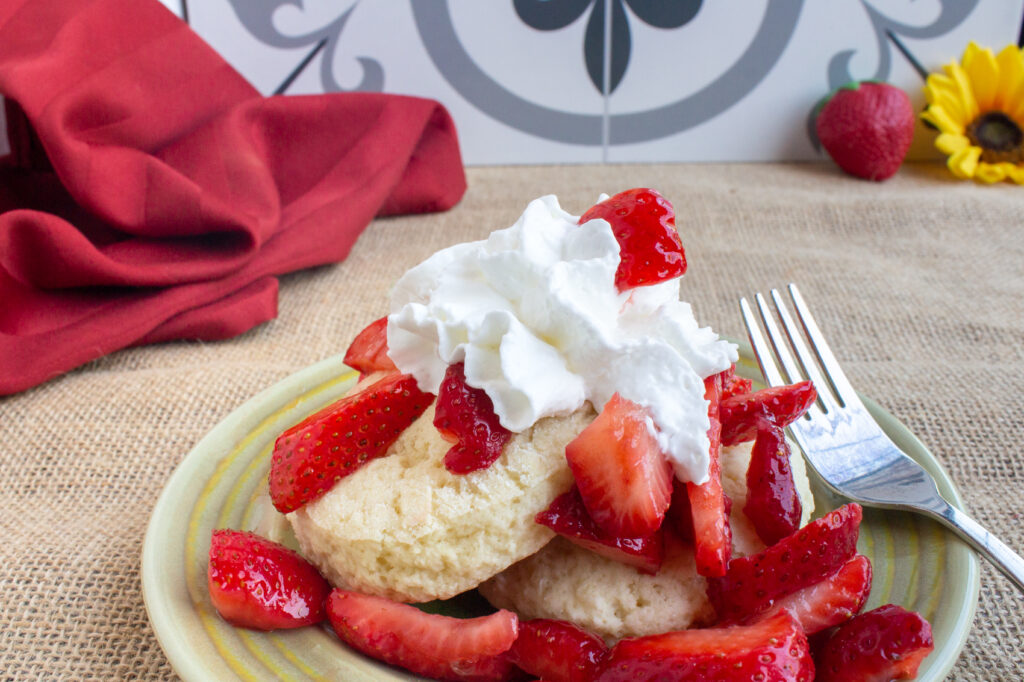 This simple recipe is the absolute best for homemade strawberry shortcake! It comes to us courtesy of Sigona's fan Sandra Moon Farley and her cookbook, Cooking with Sandy: Ideas about Food & Recipes from Our Family. Serves up to 12.
Sandra says: Serve biscuits with berries and whipped cream or sour cream, for dolloping. We usually let folks serve themselves family-style because not everyone wants sour cream. Brown sugar and sour cream are delightfully complimentary!
Strawberries:
2 lbs. fresh strawberries, sliced or quartered, depending on size
3 Tbsp brown sugar, more or less to taste
Biscuits:
2 cups flour (all-purpose, or part whole wheat)
1/4 cup butter or shortening at room temperature
1/2 cup sugar (more or less to preference)
1 Tbsp baking powder
3/4 cup liquid (either milk, soy milk or buttermilk*)
*Sandra's note: If you're using buttermilk, you'll need to substitute 1 tsp baking soda for the baking powder because of the acid in the buttermilk.
Directions: Combine the strawberries and sugar together in a medium bowl. Allow to sit at room temperature while preparing the biscuits so the flavors to meld and the strawberries juice up.
Preheat oven to 350°F.
Combine the dry ingredients and the butter with a pastry cutter or fork. Gradually add the liquid and mix until it just comes together. Turn onto a floured board; fold and press several times until a nice dough forms. Pat it out to a 1" thickness then use a biscuit cutter or glass to make biscuits. Refold the scraps to make more biscuits. You should get at least 12 biscuits.
Place biscuits on an ungreased cookie sheet and bake for 12 to 15 minutes or until they're just starting to turn golden.
Allow to cool to room temperature before serving. Store remaining strawberries in the fridge; biscuits are ok in an airtight container at room temperature for 3 days.