Lemongrass Mint Balsamic Mojito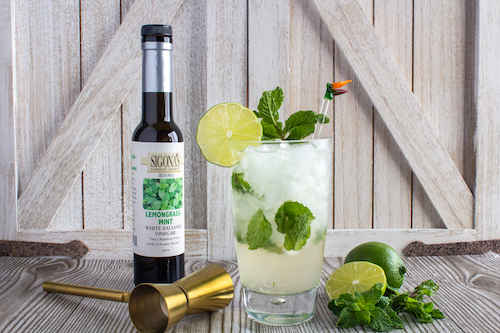 This is a light, refreshing drink that's a great to serve with foods that have a spicy kick! Serves 1.
Ingredients:
6 fresh mint leaves, plus a sprig for garnish
1 1/2 Tbsp simple syrup (see below)
1 Tbsp fresh lime juice, plus a lime slice for garnish
1 Tbsp Sigona's Lemongrass Mint White Balsamic
2 oz light Rum
club soda
Directions: Place mint, simple syrup, lime juice and balsamic in a tall, wide glass. Using a wooden spoon or a muddler, muddle the ingredients together for about 30 seconds. Add ice cubes, the rum and top with club soda. Garnish with a sprig of mint and a slice of lime.
Simple Syrup
Stir together the water and sugar in a small saucepan. Bring to a boil over medium-high heat then remove from heat and allow to cool to room temperature. Store in the fridge for up to 1 month.