In the Kitchen with Sigona's: Fresh Cranberries
Fresh Cranberry-Pear Sauce with Orange Zest and Ginger
This recipe comes to us from former Bay Area resident Breanna who says this recipe is a longtime family favorite. Be sure to check the cook's notes for additional serving suggestions (hint: one features Brie!). Adapted from The New Best Recipes. Makes about 2 to 3 cups; simple to double.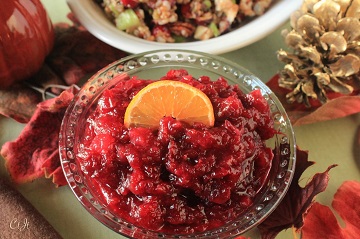 Ingredients:
3/4 cup water
3/4 to 1 cup sugar (to taste)
1/4 tsp. salt
1 Tbsp. grated fresh ginger
1/4 tsp. ground cinnamon
1 Tbsp. fresh orange zest
1 bag (12 oz.) bag fresh cranberries, rinsed
2 ripe pears, peeled, cored and diced (we suggest Bartlett, ripe Bosc or Anjou)
1 slice citrus, for garnish
Directions: Bring water sugar, salt, ginger and cinnamon to a boil over high heat; stir frequently to dissolve sugar.  Stir in cranberries, zest and pears; return to boil.  Reduce heat to medium-low; simmer until everything has cooked down (it will take some time; maybe 30 or more minutes). It should be thicker and reduced.
You may puree the sauce, if desired, or simply serve as is.
Serve room temperature, garnished with a slice of citrus, if desired.
Bonus recipe: If there is any remaining after the obligatory leftover turkey and cranberry sandwiches, we have another recommendation: Cut the top off of a Brie wheel; set in a close-fitting ramekin, top with cranberry sauce and replace top of Brie.  Bake in oven until cheese is melty. Serve with crackers and/or apple and pear slices.
Wild Rice and Raw Cranberry Salad with Sweet Apples and a Blood Orange Vinaigrette
The fresh crunch of cranberries mixed with spices of the season is absolutely perfect for your Thanksgiving menu. It can be served warm or chilled, which is great for a buffet-style meal. Inspired by The Raw Happy Kitchen. Serves about 8.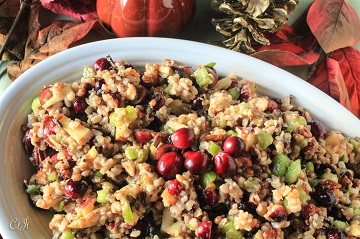 Ingredients:
1 cup uncooked wild rice
Salt
4 tangerines, satsumas or other small orange-like citrus, 3 zested and segmented*, 1 juiced
2 cups fresh cranberries, chopped (at least quartered or smaller)
2 medium-sized sweet apples, such as Gala, Fuji or Honeycrisp, quartered, cored, sliced and diced
1/2 c. chopped pecans (look for them in the Sigona's dried fruit & nut section)
2 stalks celery, diced
2 to 3 green onions, sliced thin on the bias
2 Tbsp. honey, such as Tangerine Orange honey by Honey Hole Honey Co., available at Sigona's
1 tsp. ground cinnamon
1/4 tsp. ground allspice
1/4 tsp. ground ginger
1/8 tsp. ground nutmeg
A pinch ground cloves, optional
Salt, to taste
6 to 8 whole cranberries for garnish, optional
* Segmenting Citrus: It takes time and patience, but is well worth the effort! To do this, cut the top and bottom off of your citrus fruit. Slice the peel from the fruit, top to bottom, getting as close to the flesh as possible. Once the peel is removed, slice any remaining pieces of white pith from the fruit so no white remains. Then, slice closely along the sides of each membrane to neatly remove the citrus segments in between.
Directions: Cook the rice in salted water according to package directions. When cooked, remove from heat, stir in the citrus zest, cover and allow to sit and additional 5 minutes. Transfer to a large bowl and allow to cool about 10 to 15 minutes.
To the bowl, add the citrus segments and juice, chopped cranberries, diced apples, celery and green onion. Season with salt and stir to combine.
In a small bowl, whisk together the balsamic, honey, cinnamon, allspice, ginger, nutmeg and cloves, if using. While whisking, drizzle in the olive oil to emulsify the mixture.
Pour the vinaigrette over the salad and stir well to combine. Taste; season if needed with salt. Allow mixture sit at least 10 minutes for flavors to meld. Transfer to a serving dish, top with a few whole cranberries as garnish, if desired, and serve.
Chipotle-Roasted Garnet Yams Topped with a Honey-Cranberry Sauce
Whether making the traditional yam or sweet potato dish for Thanksgiving, or even sweet potato fries (Garnet yams are actually sweet potatoes), Garnet yams are the variety to choose. Their beautiful orange coloring gives your dinner contribution aesthetic appeal and a fantastically sweet flavor. You'll love the smokey heat from the chipotle oil paired with the tart cranberry in this recipe. Adapted from Cooking Light. Serves about 4 as a side.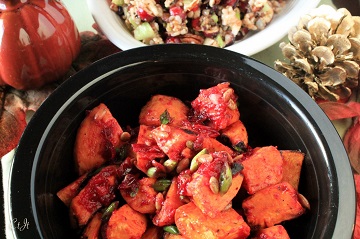 Ingredients:
2 large Garnet yams, about 1 1/2 to 2 lbs.), peeled, sliced into 2-inch-thick rounds, large rounds quartered
3 Tbsp. Sigona's Smokey Chipotle Olive Oil, divided
Salt and pepper, to taste
2/3 cup fresh cranberries, rinsed
3 Tbsp. water
1 tsp. honey, such as tangerine orange honey from Honey Hole Honey Co., available at Sigona's
1/4 cup roasted, salted pepitas (find them in Sigona's dried fruit & nut section)
3 green onions, sliced on the bias
Directions: Preheat oven to 425°F.
Place prepped sweet potatoes on a large rimmed baking sheet. Drizzle with 1 1/2 tablespoons chipotle oil, sprinkle with salt and pepper; toss to coat. Bake for 30 minutes or until tender, turning after 15 minutes.
To a small saucepan or sauté pan, add remaining 1 1/2 tablespoons chipotle oil, cranberries, water and honey. Place pan over medium-low heat; bring to a boil. Cover, reduce heat, and cook for 10 minutes or until cranberries pop, stirring occasionally. Remove from heat. Mash with a potato masher or fork until chunky.
In a large bowl, combine the potatoes, pepitas and green onions. Gently stir the cranberry mixture into the potatoes. Transfer to a platter and serve.