Cara Cara & Blood Orange Upside-Down Cake
It's pretty and delicious! Using fine-ground cornmeal adds to the texture of the cake, making it even more unique and memorable. You can use any citrus, but we like the aesthetic combination of the Cara Cara and the Blood oranges. Inspired by Eating Well.
Ingredients: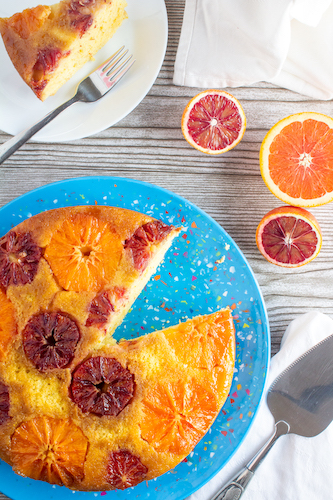 2 Cara Cara oranges
2 to 3 blood oranges
2 Tbsp butter
1 1/2 cups all-purpose flour
3/4 cup fine cornmeal
1 1/2 tsp baking powder
1/2 tsp salt
3 large eggs
3/4 cup granulated sugar
1/2 cup vanilla Greek yogurt
1/3 cup Sigona's Meyer Lemon Fusion Olive Oil (or try our Blood Orange Olive Oil)
1/2 tsp almond extract
Directions: Preheat oven to 350°F. Line the bottom of a 9-inch round cake pan with parchment paper; spray the inside of the parchment-lined pan with cooking spray.
Zest 2 of the Cara Caras, set zest aside. Remove the peel and pith from the oranges with a knife, working from top to bottom around the outside of the fruits. Cut the oranges into slices about 1/4-inch thick, discarding any seeds. Lay the slices on paper towels and blot the tops to remove excess moisture. Set aside.
Add the butter and brown sugar to a small skillet over low heat. Cook, stirring, for about 4 to 5 minutes, until the mixture is melted and bubbly. Spread mixture in the bottom of the cake pan. Allow to cool.
In a medium bowl, whisk together the flour, cornmeal, baking powder and salt. In a separate bowl, combine the eggs, sugar, yogurt, olive oil and extract. Add in the zest and beat with an electric mixer on medium-high speed until pale yellow, about 3 minutes. Fold the wet ingredients into the dry ingredients, then use the mixer to beat on low until the mixture comes together.
Arrange the orange slices in a single layer in the pan on top of the brown sugar mixture. Pour the batter into the pan and carefully spread it over the oranges. Bake for about 30-40 minutes or until a toothpick inserted in the center comes out clean.
Set the cake pan on a wire rack to cool for at least 15 minutes. Run a knife around the edges of the pan to loosen the cake. Invert a serving plate over the pan and carefully turn the cake over onto the plate. Remove the pan and parchment paper. Serve warm.