Milanese Gremolata Olive Oil Recipe Roundup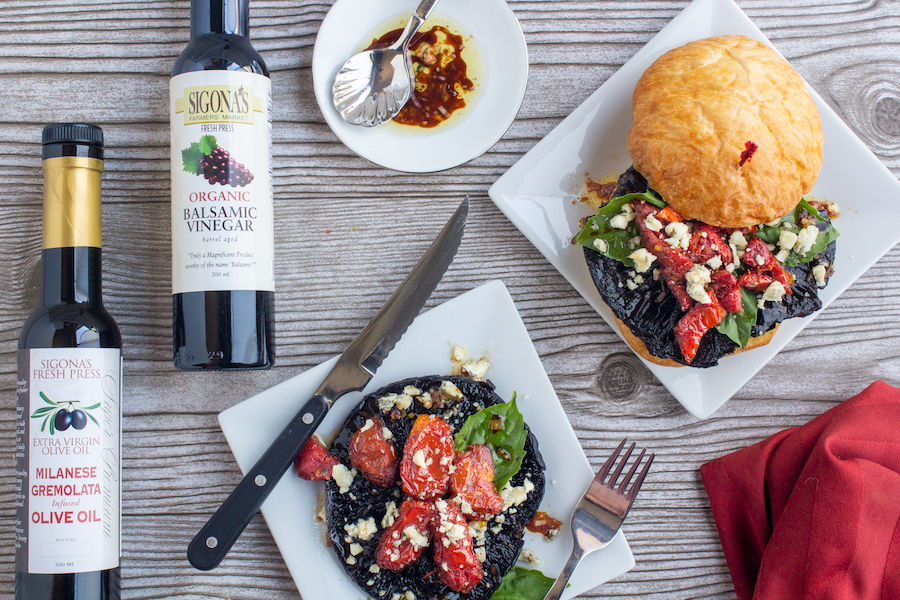 Organic Balsamic Marinated Portobello Mushrooms with Sun Dried Tomatoes and Crumbled Smokey Blue
Make this into a burger or leave off the bun for a delicious and satisfying gluten-free meal! Marinating the portobellos in a combination of Sigona's organic balsamic and our new Milanese Gremolata infused olive oil adds layers of savory and slightly sweet flavor that, once when on the grill, will get the neighbors peeking over the fence to see what's cookin'. Gremolata is a traditional Italian herbal condiment consisting of fresh lemon zest, minced garlic, Italian flat leaf parsley and a hint of mint. It's perfect for this dish! Serves 2.
Ingredients:
2 Tbsp Sigona's Organic Balsamic
1 clove garlic, minced
1 Tbsp minced shallot
Salt and freshly ground pepper, to taste
2 portobello mushrooms, wiped and brushed cleaned, stems removed
1/4 cup crumbled blue cheese, such as Rogue Creamery Smokey Blue
6 to 8 sun-dried tomatoes (oil packed), drained and halved, if necessary
Optional: 2 rolls or buns of choice, lightly toasted
Fresh basil leaves, for serving
Directions: Place prepared mushrooms in a shallow, rimmed dish. In a bowl whisk together the oil, balsamic, garlic, shallot, salt and pepper. Reserve 2 tablespoons of the marinade. Pour the remaining marinade over the mushrooms and allow to marinade at room temperature for 1 hour, flipping after 30 minutes.
Preheat an outdoor grill or indoor grill pan over medium-high heat. Lightly oil the grates with cooking oil. Remove mushrooms from marinade and add to the grill; cook for 2 to 4 minutes a side, flipping once, until they're tender and show grill marks.
With buns: Brush the cut sides of the buns with the reserved marinade. Add the mushroom and top with tomatoes, crumbled blue and a few basil leaves. Drizzle any remaining marinade on top, if desired.
Without buns: Plate the mushrooms and top with tomatoes, crumbled blue and basil leaves. Drizzle some reserved marinade on top.
---
Rigatoni with Spinach, Sausage and Milanese Gremolata Olive Oil
Deliciously comforting! Serves 4 to 6.
Ingredients:
2 Tbsp Sigona's Fresh Press Extra Virgin Olive Oil
1 cup chopped onions (preferably a yellow onion)
1 ½ lbs of sweet Italian sausage
1/2 cup of fresh spinach
Kosher salt & ground pepper, to taste
1/2 tsp red pepper flakes (optional)
1 cup white wine
1 cup heavy cream
2/3 cup half and half
2 Tbsp of tomato paste
1 lb. of rigatoni pasta
1/2 cup chopped fresh parsley (optional)
1 cup of grated Parmigiano Reggiano
Directions: Heat the regular olive oil in a skillet over medium heat. Add onions and sauté until tender. Add sausage and cook for 6 to 7 minutes until browned. Stir in the Milanese Gremolata olive oil, spinach, red pepper flakes, the white wine and a pinch of salt & pepper. Bring to boil and lower to a simmer. Stir in the heavy cream, half and half and tomato paste. Cover and let simmer over low-medium heat for 15 minutes, until sauce it thickened.
Meanwhile, in a large pot, boil water and add 2 tablespoons of salt. Cook rigatoni until it is al dente. Drain pasta and add to the sauce, stir to coat evenly. Let the pasta sit in the skillet so it absorbs some of the sauce, about 5 minutes. Just before serving, top the dish with parsley and Parmigiano Reggiano.
---
Sage & Walnut Pesto with Milanese Gremolata Infused Olive Oil
Allowing the pesto to sit for at least 30 minutes after it is made allows for all the flavors to activate and meld, creating a delicious flavor that's earthy, bright and savory. Try is on top of salmon, mixed with gnocchi or pasta, as a spread on sandwich bread or stirred into roasted veggies. Makes about 1 1/2 cups.
Ingredients:
1 cup, loosely packed, fresh sage (about one 0.5 oz. package), stems removed
1 cup, loosely packed, fresh parsley
1/2 cup raw walnuts
1/2 cup grated Parmigiano Reggiano
2 to 4 cloves garlic, roughly chopped
Juice of 1 large lemon, about 3 to 4 Tbsp
1/2 tsp freshly ground black pepper
A generous pinch of salt
Directions: In a large food processor or blender, pulse together the sage, parsley, walnuts, cheese, garlic, lemon juice, salt and pepper until mixtures resembles crumbs. With the blade running, pour in the olive oil and process until the mixture is smooth.
Allow the pesto to sit at least 30 minutes before serving. Store covered in the fridge for up to 5 days.