Tangerine Balsamic Recipe Roundup
This Tangerine Balsamic has a tangy-citrus flavor combined with old-world style balsamic. It's terrific on salads, fish and ice cream or as a reduction, and would also make a great spritzer when paired with sparkling soda.
Tangerine Balsamic Braised Beef Short Ribs
(For Instant Pot or Slow Cooker || Paleo-friendly)
What would normally take about 3 or 4 hours in the oven, might take you just one hour from start to finish in the Instant Pot! Braising the meat makes for tender ribs that are infused with flavor, and using our tangerine balsamic adds a sweet, slightly citrusy note. Inspired by Eating Well. Pair this dish with roasted sweet potato wedges or a cauliflower mashed "potatoes." Serves 2 to 4.
Ingredients:
6 bone-in short ribs
Salt and black pepper, to taste
1 onion, sliced into rings
2 Tbsp tomato paste
2 sprigs fresh thyme or 1 sprig fresh rosemary
One 200 ml bottle Sigona's Tangerine Balsamic (just shy of 1 cup)
1/2 cup beef bone broth (make your own if you're feeling wild)
1 Tbsp arrowroot powder
1 Tbsp cold water
Using an Instant Pot (Pressure Cooker):
1). Season both sides of the ribs with salt and pepper. Set the Instant Pot to sauté and add in 1 tablespoon olive oil. When hot, add the ribs and cook for about 3 minutes per side to get them nice and browned. Remove ribs and set aside.
2). Reserve 1 tablespoon of oil from the bottom of the pot and carefully discard the rest. Add the tablespoon of oil back to the pot on sauté.
3). Add the onions, stirring occasionally. Cook until soft, about 4 to 6 minutes. Stir in the tomato paste, garlic and herbs and cook for 1 minute. Add the balsamic to deglaze the pot, scraping up any brown bits on the bottom. Cook 3 to 5 minutes more, until the balsamic has reduced a bit, then switch off sauté.
4). Add the ribs and the broth to the Instant Pot. Close the lid, making sure the release valve is in the correct position. Set Instant Pot to pressure cook for 40 minutes and hit start. Allow the pot to do a natural release for at least 10 to 15 minutes before doing a quick release. Open the lid and use tongs to remove the ribs to a serving dish, keeping warm.
5). Remove the herb sprigs and spoon off the fat from the liquid left in the pot. To do this, you can transfer the liquid to another container that's easier to spoon from, or, if you're doing them ahead of time, refrigerate the liquid for a few hours or overnight, then remove the layer of solidified fat. Reheat the ribs and sauce together on sauté and follow the rest of the directions when ready to eat.
6). If removed, add the liquid back to the Instant Pot and set to sauté. In a small bowl, mix together the arrowroot powder and water to create a slurry; whisk the slurry into the liquid in the Instant Pot and stir until combined and sauce has thickened. Turn off pot and remove sauce from heat.
7). To serve, spoon some of the sauce over the ribs and serve the rest on the side. Sprinkle the dish with fresh parsley and serve immediately.
Using a slow cooker:
1). Follow steps 1-3 above, but use a sauté pan over medium-high heat on the stove top.
2). Add the browned ribs to a slow cooker. Pour the balsamic mixture over the ribs and add the broth. Cover and cook on high for 4 hours or low for 8 hours. Use tongs to remove ribs; set aside and keep warm.
3). Follow steps 5-7 above, using a skillet to thicken the sauce and/or reheat when it's time to eat.
---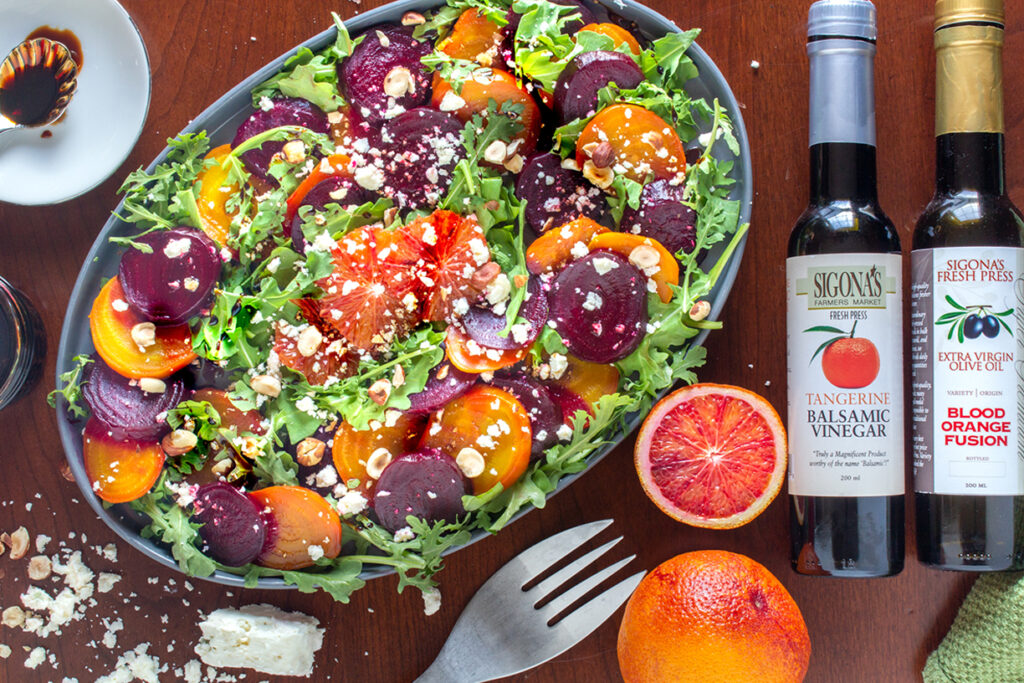 Blood Orange Roasted Beets with Crumbled Cheese and Hazelnuts, Drizzled with a Tangerine Balsamic Reduction
This is a bright and beautiful dish to serve during the dreary winter months. The beets soak up the flavor of the blood orange oil as they roast, adding to their natural sweetness, and the tangerine balsamic reduction lends another layer of syrupy sweetness balanced with a mild tanginess. Beets pair deliciously with blue or goat cheese, but if you're dairy-free, you can leave the cheese off entirely. Serves 4 to 6.
Ingredients:
4 golden beets, trimmed and scrubbed
4 red beets, trimmed and scrubbed
Zest from half a blood orange or Navel orange (use the half the orange for garnish)
1 tsp fresh minced rosemary or ½ tsp dried
Salt and pepper, to taste
200 ml Sigona's Tangerine Balsamic
A couple handfuls arugula
1/3 cup hazelnuts, lightly crushed
1/3 cup crumbled blue cheese, more to taste (you can also use crumbled goat cheese)
Directions: In a bowl, mix together the blood orange oil, zest, rosemary, salt and pepper. Toss the beets in the oil, ensuring they are well coated. Wrap each beet in foil and place on a rimmed baking sheet. Roast for 45 mins to 1 hour, until knife tender (time varies depending on beet size). Remove and set aside to cool to the touch. When cool, remove the skins by peeling it off with your fingers or rubbing with a paper towel.
As beets cool, prepare the balsamic reduction. Add the balsamic to a small heavy-bottomed saucepan and bring to a simmer over medium-low heat. Allow to simmer for about 20 minutes, stirring occasionally, until reduced by half; it should be thick and syrupy. Remove from heat; the balsamic will continue to reduce and thicken off the heat.
Slice into discs about 1/4-inch thick. Arrange a little arugula on a platter, then add the beets in a circular design, alternating colors and nestling them among and on top of the arugula; add more arugula as desired.
Sprinkle the arranged beets with crumbled cheese and hazelnuts. Garnish with a few slices of orange. Drizzle the dish with a couple tablespoons of the balsamic reduction, serve the remaining on the side. Serve immediately.
---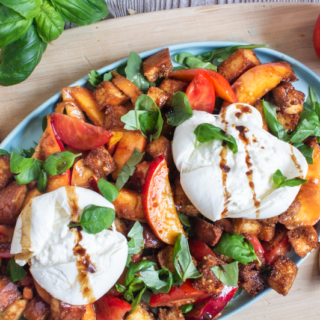 Summer's Bounty Panzanella with Air Fryer Croutons and a Blood Orange-Tangerine Vinaigrette
This is one of the most crave-able salads, trust us! Early girl tomatoes burst with flavor, yellow nectarines add just the right amount of tartness, the creamy burrata complements the peppery bite from the arugula and the sweet zing of the vinaigrette. It's a dish you'll want to make again and again, especially since the air fryer makes it easy to turn crusty bread into croutons in no time. To make this even more summery, you can add boiled or grilled corn kernels. If you don't have an air fryer, you can use the oven. Oven directions are included. Serves 4.
Ingredients
For the croutons:
3

cups

of 1" cubed bread

such as rustic Italian, sourdough or focaccia

2

Tbsp

Sigona's Fresh Press Extra Virgin Olive Oil

such as the Estate Reserve Blend 2022 from Peru

Salt and pepper

to taste
For the vinaigrette:
3

Tbsp

Sigona's Blood Orange Fusion Olive oil

2

Tbsp

Sigona's Tangerine Balsamic

1

Tbsp

minced shallot

Salt and pepper

to taste
For the salad:
Two handfuls of baby arugula

2

yellow nectarines

halved and sliced

2

Early Girl tomatoes

halved and

About 8 oz. burrata

either 1 large ball or 2 small

Fresh basil

about 10 large leaves
Instructions
For the croutons: Toss the bread cubes with the olive oil; season with salt and pepper. Add cubes to the basket or tray of an air fryer*. Cook at 400°F for about 10 minutes, shaking the basket or tray halfway through, until golden brown and crunchy. Set aside.

For the vinaigrette: Whisk together the ingredients until emulsified.

For the salad: Arrange a layer of arugula on a medium serving platter; set aside. Add prepared nectarines and tomatoes to a large bowl. Add the croutons and all but roughly 1 ½ tablespoons of the vinaigrette. Gently fold ingredients together until well coated. Spoon or dump the mixture on top of the arugula. Gently break open the burrata and place it on top of the nectarine mixture. Tear or chiffonade the basil leaves and sprinkle on top. Finish with a drizzle of the remaining vinaigrette. Enjoy immediately.

*If you prefer to use an oven, follow these steps: Bake at 425°F in a single layer on a rimmed baking sheet for about 7 to 10 minutes shaking occasionally, until golden brown and crunchy.
---
California Arbosana Brownies with a Dark Chocolate and Tangerine Balsamic Ganache
Chocolate and orange is a classic combination. You're going to love these decadent brownies! Sigona's Fresh Press California Arbosana Extra Virgin Olive Oil us generally just picked and pressed around November and arrives in our markets by early January. Recipe complements of Rachel Bradley Gomez of Veronica Foods and Au Jardin Potager.
Brownie ingredients:
1/2 cup Sigona's Fresh Press California Arbosana Extra Virgin Olive Oil
1 cup white sugar
1 tsp vanilla extract
2 eggs
1/2 cup all-purpose flour
1/3 cup unsweetened high quality cocoa powder
1/4 tsp baking powder
1/4 tsp salt
½ cup chopped walnuts (optional)
Ganache ingredients:
9 ounces best quality bittersweet chocolate, chopped
1 cup heavy cream
2 Tbsp Sigona's Tangerine Balsamic
2" long strip of tangerine zest
a pinch of kosher salt (optional)
For the brownies: Preheat oven to 350 degrees F. Grease a 9×9 inch baking pan.
In a medium bowl, mix together the olive oil, sugar, and vanilla. Beat in eggs. Combine flour, cocoa, baking powder, and salt; gradually stir into the egg mixture until well blended. Stir in walnuts, if desired. Spread the batter evenly into the prepared pan.
Bake for 20 to 25 minutes, or until the brownie begins to pull away from edges of pan. Let cool on a wire rack before adding the ganache or cutting into squares.
Directions: Place the chocolate into a medium bowl. Heat the cream, salt, and tangerine zest in a small sauce pan over medium heat. Bring just to a bare simmer, watching very carefully because if it boils for a few seconds, it will boil out of the pot and scorch. When the cream has come to a simmer, remove the zest, pour over the chopped chocolate, and whisk until smooth. Stir in the Tangerine balsamic.
Allow the ganache to cool, looking for a spreadable consistency before frosting the brownies. Start at the center of the brownies and work outward. Allow ganache to cool on the brownies before slicing.