Recipes featuring: Sigona's Apricot Jam
Our specialty jams are fantastic when spread over a freshly toasted slice of bread slathered with butter, but here are a few other serving and recipe suggestions for our heirloom Blenheim apricot jam.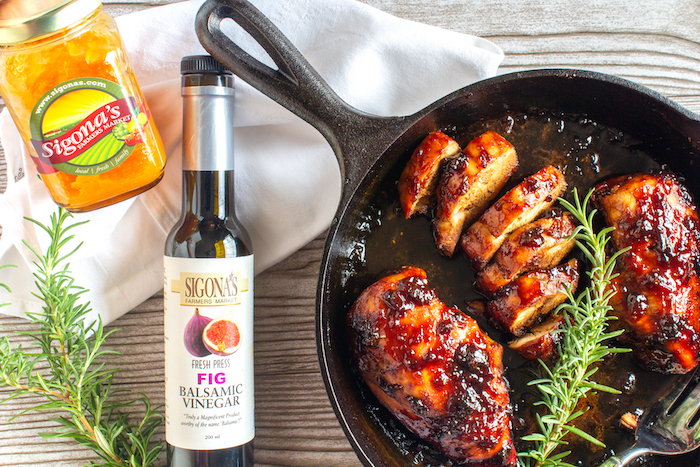 Oven-Roasted Chicken with a Fig-Apricot Glaze
As the balsamic and the jam reduce, their flavors caramelize into a deep, rich glaze that gives chicken a sweet yet savory flavor that's perfect for fall. Serve with maple-whipped sweet potatoes and a simply dressed green salad. Serves 4.
Ingredients:
Directions: Preheat oven to 425°F. Melt butter over medium heat in a large, oven-safe, heavy-bottomed skillet, preferably cast iron.
Add shallot and cook, stirring occasionally, until translucent. Add the garlic and cook about 30 seconds more. Stir in the honey, jam and balsamic; add the sprig of rosemary. Reduce heat to medium-low and allow mixture to cook, stirring occasionally, until reduced by about half, about 8 to 10 minutes. Remove rosemary and discard.
Season both sides of the chicken with salt and pepper then add the chicken to the skillet, spooning a bit of the balsamic mixture over the top. Place skillet in oven and roast about 30 to 35 minutes until chicken has an internal temperature of 165°F in the thickest part.
Allow chicken to rest about 5 minutes before slicing and serving.
---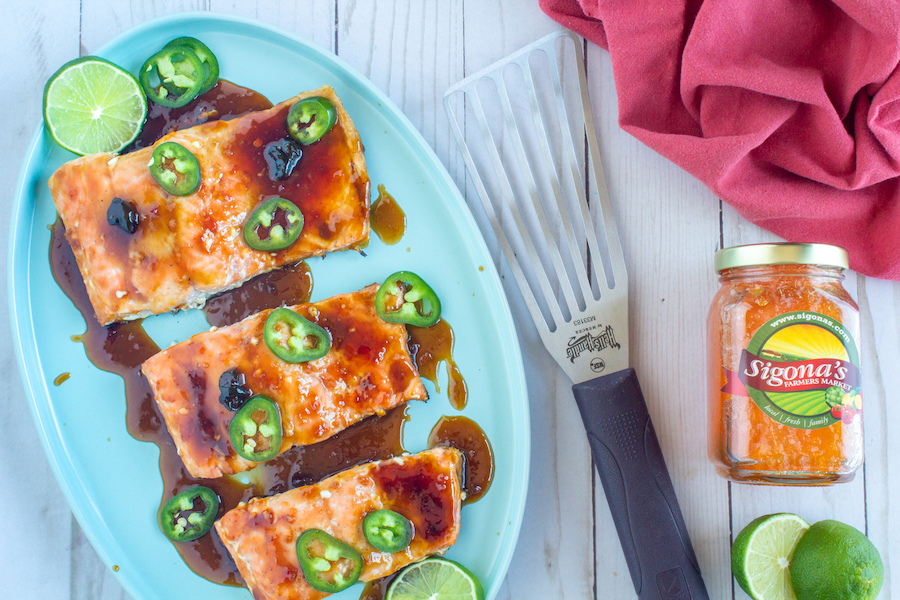 Sweet Heat Wild Salmon with an Apricot and Jalapeño Glaze
The glaze for this salmon is sweet but packs a little bit of heat (or a lot, depending on how much jalapeño you add), and comes together quickly for an easy weeknight meal. Inspired by Eating Well. Our peach jam would also work nicely, as would our olallieberry jam. Serves about 4.
Ingredients:
Directions: In a small saucepan, combine the jam, water, half of the sliced jalapeno and the garlic. Bring to a boil over medium heat and cook, stirring occasionally, for about 12 to 15 minutes. Stir in the vinegar and soy sauce; cook another 4 to 6 minutes or until the mixture is thick enough to coat the back of a spoon. Remove from heat and stir in the lime juice. Set aside.
Preheat a grill over medium-high. Lightly brush the salmon with olive oil then season with salt and pepper. Oil the grill grates then place the salmon on the grill, skin-side down. Grill salmon until it flakes easily with a fork, about 10 to 15 minutes, depending on thickness.
Transfer salmon to a serving dish and top with the glaze. Garnish with remaining jalapeño slices and lime slices or wedges.
Seared Chicken Salad with Blue Lake Green Beans, Almonds and Fresh Bing Cherries
---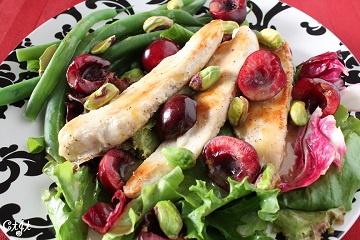 What a great way to incorporate some local, fresh summer produce! With the chicken, Blue Lake beans and sweet Bing cherries, this salad is hearty enough to be called dinner. Adapted from Everyday Food. Serves 4.
Salad:
Vinaigrette:
Directions: In a large skillet, heat oil over high; season cutlets with salt and pepper. In two batches, if necessary, cook chicken until cooked through and juices run clear, about 2 minutes per side; transfer to a plate. When cool enough to handle, slice chicken crosswise.
In a medium saucepan, bring 2 inches salted water to a boil. Add green beans; cover and cook until crisp-tender, 4 to 6 minutes. Rinse under cold water until cool; drain well.
For the vinaigrette: In a small bowl, whisk together vinegar, jam, mustard and 2 tablespoons oil; season with salt and pepper.
In a large bowl, toss the greens and radicchio with all but 1 tablespoon of the vinaigrette. Divide salad among four plates; arrange chicken, green beans, cherries and nuts on top. Drizzle with remaining vinaigrette; serve immediately.