Belgian Endive Boats Stuffed with an Orange & Thyme Gouda-Grape Salad
This recipe is a perfect and easy way to entertain summer guests. The Gouda we feature here is made with milk from grass-fed cows, and it isn't aged long, making for a softer — almost creamy — and delicious cheese. Gouda and grapes pair nicely, especially with a hint of orange thyme. Serves about 6 to 8.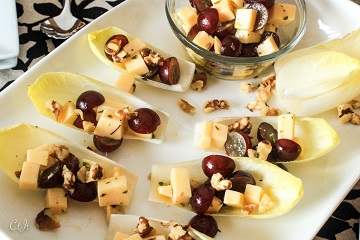 Ingredients:
About 4 oz. Artikaas Gouda
2/3 cup sliced grapes, preferably red
1/2 tsp. fresh orange zest
1 Tbsp. fresh-squeezed orange juice
1 1/2 Tbsp. Sigona's Fresh Press extra virgin olive oil
1/2 fresh thyme
Salt and pepper, to taste
2 Tbsp. raw walnuts (light halves and pieces)
2 Belgian endives
Directions: Remove the rind from the cheese and slice into small pieces, about 1/4-inch cubes. Cut the grapes in half lengthwise.
In a medium bowl, whisk together the orange zest, orange juice, olive oil, thyme, salt and pepper. Add the cheese and grapes; toss well to coat. Set aside.
Slice off the stem ends of the Belgian endives and separate the leaves. Rinse and gently pat dry. Arrange the leaves on a serving tray and place a spoonful of cheese salad towards the end/middle of each leaf. Sprinkle a few walnut pieces on the tops before serving.