Summer Risotto with White Corn, Tomatoes and Garlic Oil
Corn and tomatoes are almost a required combination in summer. The two together can make salsas, salads, soups, risottos and more.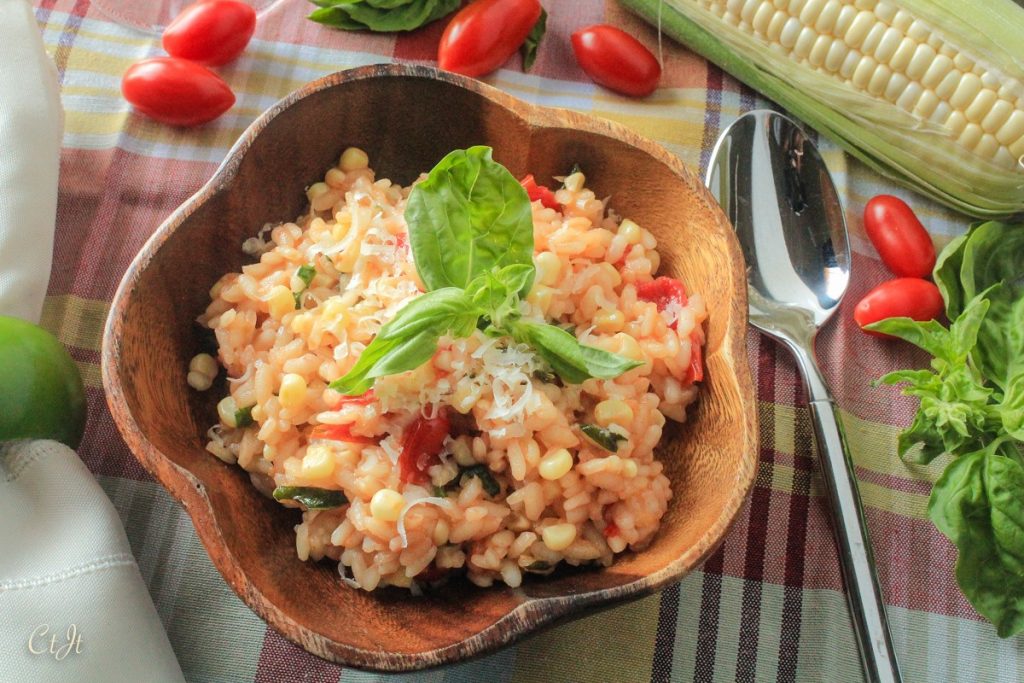 Add in a little basil and cheese to the mix and you have a flavor combination made in heaven!
This risotto is perfect for summer nights, served as a main course or as a side, especially when served with grilled fish or white meats. It's hearty yet bursting with fresh ingredients.
Enjoy!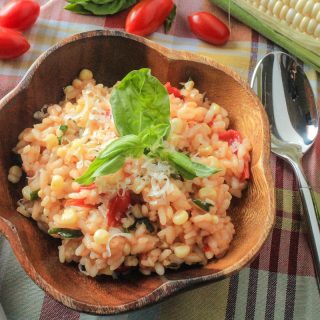 Summer Risotto with White Corn, Tomatoes and Garlic Oil
When making risotto, it's a good idea to have all your ingredients prepped and near the stove before you get started because once you start stirring, you can't stop! Make sure the heat isn't too hot that the liquid absorbs too quickly or your risotto won't be creamy. If you want more layers of flavor, roast the corn before slicing it off the cob. Serves 4 to 6.
Ingredients
Ingredients:
About 5 cups chicken or vegetable stock

2

Tbsp.

Sigona's Garlic Oil

plus more for drizzling

1

Tbsp.

diced shallot

Salt and pepper

to taste

1 1/2

cups

Arborio rice

1/2

cup

white wine

or chicken/vegetable stock

Salt and black pepper

to taste

2

ears of white corn

kernels sliced off

3/4

cup

quartered diced grape or cherry tomatoes

3

or more green onions

chopped (white and green parts)

1/2

cup

grated Parmigiano Reggiano cheese

plus more for garnish

1/2

cup

sliced basil leaves

plus more for garnish
Instructions
Add the stock to a saucepan over low heat to warm it and keep it warm throughout the process of making risotto.

In a large deep skillet or dutch oven, heat the garlic oil over medium-high. When oil is hot, add the shallot, season with salt and pepper, and cook, stirring, for about 1 minute. Add the rice and stir to coat. Cook, stirring constantly, for about 2 minutes.

Add the wine and stir while it is absorbed. When it is about all absorbed, add a ladle of stock (about 1 cup) to the rice. Stir, almost constantly, while the stock absorbs. When the spoon leaves streaky tracks on the bottom of the pan and most of the stock is absorbed, lower heat to medium and add another ladle of stock; stir while it cooks and absorbs.

Repeat the stock and stir process one more time, then stir in the corn. Add another ladle of stock; cook and stir until it is absorbed. Test the risotto to see if it's soft, yet firm (al dente). Add the tomatoes, green onions and cheese. Add more stock, if needed. The consistency should be creamy, not runny, and the rice will be a little firm. Add more stock if necessary and stir while it cooks and the liquid is absorbed.

Remove the risotto from the heat. Stir in the basil; season with salt and pepper. Just before serving, drizzle with additional garlic oil and top with more cheese.