Cranberry Sauce, Two Ways
Cranberry sauce is a must-have for holiday meals. We have two suggestions for you to try. One you simmer on the stove and the other is a no-cook option. Which is your favorite?
Fresh Cranberry-Pear Sauce with Orange Zest and Ginger
This recipe comes to us from former Bay Area resident Breanna who says this recipe is a longtime family favorite. Be sure to check the cook's notes for additional serving suggestions (hint: one features Brie!). Adapted from The New Best Recipes. Makes about 2 to 3 cups; simple to double.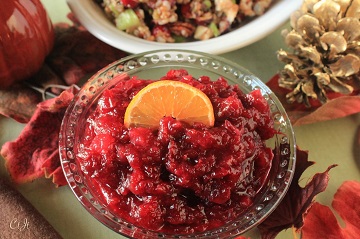 Ingredients:
3/4 cup water
3/4 to 1 cup sugar (to taste)
1/4 tsp. salt
1 Tbsp. grated fresh ginger
1/4 tsp. ground cinnamon
1 Tbsp. fresh orange zest
1 bag (12 oz.) bag fresh cranberries, rinsed
2 ripe pears, peeled, cored and diced (we suggest Bartlett, ripe Bosc or Anjou)
1 slice citrus, for garnish
Directions: Bring water sugar, salt, ginger and cinnamon to a boil over high heat; stir frequently to dissolve sugar. Stir in cranberries, zest and pears; return to boil. Reduce heat to medium-low; simmer until everything has cooked down (it will take some time; maybe 30 or more minutes). It should be thicker and reduced.
You may puree the sauce, if desired, or simply serve as is.
Serve room temperature, garnished with a slice of citrus, if desired.
Bonus recipe: If there is any remaining after the obligatory leftover turkey and cranberry sandwiches, we have another recommendation: Cut the top off of a Brie wheel; set in a close-fitting ramekin, top with cranberry sauce and replace top of Brie. Bake in oven until cheese is melty. Serve with crackers and/or apple and pear slices.
---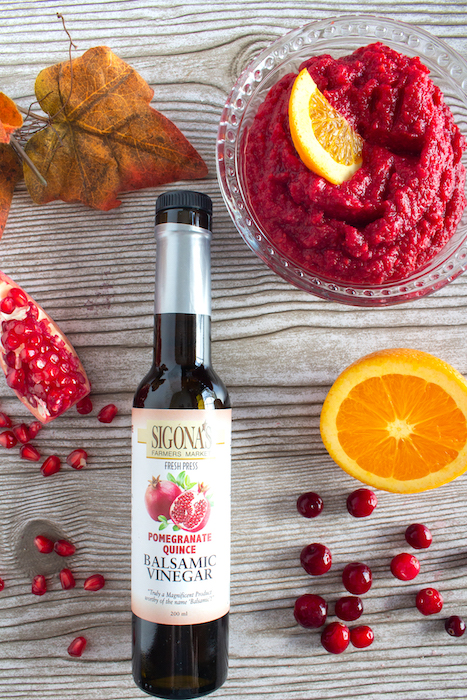 Fresh Cranberry & Orange Relish with Pomegranate-Quince White Balsamic
This beautiful, no-cook condiment is a staple at every holiday table, but it's also great to have in the fridge throughout the year for turkey sandwiches, sprucing up breakfast waffles or just slathering on a dinner roll for something special. Our Pomegranate-Quince white balsamic is tangier than our regular, richly flavored pomegranate, yet it adds just the right amount of sweetness to this relish that there is no need for added sugar. Original recipe from The Olive Oil & Vinegar Lover's Cookbook. Makes about 2 ½ cups.
Ingredients:
Directions: Place the orange (yes, peel and all), cranberries and balsamic in a food processor or blender. Begin by pulsing a few times to break up the larger pieces, then puree the mixture until completely combined. It will still be a little chunky in texture.
Let relish to sit at room temperature for 2 hours before serving, to allow the balsamic to develop the flavors. Taste; add more balsamic by the teaspoonful if necessary.
Store in the fridge in an airtight container for up to one week.