Fuyu Recipes: Simple, Healthy, Delicious.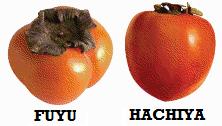 Persimmons are an excellent source of vitamins A and C, and are rich in fiber. Also, they're almost fat free! Here are a few delicious suggestions and recipes for Fuyus.
Fuyu persimmons, as opposed to Hachiyas, are edible out of hand. You can bite into them just like an apple, slice them for salads or fruit trays and more. Hachiyas need to soften to the point where they're squishy to the touch, and they're best for baked goods.
See more: Fuyu & Hachiya Persimmons…What's the Difference?
Simple Serving Suggestions & Recipes: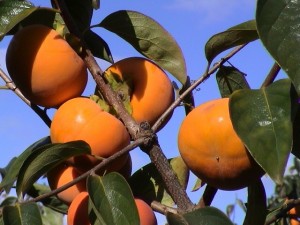 Eat them out of your hand, unpeeled, as you would an apple.
Toss Fuyus into salads for a hint of fall sweetness. They pair well with spicy or bitter greens like arugula, tossed with pecans and goat cheese.
Dress up a cheese plate with glowing orange persimmon slices. Selection suggestion: nutty Gruyere, thinly sliced prosciutto, and toasted walnuts.
Put a new spin on salsa; combine chopped Fuyus with red onion, tomatillos, cilantro, and Serrano chilies.
Top cold or hot breakfast cereal with persimmon slices or cubes.
For an autumn salad, mix cubed Fuyu with grapes, pomegranate seeds, cubed apple and sliced kiwi.
Top hot or cold cereal with little pieces of bright orange Fuyu.
Salsa is great when chopped Fuyu, onion, tomatillo, cilantro, and chili Serrano are mixed together.
For another salad option, try roasted beets, sliced Fuyu persimmons, arugula, crumbled goat cheese, and candied pecans drizzled with balsamic vinegar (we recommend a pomegranate-infused balsamic).
Pomegranate Sprinkled Fuyu Persimmon Rounds with Honeyed Mascarpone and Pecans
Persimmons have a warm, sweet flavor that some liken to brown sugar. They have a dense yet soft-crisp texture so they hold together well, sort of like an apple, making a great base for toppings. Guests will love this easy, colorful and delicious finger food accented with a burst of tart-sweet from pomegranate arils, the technical term for seeds. Makes 10 to 12 rounds.
Check out this recipe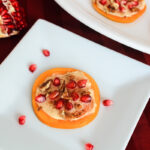 Creamy, Vitamin-C-Packed Satsuma & Persimmon Smoothie with Medjool Dates
It's that time of year where we can all use an extra punch of Vitamin C to help stave off colds. Citrus, ginger and turmeric all provide properties to help you stay healthy or even feel better fast. This smoothie doesn't taste like a trick to cure you, it's simply creamy, flavorful and full of good. Almost like orange juice meets Jamba Juice. Serves 1 to 2.
Check out this recipe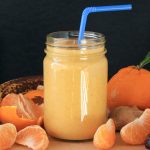 Fuyu Persimmon and Roasted Beet Autumn Salad with a Blood Orange Vinaigrette
Persimmons and beets come in to season just about the time Thanksgiving rolls around. This salad combines the two with a few other ingredients to create a fantastic salad for fall dinners. The sweetness of the persimmon, the earthy deliciousness of the roasted beets and garnet yams with a salty note from the cheese and pepitas is perfection when topped with the blood orange vinaigrette. Orange and beet pair well together, so the vinaigrette brings the whole dish together. Inspired by Low Carb Maven. Serves 4.
Check out this recipe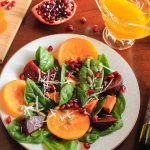 Persimmon Salad with Medjool Dates, Cashews & Honey
It has been an outstanding year for California-grown Medjool Dates, and what better to pair them with than locally grown Fuyu persimmons? This dish, originally featured in Sunset magazine in October 2010, is simple, just the way we like it. Plus, all the ingredients are at Sigona's! Find the original post on the Sunset website. Makes 6 servings (serving size: 1 cup).
Check out this recipe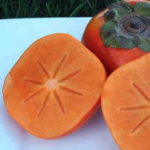 Shredded Brussels Sprouts with Fuyu Persimmons, Blenheim Apricots and Walnuts
A delicious dish for Thanksgiving which incorporates the seasonal persimmon with sweet apricots, toasted walnuts and the trendy Brussels sprout. This recipe is courtesy of food guru Stephanie Stiavetti, of the food blog Fearless Fresh. Stephanie grew up in Redwood City where she remembers shopping at Sigona's. We're honored to share her recipe with you! Check out her blog for recipes, cookbooks, services and more. Serves 6.
Check out this recipe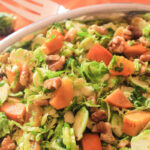 Fuyu Persimmon & Fennel Couscous
Just as you would add in raisins or other fruits to a couscous, the Fuyus add a new flavor and texture to an otherwise lackluster side dish. Serves 4.
Check out this recipe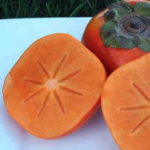 Local Fuyu Persimmon and Mixed Chicories Salad with Sigona's Sicilian Lemon Vinaigrette
Each thinly sliced bit of the sweet persimmon, paired with the slight tartness of the vinaigrette and the bitterness of the chicories, creates a lovely, balanced bite. Fuyu persimmons go out of season as quickly as they come, so get them while you can. Adapted from Martha Stewart. Serves 6.
Check out this recipe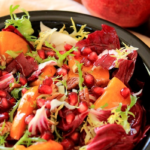 Persimmon & Kiwi Layer Salad with Pomegranate-Honey Dressing
This can be served as a started salad or as a sweet dessert. It's a bright, flavorful way to feature fall fruits. Adapted from Uncommon Fruits & Vegetables by Elizabeth Schneider. Serves 4.
Check out this recipe