Sigona's Fresh Press Olive Oil of the Month: August 2012

Summer's bliss is here in the Bay Area. The sun is shining , the birds are chirping and if you listen closely you can hear a universal "U-S-A! U-S-A!" chant in the background.
That's because the summer Olympics are in full swing over in London. And what better way to celebrate back here at home than to cheer on our athletes over great food with friends and family. That's why we think our Chilean Frantoio has what it takes to bring home the gold this summer.
Sigona's August 2012 Olive Oil of the Month:
Chilean Frantoio
This oil:
Is tremendously big up front
Has a nice, smooth middle
Possesses peppery flavors about 10 seconds after you taste it
Leaves your mouth delightfully tingly afterward
Try this recipe from Veronica Foods
Wild King Salmon with Creamy Balsamic Rosemary-Caramelized Onions and Wild Mushrooms
Ingredients:
1 pound fresh, wild king salmon fillets (4)

(Available in Redwood City store only)

1/4 pound fresh wild mushrooms such as Chanterelles, (you can also use Cremini or white button mushrooms) coarsely chopped
1 medium, sweet onion, thinly sliced
1 – 4″ fresh rosemary sprig, leaves reserved
1/2 cup chicken or fish stock
1/8 cup Sigona's extra virgin Chilean Frantoio
1/8 cup Sigona's Balsamic Condimento Tradizionale (6-12 years aged)
Sea salt and fresh cracked pepper to taste
Directions: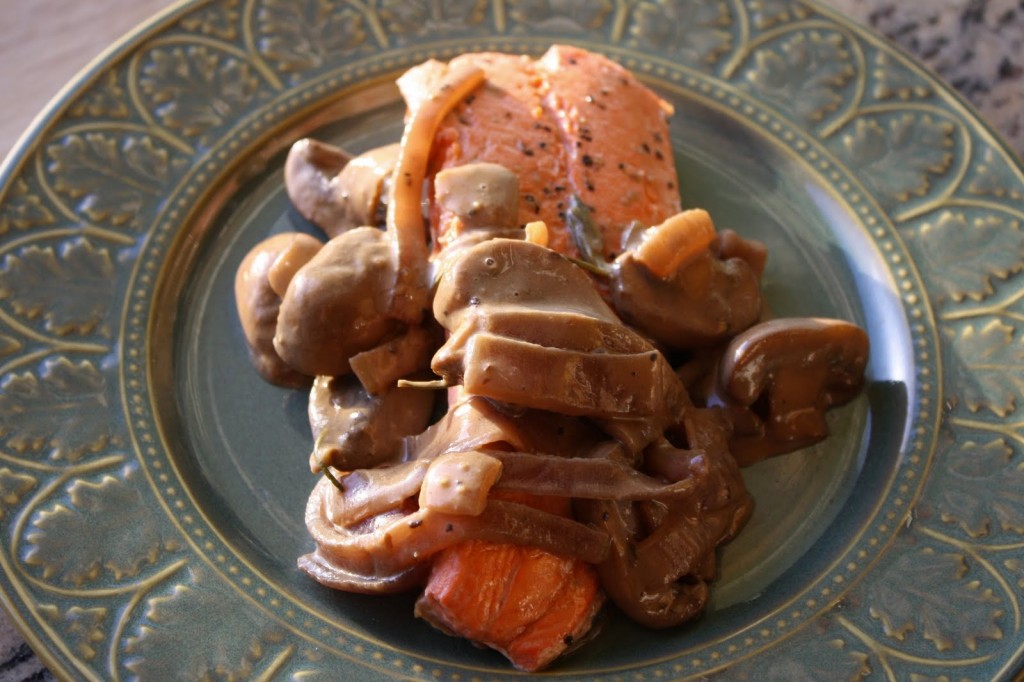 In a heavy bottom, large sauté pan over medium heat, add 1 tablespoon of Sigona's extra virgin Chilean Frantoio. Sprinkle sliced onions with a little sea salt and add to the olive oil, stirring occasionally, until golden brown, about 5 minutes. Add mushrooms and rosemary leaves, (discarding any woody stems). Sauté until both the mushrooms and onions become deep golden brown and caramelized. Add Sigona's Balsamic to the pan with the mushrooms and onions and de-glaze. Simmer gently and cook until the balsamic is reduced by half. Add the stock and stir to combine. Cook until the mixture thickens slightly, approximately another 3 minutes. Season with salt and pepper to taste.
Lightly score the salmon skin in several places with a sharp knife without penetrating the flesh. Rub 1 tablespoon of olive oil on both sides of the salmon. Season with salt and pepper to taste. In a pan large enough to hold the fillets, heat 1 tablespoons of Sigona's extra virgin olive oil over medium heat. Pan sear the fillets, for approximately 2 minutes per side, depending on the thickness of the fillet, taking care not to overheat.
Serve the salmon with the balsamic-mushroom sauce over the top. Can be accompanied by pasta, quinoa or brown rice.
Serves 4