In the Kitchen with Sigona's Featuring Labor Day Favorites
With the holiday fast approaching, we thought it would be the perfect time to give you Carmelo Sigona's favorite Labor Day recipes.
Watermelon, Italian Feta & Mint Skewers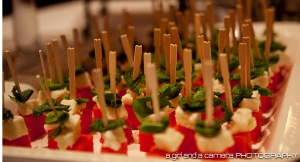 You can sliver the mint and mix these ingredients together in a bowl for a lovely, scoopable salad, but who doesn't love skewers? The flavors of the sweet watermelon are perfectly complimented by the not-too-salty Italian feta (a new favorite in our store). The mint brings the presentation together with a fresh flavor and color. This recipe was inspired by local chef Luisa Ormonde.  She says that Ricotta Salata works well in place of the Feta.
Ingredients:
Watermelon, preferably seedless
Italian Feta
Mint leaves
Skewers, about 3-4 inches in length
Directions:
Dice the watermelon in bite size cubes and do likewise to the Feta.
Lightly bend a mint leaf in half and slide it onto the skewer.
Slide on a piece of the Feta and follow it up with a watermelon cube.
Arrange the skewers on a tray, standing straight up or laying down, and serve.
Caprese Salad with Heirloom Tomatoes
Ingredients:
Basil leaves
An assortment of heirloom tomatoes, sliced
Sigona's Fresh Press Extra Virgin Olive Oil
Fresh Mozzarella, sliced
Salt & Pepper
Directions:
Slice the tomatoes first, lightly salt and let them rest for a few minutes to bring out the intense tomato flavor.
On a long rectangular serving platter*, lay a tomato slice at one end, followed by a basil leaf and then a slice of the mozzarella.
Continue the pattern until the ingredients are gone.
Drizzle the display with olive oil and a little sprinkle of pepper to taste.
For garnish, roll a few basil leaves up and slice little shavings using scissors.
Can serve at room temperature.
*If using a circular platter, start laying out the ingredients in a circular design, starting at the outside edge of the plate first.
Carmelo's Classic Grilled Portobello Mushroom
There's nothing quite like a classic grilled Portobello mushroom. It's great by itself and makes for a healthy and tasty meat substitute. You can even get creative and stuff it with any combination of ingredients, including roasted red peppers, Kalamata olives, the sautéed stem of the Portobello and perhaps a sprinkling of sharp blue cheese. I like to grill the non-stem side, turn it over and place these goodies inside.

Ingredients:
4 large portobello mushrooms stems removed
1 ½ tbl Sigona's Manzanillo fresh press extra virgin olive oil
1 clove garlic, minced
Salt and pepper
Directions:
Remove stems by gently pushing them to one side with the palm of your hand. They should pop right off.
Mix oil, garlic salt and pepper together in small bowl
Brush the olive oil on both the top and bottom of the Portobello mushroom
Grill it over a low flame
Add salt and pepper to taste
Enjoy on its own or toss it between a hamburger bun as a meat substitute!
Miso Glazed and Grilled Local, Wild King Salmon
This is one of my most favorite – and incredibly simple – wild King Salmon recipes. I've modified it from The Food Network.
Ingredients for the Glaze:
1/3 cup miso paste (soy bean paste)
1/3 cup low sodium soy sauce
2 tbl brown sugar
3/4 teaspoons sesame oil
3/4 teaspoons chopped garlic
2 Wild King Salmon fillets
Directions for Making the Glaze
In a large bowl, combine the miso paste, soy sauce, sugar, sesame oil and garlic
Preheat grill to medium
Brush salmon fillets with the glaze
Don't forget to oil the grate to eliminate sticking (a little oil on a paper towel or coffee filter worked on the hot grill with tongs works great.)
Grill over medium direct heat and continue brushing with glaze throughout cooking process.
Serve and enjoy!
POM Julep
This non-alcoholic POM Julep is perfect for breakfast, a garden brunch or luncheon. Its pretty pink color and refreshing flavor makes it a great alternative to iced tea for anyone who wants to give their guests something to talk about! (Recipe and photo courtesy of POM Wonderful.)
Ingredients:
1 oz. POM Wonderful Juice (any flavor is great)
1 1/2 oz. grapefruit juice
1/2 oz. freshly squeezed lime juice
1/2 oz. honey syrup (mix two parts honey with one part hot water and stir to dissolve, cool). Or you can use 1 tsp. organic Agave nectar
2 mint sprigs
Directions:
Bruise 1 mint sprig in bar mixing glass with honey syrup
Add remaining ingredients and shake over ice
Strain over ice into a chilled rocks glass
Garnish with the remaining mint
Chicken Salad with Sweet Melon and Candied Walnuts
Roasted or rotisserie chicken combines with juicy melon for an easy and light refreshing meal.

Ingredients:
Leftover roasted chicken, shredded
6 green onions, chopped
1 Casaba melon, cleaned and cubed or balled
1 French Charentais melon, cleaned and cubed or balled
2 cups Red Flame Grapes, sliced
3 stalks of celery, chopped
Equal portions plain yogurt and sour cream (as much as you desire for a creamy texture)
Candied walnuts
Mixed baby greens, enough to make a base for the salad on each plate
Directions:
Combine the chicken with the onions, melon, grapes and celery
Stir in just enough yogurt and sour cream to bind
Serve on top of baby greens and top with the candied walnuts
Serves 6