In the Kitchen with Sigona's Featuring: Roasted Radicchio Drizzled with Balsamic and Honey
Roasted Radicchio Drizzled with Balsamic and Honey
When served raw, radicchio is quite bitter. Though it retains the majority of its bitter bite when cooked, the flavor of radicchio mellows when roasted as the process brings out some of its natural, subtle sweetness while the sugars caramelize in the oven. We've combined our 12-year aged balsamic condimento tradizionale with local, raw honey to give this side an even sweeter presentation, while leaving enough of radicchio's natural bitter flavor for those who seek it. Roasted radicchio goes well with any roasted meat. Serves 4 as a side.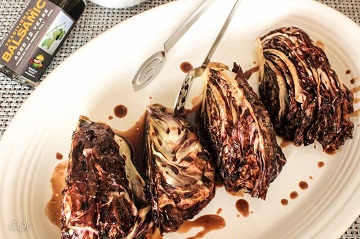 Ingredients:
1 head radicchio
About 2 Tbsp. Sigona's Fresh Press California Extra Virgin Olive Oil
Kosher salt, for sprinkling
1 Tbsp. honey, such as wild sage honey from Honey Hole Honey Co., available only at Sigona's
Directions: Preheat oven to 400°F.
Quarter the head of radicchio so each quarter retains a piece of the core at the bottom; this will help keep the quarters intact.
Brush a sheet pan with a little olive oil, then brush each side of the radicchio quarters with oil, placing them on the sheet pan. Sprinkle radicchio with salt.
Roast radicchio for 15 to 20 minutes; the leaves will wilt a bit, the color will darken and the edges will brown. It's done when the core has become tender.
Meanwhile, whisk together the balsamic and honey in a small bowl. Set aside.
Using tongs, transfer the radicchio to a serving platter. Give the balsamic-honey mixture a final stir and then drizzle over the radicchio. Sprinkle with additional salt, if desired. Serve immediately.