In the Kitchen with Sigona's Featuring: Kale, Quinoa and Pumpkin
Kale and quinoa and pumpkins, oh my! These incredibly simple and easy recipes are absolutely packed with flavor, as well as the health benefits the kale and quinoa one-two punch. The first two dishes have a nice spicy kick to them while the pumpkin smoothie arrives just in time for Halloween!

Spicy Creamy Kale Pasta
I honestly can't get enough of kale, especially when it's prepared with savory spices. This quick and easy recipe has been modified from Cheap and Simple Vegan Recipes.
Ingredients:
8 ounces penne pasta
3/4 cup cashews
1/4 onion, chopped
3 large handfuls of kale (about 4-5 cups, loosely packed)
1 tablespoon nutritional yeast
2 tablespoons salsa (optional)
1/4 cup low-fat milk (or any unsweetened dairy milk will work)
1/2 tsp. paprika
1 tsp. chile powder
1 tsp. red pepper flakes
1 tsp. garlic salt
Sigona's Fresh Pressed olive oil
Directions:
Cook pasta according to directions.
In a large pan, warm a few tablespoons of olive oil. Toss in chopped onions and kale, and sauté until kale has cooked down completely.
In a blender, add cashews, nutritional yeast, spices, salsa and low-fat or unsweetened dairy milk.
Blend until you have a creamy consistency, adding more milk or water if too thick.
Add cooked kale to pasta pot and toss with cream sauce.
Sprinkle with a dash of chile powder for some color.
Serves 2.
Zesty Quinoa Burritos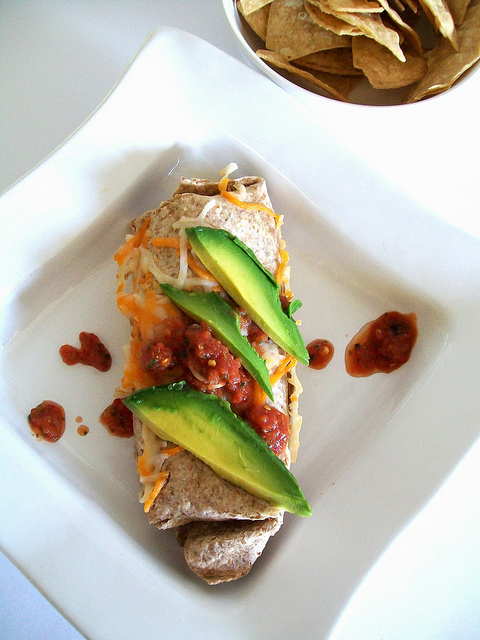 This filling but healthy burrito is delicious, easy to make and features the health benefits of quinoa. Recipe has been modified from Cheap and Simple Vegan Recipes.
Ingredients:
6 whole wheat tortillas
3/4 cup dry quinoa
3-5 teaspoons lime juice
1 cup cooked (or canned) black beans
1/4 cup roasted red peppers
3 tablespoons chopped cilantro
1 cup of our 4 1/2-year aged Wisconsin cheddar
Salsa
Avocado
4 cloves garlic, minced
Salt and pepper to taste
1/2 tsp cayenne pepper
Directions:
Preheat oven to 375F.
Add quinoa, lime juice, cayenne, garlic, and 1 1/2 cups water in a saucepan.
Bring to a simmer and reduce heat to low. Cover and cook for about 20 minutes or so, or until quinoa is cooked.
Stir and remove from heat.
Toss in black beans, lime juice, red peppers and cilantro; mix and season with salt and pepper to taste.
Fill tortillas with quinoa mixture and set in a baking dish that's been lightly sprayed with cooking oil.
Top with 4 1/2-year aged Wisconsin cheddar cheese.
Bake covered for about 12 minutes, then bake uncovered for another 10-15.
Serve with salsa and sliced avocado.
Green Pumpkin Smoothie
What better way to get into the festive spirit than with this green pumpkin smoothie courtesy of the fabulous Caroline over at After Dinner Dance. It's a great snack you can make literally in minutes.
Ingredients:
2 handfuls of spinach

Although spinach might sound a bit odd, it adds a rich, earthy flavor to really makes this a smoothie

1 frozen banana
1/4 cup vanilla Greek yogurt
1/4 cup apple cider (or apple juice since it's the same thing with just a different name)
1 tbsp pumpkin butter
3/4 cup pumpkin
1/4 cup unsweetened vanilla almond milk
1/2 tsp pumpkin pie spice
Directions:
Put all the ingredients in a blender or immersion blender and blend until smooth.

Note: The frozen banana adds a creamy-smooth texture to your smoothie. Keep peeled frozen bananas stored in a Ziploc bag in the freezer for quickie smoothies.

Enjoy!