In the Kitchen with Sigona's featuring: Roasted Organic Carrots with Blood Orange, Dijon and Rosemary
Roasted Organic Carrots with Blood Orange, Dijon and Rosemary
These roasted carrots, infused with the flavors of blood orange, dijon and rosemary, and finished with a little sweet from our maple balsamic, are simply incredible. The flavor pairs well with roasted meats. Don't skip on the finishing salt; it rounds out the dish perfectly. Adapted from Fine Cooking. Serves 4 to 6.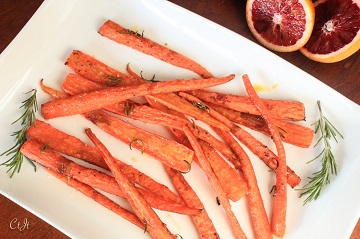 Ingredients:
• 1 1/2 lb. carrots, peeled and trimmed, halved lengthwise, larger carrots quartered
• 3 Tbsp. Sigona's Blood Orange Fusion Olive Oil
• 1 1/2 tsp. Dijon mustard
• 1 blood orange; zested and juiced
• Kosher salt and pepper, to taste
• 1/2 Tbsp. fresh rosemary leaves
• 1 Tbsp. Sigona's Dark Maple Balsamic
• Ancient sea salt, for finishing (we recommend Salfiore di Romagna salt from Salts of the Earth, available at Sigona's — it gives the dish a little crunchy texture, a sharp sea taste and a subtle note of sweetness)
Directions: Heat the oven to 425°F.
Arrange the carrots in a single layer on a foil-lined rimmed baking sheet. In a small bowl, whisk together the blood orange olive oil, mustard and orange zest. Pour over the carrots and toss to coat. Season generously with salt and pepper.
Pour the orange juice around the carrots and sprinkle rosemary over the top. Cover tightly with foil and roast until the carrots are nearly tender, about 15 to 18 minutes. Uncover, drizzle with the maple balsamic, and roast, uncovered, until tender and beginning to brown, 15 to 18 minutes more.
Transfer the carrots to a serving dish. Lightly sprinkle with finishing salt and serve.