In the Kitchen: Super Sweet All-Natural Thompson Grapes
Chicken Salad with Natural Thompson Grapes, Crisp Apple and Roasted Cashews on a Bed of Butter Lettuce

This salad also makes for a nice sandwich, a topping to spread on a lightly toasted baguette or a dip to serve with crackers. Enjoy with a semi-dry white wine. Serves 4.
Ingredients:
3/4 cup plain yogurt
1 1/2 tsp minced fresh tarragon
Salt & pepper, to taste
3 cups diced roast chicken (look for great deals on our Rocky Jr. whole birds at our RWC store)
1 cup Natural Thompson grapes, halved
1 green onion, diced
About 1/4 cup roasted, salted cashews, lightly chopped (can substitute walnuts or leave out the nuts completely)
1 stalk celery, diced
1/2 cup diced apple
4-8 large butter lettuce leaves
Directions: In a small bowl, mix together the yogurt, tarragon, salt and pepper. In a large bowl, add the chicken, grapes, onion, cashews, celery and apple. Pour in the yogurt/mayo and stir well to combine. Season with salt and pepper, to taste.
To serve: Place 1-2 large leaves of butter lettuce on four lunch plates, topping each with an equal serving of the chicken salad.
Sweet & Spicy Sausage Roasted with Natural Thompson Grapes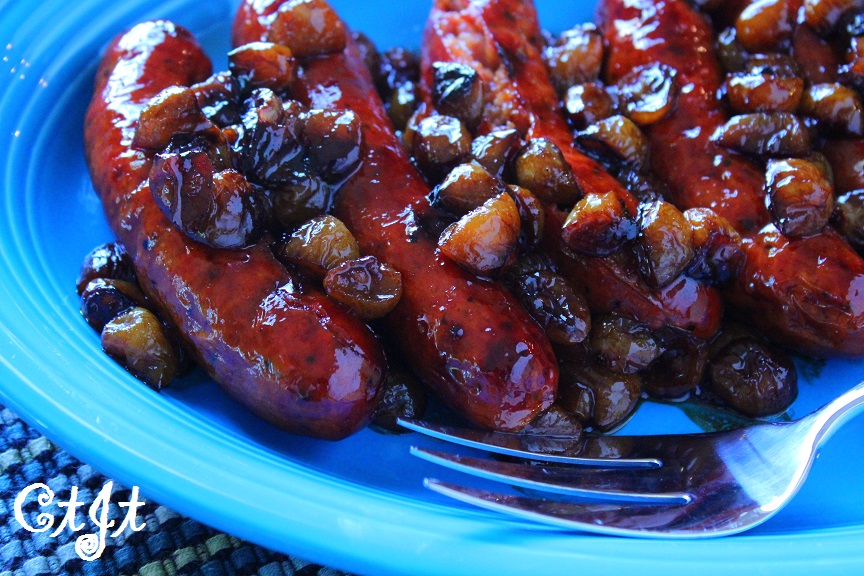 This lovely, unique, savory dish comes together in no time. It's delicious served with mashed potatoes, a nice risotto or fresh Ciabatta or Focaccia bread. Don't forget to pour yourself a glass of the Chianti, too. Enjoy! Adapted from Food Network.
Ingredients
1 1/2 pounds spicy sausage (such as Saag's Andoullie sausage)
1 1/2 pounds sweet sausage (such as Saag's Chicken Asiago Fennel sausage)
3 TBL unsalted butter
5 to 6 cups (2 pounds) stemmed Natural Thompson grapes
2 to 4 TBL dry red wine, such as Chianti
Directions: Preheat the oven to 500 degrees.
Melt the butter in a large heatproof roasting pan, add the grapes, and toss to coat. Over moderately high heat add the wine. Stir with a wooden spoon for a few minutes until the wine has reduced by half.
Add the sausages to the roasting pan and push them down in the grapes so the sausages will not brown too quickly. Roast in the oven, turning the sausages once, until the grapes are soft and the sausages have browned, 20 to 25 minutes.
Place the roasting pan on top of the stove over a medium-high heat and add the balsamic vinegar. Scrape up any browned bits on the bottom of the roasting pan, and allow the vinegar and juices to reduce until they are thick and syrupy, about 2-3 minutes. With a slotted spoon, transfer the sausages and grapes to a serving platter.
Pour the sauce over the sausages and grapes and serve immediately with mashed potatoes, risotto or ciabatta bread.
Baked Brie with Fresh Herbs and Natural Thompson Grapes
This classic party treat is great served with slices of baguette, apple or crackers. Adapted from Food Network.
Ingredients:
1 wedge creamy brie
1/2 cup Natural Thompson grapes
2 tsp Sigona's traditional balsamic
1/2 tsp fresh minced thyme
1/4 tsp fresh minced rosemary
1 10" square puff pastry sheet, thawed
1 egg, beaten
Directions: Pre-heat oven to 400F.
Slice Brie wedge in half horizontally. Press grapes onto cut side of lower half of cheese and drizzle with the balsamic. Sprinkle grapes with herbs. Press the top half of the Brie wedge onto grapes, sandwiching them in between the two halves of Brie. Set aside.
Wrap the puff pastry around the wedge. Trim off excess (you can use the scraps to decorate the top of the finished package, or just discard). Pinch the edges of pastry together to seal the Brie inside. Brush the package with egg and place on cookie sheet. Bake for 15 minutes, then tent loosely with foil and return to oven for 10-15 more minutes. Brie should be golden brown and puffy looking. Remove from oven and let cool for one hour before serving.